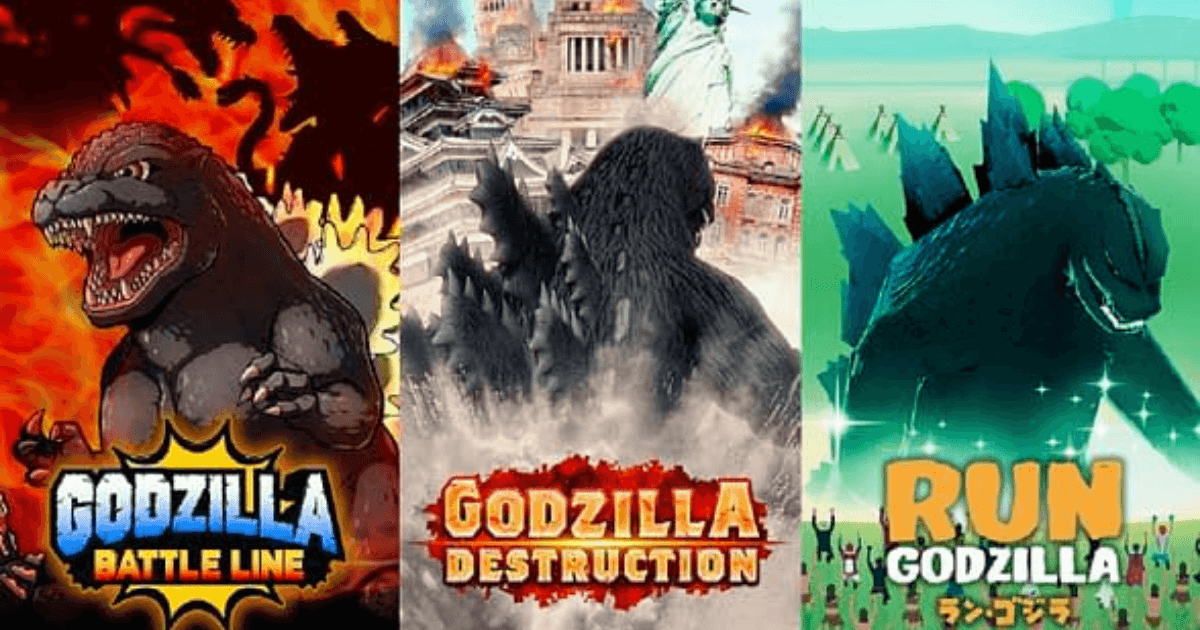 Godzilla Takes on the Mobile Game World with Three Brand New Games for iOS and Android
Toho Games, the game division of Toho Co., Ltd. today announces the 2021 worldwide release of three free-to-play Godzilla mobile games: "Run Godzilla", "Godzilla Destruction", and "Godzilla Battle Line". "Run Godzilla" will be released worldwide (excluding Japan) on March 25, 2021. The pre-registration campaigns for "Godzilla Destruction" and "Godzilla Battle Line" will begin on the same day. In anticipation of these three exciting new games, key visuals and a promo video has been unveiled.
"Toho has been deeply involved with the production process for all three games since the early planning stages," said Keiji Ota, Director and Chief Godzilla Officer at Toho. "All the staff involved in the project have worked together to keep alive the spirit of the Godzilla series, while also creating a 'new Godzilla' specially for the mobile game world. Whether you play on your way to work or school, or during your time off, we hope these games will help you feel closer to Godzilla in your everyday life."
You can visit the Twitter accounts of the Godzilla Games to pre-register and view exclusive content. Fans who pre-register via Twitter or Facebook will receive special game-related gifts through their social media account, the first of which is a social media profile pic.
"The Godzilla universe is beloved by people all over the world, regardless of age or nationality," said Ota. "For all of Godzilla's fans, we at Toho will continue to venture into new territory to build and expand the Godzilla universe. Stand by for even more destruction!"
Godzilla's global reach is set to expand even further this year alongside the release of the new Hollywood movie "Godzilla vs. Kong" (in US theaters and on HBO MAX on March 31, and in Japanese theaters on May 14) and upcoming anime TV series "Godzilla Singular Point".
Ota added, "The year 2021 will see the broadcast of the anime TV series "Godzilla Singular Point" and the release of the Hollywood blockbuster movie "Godzilla vs. Kong". Among all the excitement, the Godzilla brand is taking another major, monster-sized step forward by releasing three new mobile games worldwide."
Additional details on "Godzilla Run," "Godzilla Destruction" and "Godzilla Battle Line" can be found below.
Run, Godzilla! A bizarre casual game where you raise Godzilla.
This is an idle game in which Godzilla and Kaiju become stronger while you're away. In the village, the sun rises and sets day after day. What you must remember is that Godzilla, Kaiju, and the villagers have only a limited amount of time. One day, they will say goodbye. Raise Godzilla and Kaiju well, so they are ready to say goodbye when that time comes. Don't worry! You can look back on the Godzilla you've raised even after they're gone. Pass on their abilities to the next generation and raise even stronger Godzilla and Kaiju!
Godzilla Destruction
Become Godzilla and crush cities underfoot! Step inside the monstrous body of the legendary Godzilla and terrorize all corners of the world! Destroy cities across the globe in this exciting and easy to play game!
Pre-registration steps for "Godzilla Destruction":
(1) Follow the official Twitter: @GZ_destruction
(2) Follow the official Facebook: @GZ_destruction
Godzilla Battle Line
Take on the world! 3-minute monster all-star battles! All the popular monsters and weapons from the Godzilla series are ready for battle! Build your own team of the strongest monsters and fight against players from all over the world in real time! Get ready for fun but intense 3-minute battles!
Pre-registration steps for "Godzilla Battle Line":
(1) Follow the official Twitter: @Gz_battleline
(2) Follow the official Facebook: @Gz.battleline
ABOUT TOHO:
Toho Company, Limited, is a Japanese entertainment studio focused on the development, production, exhibition, and distribution of powerful live action and animated content including motion pictures, television and theater. Founded in 1932, Toho remains a prominent force in bringing brands and original storytelling with versatile talents to audiences worldwide. Its subsidiaries include Toho Cinemas, the highest grossing exhibition company in Japan, and Toho International, Inc., a U.S. established incorporated company that manages and commercializes Toho's intellectual property portfolio. To learn more about Toho, visit: www.toho.co.jp/en/ .