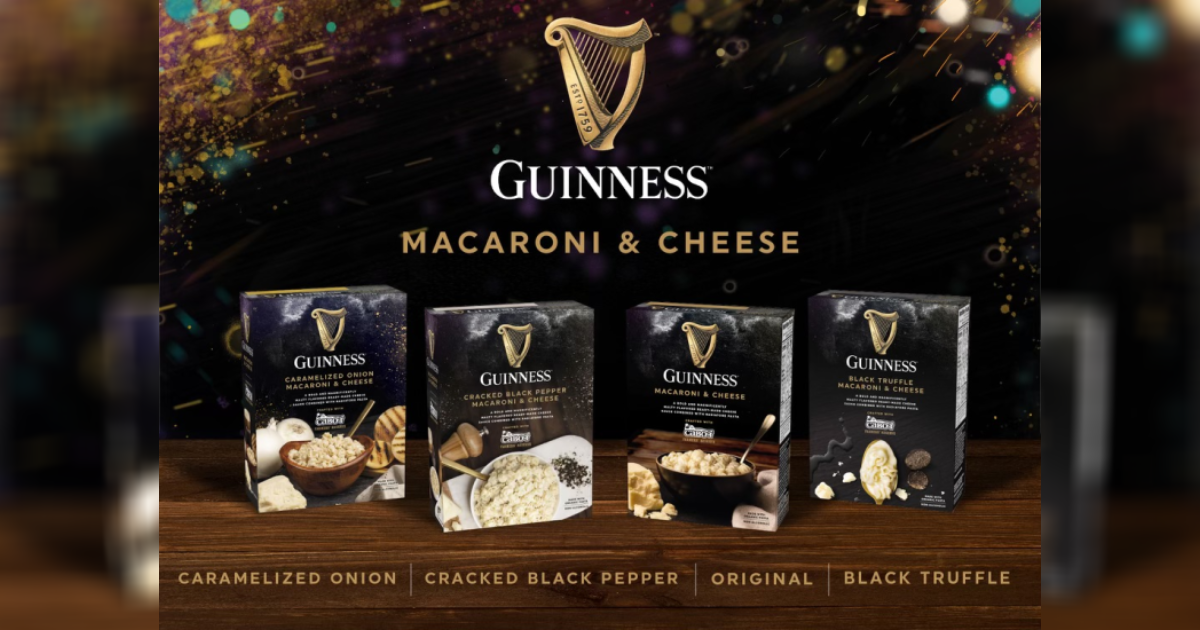 Guinness and The Farmer Companies Take the Ultimate Comfort Food to a Whole New Level with Guinness Macaroni & Cheese
Burlington, VT — – How do you improve the ultimate comfort food? Add the remarkable flavor of Guinness! That's right, when the world's most popular stout meets Cabot Creamery Co-operative's World's Best Cheddar, you get a rich velvety Macaroni & Cheese that is simply irresistible.
Guinness Boxed Macaroni & Cheese contains no alcohol and is a bold and magnificently malty flavored take on one of the world's most popular comfort foods, Mac & Cheese. And it doesn't disappoint. The Guinness stout-flavored blend is made with award-winning extra sharp Cabot Farmers' Reserve ready-made cheese sauce combined with organic radiatore pasta. Each box contains approximately three 3.7-ounce servings and takes about 15 minutes to prepare.
The Guinness Macaroni & Cheese is a collaboration between Guinness and The Farmer Companies, a diversified private equity firm headquartered in Burlington, Vermont founded in 2018 to leverage a brands' value into new categories, and its newest division, Vermont Cheese Products, Inc. (VCPI). The first license by VCPI covers a line of specially branded consumer snack products under the Cabot brand, held by Agri-Mark, the Northeast's premier dairy cooperative, and now includes a line of ready-to-make meals including Guinness Macaroni & Cheese, featuring Cabot Cheese. The partnership was brokered by Guinness' global brand extension agency, Beanstalk.
"We are incredibly proud to launch these products with VCPI" says Diageo Licensing Manager, Declan Hassett. "The combination of Guinness & Cabot Cheddar gives a gorgeous deep flavor that brings something new and exciting to Mac & Cheese. I think it is best enjoyed with a beautiful, nicely chilled glass of Guinness, Slàinte!"
"We are pleased to introduce Guinness Macaroni and Cheese just before St. Patrick's Day," said The Farmer Companies CEO and Chairman of the Board, Adam Farmer. "It has taken VCPI and Guinness nearly two years to create the perfect blend of Guinness Stout flavor and Cabot's Farmers' Reserve Cheddar into a delicious, easy-to-use, ready-made liquid blend combined with organic radiatore pasta."
Adam Weber, The Farmer Companies Director, and Senior Vice President of Sales, says the painstaking time and efforts to get the perfect blend was time well-spent. "When you marry two such iconic brands, the world's most popular stout and the world's best cheddar, you had better get it right – and we did," Weber said. "Our Guinness Macaroni & Cheese is the perfect blend of stout and cheddar. The stout has hints of the delicious flavors that make Guinness so popular, and the Cabot cheddar is bold, creamy, and extra sharp. It's perfection in a box!"
In addition to the original Guinness Macaroni & Cheese, VCPI plans to add several more flavors to the Guinness line including Caramelized Onion, Cracked Black Pepper, and Black Truffle.
Guinness Macaroni & Cheese is now available at Price Chopper stores located throughout Vermont, Connecticut, Massachusetts, New Hampshire, Upstate New York, and Pennsylvania, and can also be purchased online at (insert link). Additionally, the product will be available at all Stop & Shop, Market Basket, Hannaford, Big Y, Weis Markets, and Lowes Foods stores in mid-February.
About The Farmer Companies
The Farmer Companies is a diversified private equity firm headquartered in Burlington Vermont. At our core, we are looking to acquire, license or invest in companies that we believe have undervalued brand equity.  Our team have owned, operated, and sold business valued over $60 Billion USD across multiple sectors. Unlike traditional brand licensing techniques, The Farmer Companies take a ground-up approach to brand collaborations. By identifying opportunistic markets, we focus on working with brands that possess the capability to win in our target sectors. With more than 125 years of combined operational experience across multiple business sectors, we work with experienced management teams to leverage our resources to help companies monetize their untapped brand equity. More information about The Farmer Companies can be found at thefarmercompanies.com
About Guinness
The Guinness brand was established in 1759, when Arthur Guinness signed a 9,000-year lease on St. James's Gate Brewery in Dublin. Brewed using four main ingredients, water, barley (malted & roasted), hops and yeast, Guinness is the world's most popular stout. The iconic beer is brewed in 49 countries worldwide and sold in over 150 with almost 9 million glasses of Guinness enjoyed every day around the world. The most GUINNESS is sold in Great Britain, Ireland, USA, Nigeria, and Cameroon. More information can be found at Guinness.com
About Cabot Creamery Co-operative
Cabot Creamery is a farmer-owned cooperative and certified B-Corp that's been making award-winning products with love, pride, and purpose for over a century. The high-quality milk produced by the Cabot farm families throughout New England and New York is crafted into dairy products, including "The World's Best Cheddar," other styles of cheese, butter, Greek yogurt, sour cream, dips, and other specialty products. For more information, visit cabotcreamery.com
About Beanstalk
Beanstalk, a global brand extension licensing agency, works closely with our clients to unlock brand equity and create many of the world's most recognizable products and services. We help leading brands, celebrities, media properties, manufacturers and retailers creatively find ways to strengthen their relationship with their most important stakeholder – the consumer. Beanstalk offers a breadth of services across our practice areas, including brand representation, digital media representation (Tinderbox), manufacturer representation, cultural intelligence, creative services, legal and financial services, and royalty auditing. The company is headquartered in New York, with offices in London, Miami, Cincinnati, Mexico City and Sao Paulo, and affiliates throughout the world. Beanstalk is the recipient of the 2022 Licensing International Excellence Award for Best Licensing Agency. For more information, please visit www.beanstalk.com. Beanstalk is a member of the Omnicom Specialty Marketing Group.