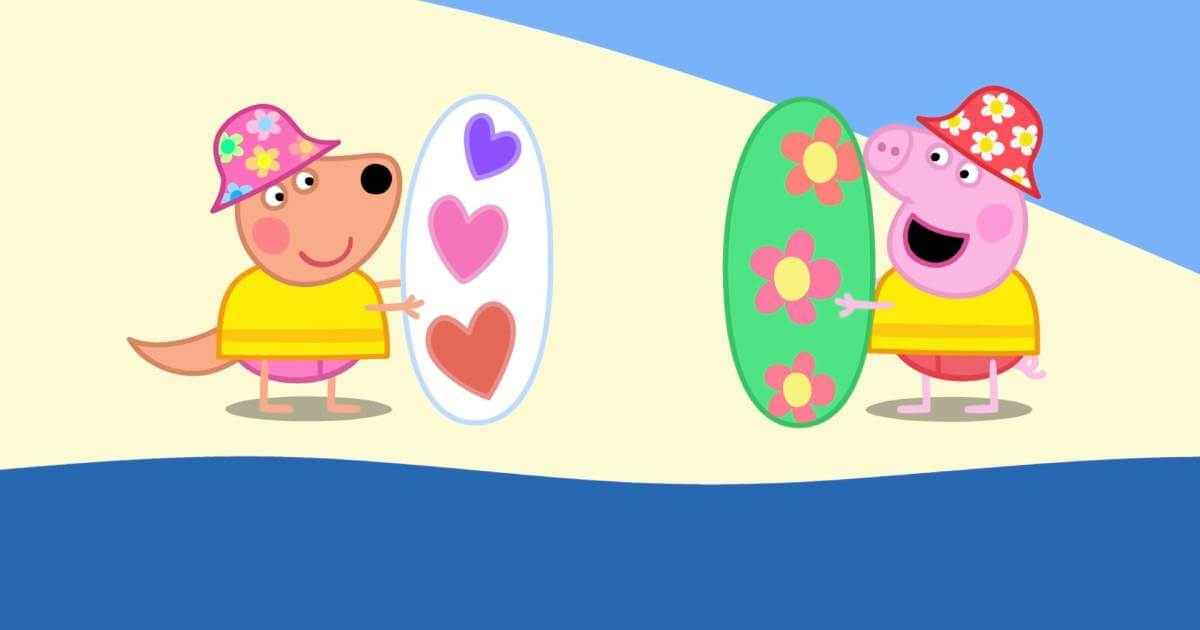 Hasbro's Peppa Pig Partners with Cleaner Seas Project and Twinkl to Celebrate World Oceans Day Campaign in the UK
LONDON [JUNE 23, 2022] — This summer, Hasbro, Inc.'s (NASDAQ: HAS) Peppa Pig is making waves with a major retail and brand marketing initiative to mark United Nations' World Oceans Day, which launched on 8th June. The initiative brings together high-profile ecological, educational, and retail partners including Cleaner Seas Project, Twinkl, and George at Asda to help encourage young families to learn all about our oceans and what they can do to help protect them for future generations.
Educational publisher, Twinkl, has created FREE Peppa Pig educational activities and resources to help raise awareness throughout primary schools, early years providers and families at home about the little steps they can do to make a big difference to our seas. Tackling the issue from the shore itself, Cleaner Seas Project has started its mission to complete a total of 11 beach and river cleans with schools invited to join events across the UK throughout June, to help educate pre-school and primary school children from nature's classroom.
Retail partner George at Asda is building on the success of last year's Plant with Peppa environment education initiative to join forces once again in celebration of this year's World Oceans Day. An exclusive range of clothing and homeware featuring ocean themed designs sourced with more sustainable materials such as Better Cotton and in some products up to 83% recycled materials. The collection is now available in 435 UK Asda stores and displayed alongside dedicated World Oceans Day POS featuring key product and a QR code directing consumers to the Twinkl resources. Utilising its superb store footprint, George at Asda's World Ocean Day range includes boys and girls clothing, footwear and accessories, with prices starting from £4.50.
Cat O'Brien, Retail Director Europe and Asia at Hasbro said "We are thrilled to be working with George again on this Peppa Pig World Oceans Day campaign. At Hasbro, everything we do is centered in our Purpose: making the world a better place for all children, fans, and families. In October 2021, we launched our first Peppa Pig purpose driven campaign all about educating young families around the importance of helping our planet by planting trees. We are excited to embark on the next campaign which aims to help children learn more about our oceans and what we can do to help reduce litter reaching our shores." 
Supporting the campaign and boosting awareness of the initiative amongst families is celebrity ambassador and mum of three, Vogue Williams, who took to the shore of the River Thames armed with a host of young litter pickers from a local nursery to undertake the brand's very first Peppa Pig shore clean up under the guidance of Cleaner Seas Project. Vogue also took part in a media press junket and photoshoot to help spread the word of the initiative across national media on World Oceans Day to motivate young families to get involved.
Avril Greenaway, CMO, Cleaner Seas Project, adds: "It's no secret that Peppa Pig and her friends are heroes to pre-schoolers across the UK, so we were absolutely thrilled to work with her and Twinkl to provide guidance on the eco-educational activities and resources as well as carry out the all important beach and river cleans for this campaign! Our goal is to drive positive change, no matter how big or small, so by working collaboratively with Peppa and Twinkl to help kids take their first steps towards being more environmentally aware has been fantastic. We think this collaboration will be hugely successful and, partnered with Twinkl's wealth of resources, we think it will provide families with a simple and fun way to get involved to support the cause."
Jade Snart, Sustainability and Compliance Expert at George said: "We are very proud to have partnered with Peppa Pig again, this time to help celebrate World Oceans Day and raising awareness of cleaner oceans and a more sustainable planet. A number of the products within the George range will have a sustainable element to them as here at George we're committed to doing the right thing by our customers and the planet."
About Hasbro
Hasbro (NASDAQ: HAS) is a global play and entertainment company committed to making the world a better place for all children, fans, and families. Hasbro delivers immersive brand experiences for global audiences through consumer products, including toys and games; entertainment through eOne, its independent studio; and gaming, led by the team at Wizards of the Coast, an award-winning developer of tabletop and digital games best known for fantasy franchises MAGIC: THE GATHERING and DUNGEONS & DRAGONS.
The company's unparalleled portfolio of approximately 1,500 brands includes MAGIC: THE GATHERING, NERF, MY LITTLE PONY, TRANSFORMERS, PLAY-DOH, MONOPOLY, BABY ALIVE, DUNGEONS & DRAGONS, POWER RANGERS, PEPPA PIG and PJ MASKS, as well as premier partner brands. For the past decade, Hasbro has been consistently recognized for its corporate citizenship, including being named one of the 100 Best Corporate Citizens by 3BL Media and one of the World's Most Ethical Companies by Ethisphere Institute. Important business and brand updates are routinely shared on our Investor Relations website, Newsroom and social channels (@Hasbro on Twitter, Instagram, Facebook, and LinkedIn.)
About Asda Stores Ltd.
Founded in the 1960s in Yorkshire, Asda is one of Britain's leading retailers and helps customers save money and live better in stores, online and through their mobile devices.
Each week more than 18 million customers visit its 645 stores – including 30 Supercentres, 392 Superstores, 155 Supermarkets, 33 Asda Living stores, and 35 standalone petrol stations – and websites, and are served by 153,000 colleagues. www.asda.com and www.george.com deliver to 99% of the UK's homes and to its 538 click and collect sites across the UK.
The Twinkl microsite with all educational resources can be found at: www.Twinkl.co.uk/Peppa.
About Cleaner Seas Project
The Cleaner Seas Project inspires, empowers and encourages positive change for planet, people and health.  We believe that by working together we can collectively reduce our environmental impact for the benefit, health and wellbeing of all life on Earth.
Its campaigning has focused on microplastic pollution but also covers marine pollution, environmental pollution, climate change and the health and wellbeing of communities.
Avril Greenaway / Cleaners Seas Project is represented by UK Licensing Agency, This is Iris
Abou Twinkl
Twinkl was founded in 2010 in Sheffield by husband and wife Jonathan and Susie Seaton, with a mission 'to help those who teach'. The company provides high quality, online learning materials and services, which are all teacher-created and checked. Twinkl offers over 890,000 resources, with new content added daily. This ranges from schemes of work and assessments to augmented reality games and much more.
Twinkl is used and trusted by schools and educators in over 200 countries and regions, including primary and secondary school teachers, nursery workers and parents.
Twinkl has over 1500 team members based in its two Sheffield offices and remotely around the globe.
More information can be found at twinkl.co.uk