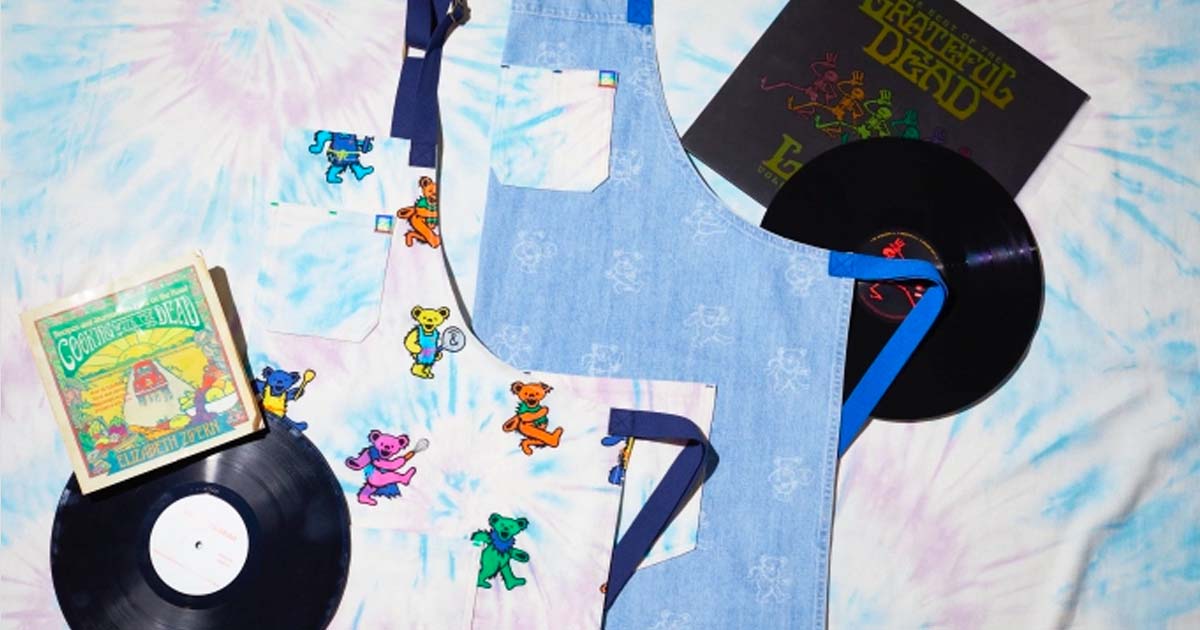 Hedley & Bennett Release Psychedelic Apron Collection with the Grateful Dead
Los Angeles, CA — Hedley & Bennett, the brand known for their beautifully designed, pro-quality aprons and kitchen gear — seen on your favorite Top Chefs, and sought after by home cooks around the world — has teamed up with iconic rock band the Grateful Dead to release a limited-edition collection of psychedelic aprons using the band's famous dancing bears – with a unique H&B twist; the Grateful Dead x Hedley & Bennett Essential Aprons.
The Grateful Dead collection is made with the same premium features Hedley & Bennett prides itself on, consisting of two custom designed aprons featuring the exclusive Grateful Dead x H&B "dancing chef bears" — the famous Grateful Dead bears remixed with a culinary twist. In addition, the aprons' special features include a collectible Dedley & Bennett patch, an official Grateful Dead x Hedley & Bennett collaborative label, and a new, special edition rainbow-gradient H&B ampersand. As a sustainable touch, the denim apron is made with a deadstock fabric sourced in Los Angeles. It is the first officially licensed premium kitchen collection made with the Grateful Dead's iconic artwork.
"There is so much love for the Grateful Dead in the food world and amongst so many big huge chefs. As a Grateful Dead fan myself, I'm so excited to finally share this collection with our #ApronSquad and fellow Dead Heads—old and new," shared Ellen Bennett, Founder and CEO of Hedley & Bennett. "We're are thrilled to spread the Grateful Dead's positivity and creativity with our community and to honor the band's legacy with this collection."
The collection launches today exclusively on www.hedleyandbennett.com and retails for $105.
The collaboration was negotiated between Eleni Planet, Director of Licensing, Warner Music Group, and Jason Kletzky, President of Collaborations, Hedley & Bennett's Licensing Agency.