Hi-Tec Sports, A Subsidiary of Apex Global Brands, Announces New Venture Series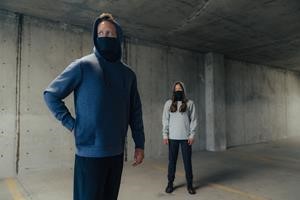 Sherman Oaks, CA — Apex Global Brands (Nasdaq: APEX), a global brand management and licensing organization that markets a portfolio of high-equity lifestyle brands it owns, creates and elevates, today announced that its subsidiary Hi-Tec Sports International Holdings, in collaboration with Tharanco Lifestyles, will be launching a new patent pending Venture Series of performance apparel. The initial range of thoughtfully designed, high-quality offerings featuring built-in face masks will soon be available for purchase on hi-tec.com and will roll out nationally this fall.
Combining nearly a half-century of experience introducing innovative apparel to the retail market, the design team behind Hi-Tec's new Venture Series has crafted this unique line with today's changing consumer and environment in mind. As people navigate through the new-normal and ultimately return to work, school and social activities, Hi-Tec's Venture Series will provide a stylish, but functional alternative to individual face masks. Incorporating protection into fashionable clothing, the Venture Series will offer wearers the ability to seamlessly adapt their shirts, sweatshirt or jackets via a built-in face mask whenever needed.
Tharanco Lifestyles, an operating division of Tharanco Group, was founded in 2017 following an agreement with Apex Global Brands, formerly the Cherokee Group, to be the official North American apparel licensee for the HI-TEC® and 50 Peaks by HI-TEC® brands.
Bill Hackett, President of Tharanco Lifestyles commented, "We have addressed the next step of what our customers have been asking for by developing quality, comfortable clothing with a deployable mask option when necessary or desired. Our goal with the Venture Series was to cross-pollenate fashion and function. When the mask option is activated, consumers have the option to insert a filter screen into the mask itself for personalized levels of protection. Our Venture Series range of products are comfortable, convenient, and always stylish."
Henry Stupp, chief executive officer of Apex Global Brands, added, "Through the launch of Hi-Tec's Venture Series, we will expand and strengthen our licensee partnership with Tharanco, while also bringing consumers the best in fashion through the further development of the Hi-Tec brand. We look forward to seeing this exceptional line of apparel hit stores this fall."
The HI-TEC® Venture Series will be carried at leading outdoor and performance clothing retailers throughout North America. Shoppers can expect a full range of Hi-Tec men's and women's products.
About HI-TEC®
HI-TEC® is driven by a mission to get the world outdoors and experience a new view. Leading outdoor crossover culture, the brand enables those who find themselves both in the city and on the trail, to seek new experiences. From discovering the great outdoors to running through urban jungles, HI-TEC® is versatile anywhere.
About Tharanco Lifestyles
Industry veterans Haresh Tharani and Michael Setola created Tharanco Lifestyles LLC in 2009 with the master license acquisition for Greg Norman Collection. The partnership offers emerging and established brands a strong and resourceful operations platform with deep experiences in apparel sourcing and brand building in the domestic and international markets. In addition to distributing the Greg Norman Collection to more than 50 countries worldwide, the company also owns Dunning Golf and Nick Graham Clothing and is the master license for Hi-Tec apparel in the United States and Canada.
About Apex Global Brands
Apex Global Brands is a global brand management and licensing organization that markets a portfolio of high-equity lifestyle brands it owns, creates and elevates.  The brand portfolio spans multiple consumer product categories and retail tiers around the world and includes HI-TEC®, Magnum®, 50 Peaks®, Interceptor®, Cherokee®, Tony Hawk®, Point Cove®, Carole Little®, Everyday California® and Sideout®.  The Company currently maintains license agreements with leading retailers and manufacturers that span approximately 140 countries in over 20,000 retail locations and digital commerce.  For more information, please visit the Company's website at apexglobalbrands.com.