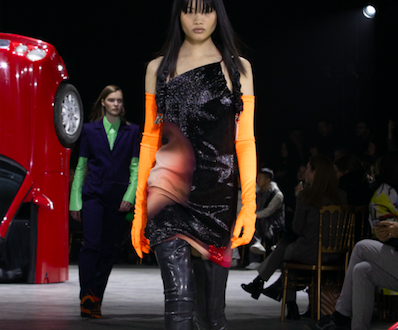 Highly Anticipated Off-White C/O Virgil Abloh "Blue Velvet" Collection Inspired By Iconic MGM Film Arrives At Retail
Fashionistas will be excited to see the fashion runway meet Hollywood with Off-White™ proudly debuting today their "Blue Velvet" collection with Metro Goldwyn Mayer (MGM), a leading entertainment company focused on the production of premium film and television content across platforms. Including stylish dresses, slacks, tees and more that feature imagery from and the aesthetic of "Blue Velvet," the line is styled to capture the essence of the cult classic film.  "Blue Velvet" is one of only a select few entertainment collaborations created by Off White, an Italian luxury label founded by Virgil Abloh, who also serves as the Men's Artistic Director for Louis Vuitton.
Robert Marick, Executive Vice President Global Consumer Products and Experiences, at MGM said, "Off White™ is one of the most influential fashion labels on the market right now and is universally recognized for its unexpected and fresh designs. We knew they would have an artful take on Blue Velvet and are thrilled with the line they've created, which really captures this amazing film in an authentic and unique way."
"Blue Velvet" is a 1986 American neo-noir mystery film written and directed by David Lynch. Widely considered a cult classic, the film stars Kyle MacLachlan, Isabella Rossellini, Dennis Hopper, and Laura Dern, and is named after Bobby Vinton's 1963 song. Off-White™ captures this through classic tees, sweatshirts and denim jeans, tops and dress –each piece featuring imagery from the film. The capsule also features  Off-White's classic "Curtain Blazer Jacket", "Formal Pant" and halter mini dress reconstructed with a shot from the film in a bold, gradient print. Off-White's Autumn Winter 2020 Womenswear Collection also embraces the essence of "Blue Velvet".   Structured, off-the-shoulder dress in the fabric the movie is named for, alongside with mirror-ball metallic garments that channel Dorothy Vallens's glitzier ensembles, walked the runway during Paris Fashion Week in February.
"This capsule embraces the glamour and mysterious essence of "Blue Velvet" through the world of Off-White™. It was a special experience creating the capsule and translating this timeless film through luxurious, wearable memorabilia." says Virgil Abloh.
In this brand-new collection, Off-White's sophisticated modernity meets the timeless sixties glamour of "Blue Velvet" – creating an iconic capsule embracing both worlds harmoniously.
About Off-White c/o Virgil Abloh™
Established in 2013, Off-White™ is defining the grey area between black and white as a color. Under the brand name, seasonal collections of men's and women's clothing, objects, furniture, and publications are articulating a current culture vision. Collections embedded in a recurrent back story with an emphasis on creating garments that have an identity by design. With a design studio based in Milan, Italy the label harnesses the history and craftsmanship within the country yet offers a global perspective in terms of design and trends. With a clear vision of splicing the reality of how clothes are worn and the artistic expression of high-fashion, creative director and designer Virgil Abloh explores concepts in the realm of youth culture in the contemporary context.
About Metro Goldwyn Mayer 
Metro Goldwyn Mayer (MGM) is a leading entertainment company focused on the production and global distribution of film and television content across all platforms. The company owns one of the world's deepest libraries of premium film and television content. In addition, MGM has investments in numerous television channels. For more information, visit www.mgm.com.