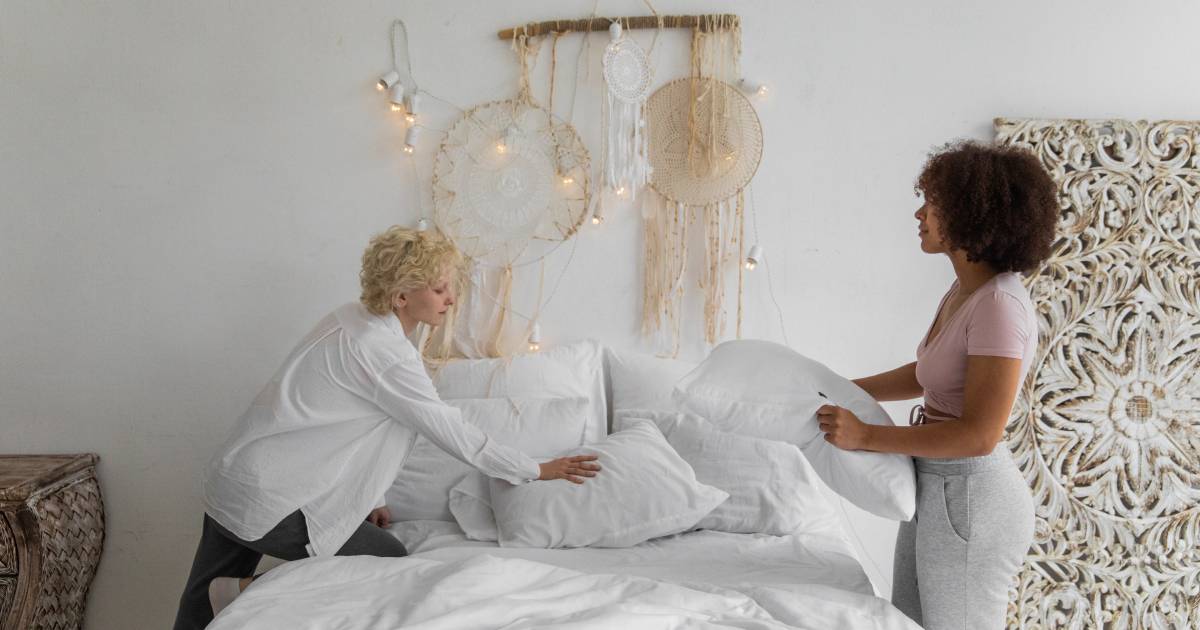 Home Textiles Plot Sustainable Future
As textile suppliers and retailers focus on sustainable materials to meet consumer demand, they are faced with an array of challenges. Some of the biggest obstacles include rising cotton prices and increased freight costs, an industry executive said at the New York Home Fashions Market.
And while these challenges could slow the expansion of sustainable materials—including organic cotton, recycled polyester and down, and wood pulp-based Tencel lyocell fibers—in licensed finished bedding, kitchen textiles, and pillows of all sorts, consumer demand shows few signs of slowing down.
For example, Himatsingka unveiled Calvin Klein bedding made from a blend of 65% lyocell fibers and 35% recycled cotton scraps. Pem America, meanwhile, introduced its Upcycle brand of recycled materials across bath and show curtains, throws, and bedding, and has added recycled packaging to the licensed London Fog and Crayola brands sold in Canada. It also has developed Christian Siriano brand sheets with recycled cotton that will be sold through Sam's Club.
"Most retailers are coming to the showroom asking [for] sustainable products," a licensee executive said.  "Buyers have received marching orders from top management and their boards to carry more because consumers require it. This is especially true among the coveted Millennial and Gen Z consumers who are more cognizant of a product's origins.
One barrier to the rapid expansion of sustainable materials across bedding, bath, and kitchen textiles has been price. Sustainable textile products may carry as much as a 15-20% price premium when compared to standard items after a royalty around 7% is factored in. That's against a 5% bump for non-licensed items made from sustainable materials, industry executives said. To offset the increased costs—partly tied to the higher priced cotton—many suppliers are shifting to less expensive microfibers.
"The pricing is going to fluctuate quite a bit because of the raw materials challenges and between the draughts in the West, child labor issues in China, and flooding in Pakistan [a major source of cotton], people are looking for other materials to hit the right price points," said Walter Bridgham, senior business development manager at Tencel brand owner Lenzing. "You are going to see a resurgence of microfiber blends because of the lack of raw materials out there that will be blended with standard cotton from China and India, which will allow retailers to have added value and have a sustainable story."
As sustainable materials become a requirement, however, suppliers are also faced with a challenging retail environment. With Bed Bath & Beyond, a major source for textiles products, struggling as it switches from a private label strategy back to focusing on national brands and closes stores, industry executives ae extending credit or halting shipments until a new strategy is adopted. At the same time, many retailers and licensees have excess inventory that still needs to be cleared. One licensee reported a one-time retail purchase order of more than $1 million has since been reduced to $750,000.
"If you have existing programs with retailers, the orders might be deferred or held off and the projections are changed because that's the way the world is right now," said Mark Schwartz, president of sales and merchandising at Blue Ridge Home Fashions. When these retailers come back (in the case of Bed Bath & Beyond, after having adopted a private label brand strategy), it will be up to their earnings as well as the credit agencies and insurers whether national brands resume full distribution, Schwartz said.