Infinifan, Inc. Launches Their First Dragon Ball Z Mochibi Plush Collection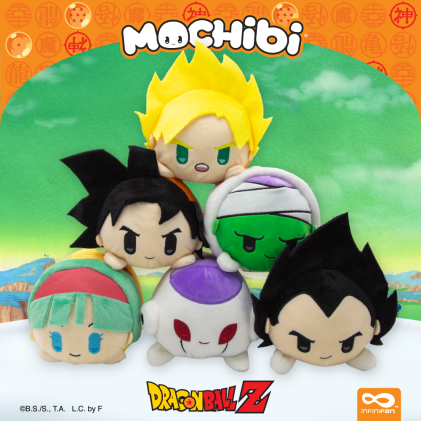 Deer Park, NY —  Infinifan, Inc. is proud to announce the launch of their Dragon Ball Z Mochibi plush, the newest additions to the growing Mochibi product line. The new assortment features 6 characters- Goku, Vegeta, Piccolo, Frieza, Bulma, and Super Saiyan Goku- and are available now on mochibiplush.com, and at specialty retailers like Hot Topic, GameStop, Hobby Lobby, and FYE.
Mochibi are officially licensed, super-soft, super-cute stylized versions of popular anime and gaming characters, and the perfect size for squeezing- approximately 6" x 5". Featuring embroidered faces, and quality materials and printing, the "comfort" plush are both highly detailed and collectible.
Infinifan has previously partnered with Funimation to develop Mochibi for My Hero Academia. Dragon Ball Z marks the first plush collaboration with Toei for the company, as well.
ABOUT INFINIFAN, INC.:
Infinifan is a licensed goods manufacturer with a focus on anime and gaming IP based in New York, and has a passion for the characters and properties they create merch and collectibles for. Founded in 2014, the company has been creating all kinds of licensed goods from acrylic key chains to collectible watches, but is best known for the Mochibi line of collectible plush.
For more information about Mochibi, including photo galleries, product announcements, exclusive items, and more, visit mochbiplush.com the official hub for all things Mochibi.
Dragon Ball Z Mochibi plush product release
$14.99- $19.99 each SRP
Approximately 6" x 5" super-soft, stylized plush
Embroidered and printed details
Recommended for ages 3 and up
6 characters in series 1: Goku, Vegeta, Piccolo, Frieza, Bulma, Super Saiyan Goku