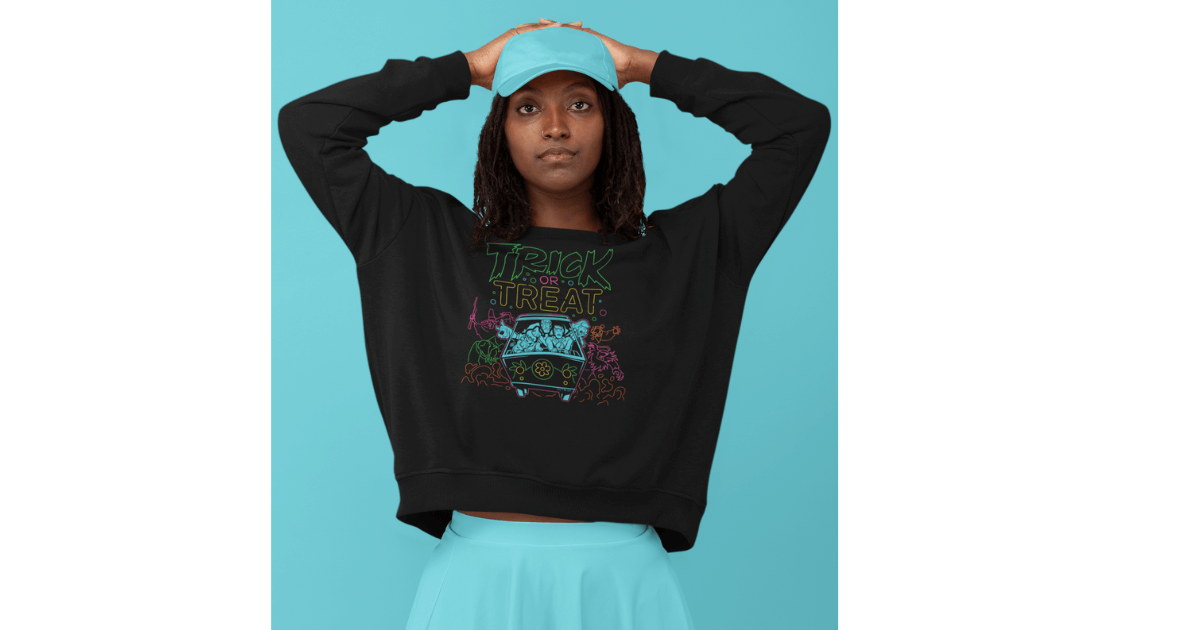 It's No Mystery: Scooby-Doo's Favorite Month of the Year Scoobtober Scares up Family-Friendly Entertainment, Products and More Around The World
Celebration Kicks Off With Premiere Of All-New Animated Movie 
Trick Or Treat Scooby-Doo! on Digital, Cartoon Network and HBO Max 
Burbank, CA — In honor of the spookiest month of the year, Warner Bros. Discovery invites families around the world to grab their Scooby Snacks and enjoy the antics of  Scooby-Doo and his friends during Scoobtober, the annual month-long event honoring the lovable pup and his mystery-solving crew. The celebration kicks off with the streaming and broadcast debut of the all-new, original animated movie Trick or Treat Scooby-Doo! from Warner Bros. Home Entertainment on Cartoon Network and HBO Max. Warner Bros. Consumer Products has also collaborated with fashion and accessories partners including Hot Topic, Lunchbox, FYE, Loungefly and Buckle Down for Scooby-themed collections this Scoobtober. Groovy ghoulies will dig a range of Scoobtober hijinks at The Children's Museum of Indianapolis along with exclusive fan events at New York Comic Con.
Cartoon Network will celebrate Scoobtober with a spooktacular lineup featuring your favorite four-legged mystery solver. The celebration begins Monday, Oct. 3 (3:00 p.m.) with a marathon of Scooby-Doo movies from the Warner Bros. Home Entertainment library and will continue all month long with hair-raising programming. Highlights include the network premieres of Warner Bros. Home Entertainment animated movies Straight Outta Nowhere: Scooby-Doo Meets Courage the Cowardly Dog on Friday, Oct. 7 (7:00 p.m.) and Trick or Treat Scooby-Doo! on Friday, Oct. 14 (7:00 p.m.). Plus, don't miss the network premiere of the star-studded animated series Scooby-Doo! And Guess Who?! featuring team-ups with celebrity guests Cher, Sean Astin, Jessica Biel, Terry Bradshaw, Lucy Liu, Jason Sudeikis, Run DMC, and more airing Tuesdays – Thursdays (7:00 p.m.) beginning Tuesday, Oct. 4. More Scooby snacks in the form of Warner Bros. Home Entertainment library movies will be served every Monday and Friday (7:00 p.m.) and Saturday mornings (10:00 a.m.) throughout the month.
Cartoon Network will also host an exclusive screening of Trick or Treat Scooby-Doo! at New York Comic Con on Friday, Oct. 7 at 4:45 p.m. in the Jacob K. Javits Center (Room 401). Scooby fans are encouraged to attend the early screening in their Halloween costumes and can expect fun games, goodies, giveaways and more! A New York Comic Con badge is required.
Catch your favorite library Scooby-Doo movies and series on HBO Max all-month long, plus enjoy the platform's newest Warner Bros. Home Entertainment movie editions Straight Outta Nowhere: Scooby-Doo Meets Courage the Cowardly Dog and Trick or Treat Scooby-Doo! streaming Oct. 8 and Oct. 15 respectively.
New offerings from Warner Bros. Consumer Products and Warner Bros. Games celebrating Scoobtober include:
MultiVersus, the free-to-play platform fighter videogame, will celebrate Scoobtober with a dedicated Twitch Stream of official Scooby-Doo content, including both full-length episodes from the Scooby-Doo TV series and full-length films. Running Oct. 28-30, players who watch the stream can earn various rewards based on the amount of viewing time: 30 minutes – 10 Toasts; 60 minutes – Scoobtober Profile Icon; 90 minutes – Halloween Ringout; 120 minutes Scoobtober Banner.
Ruh-roh! Available on the WB Shop, the official Scooby-Doo Scoobtober Collection has arrived. Featuring all-new products including glow in the dark accessories from Loungefly, pet collars and leashes from Buckle Down, and Scooby-Doo apparel and homeware with designs exclusive to WB Shop, this collection will make you feel like an official member of the Mystery Gang (prices range).
Available at FYE, two of the world's favorite canines are coming together in this crazy crossover. Shop the Scooby-Doo x Courage fashion collection of t-shirts, joggers and hoodies at speciality retailer FYE retail stores and online at FYE.com ($16 – $42).
Warm up the Mystery machine because Scooby-Doo and the gang are ready for a good scare! Hot Topic's Scooby-Doo! Collection features some cosplay-inspired pieces as well as some Hex Girls tees. Grab your Scooby Snacks and get ready for the online launch on October 4.
Families can dress up and trick or treat in an amazing assortment of Scooby-Doo and The Mystery Inc. Gang costumes from Rubies for kids, adults and pets available from Amazon and other retailers.
Warner Bros. Themed Entertainment and The Children's Museum of Indianapolis hosts the interactive experience Scooby-Doo!™ Mansion Mayhem!  A jewel-thieving ghost has dodged the police and was last seen in this spooky mansion. Can you meddling kids (and grown-ups, too!) help the gang solve the mystery in this immersive exhibit? For more information or to purchase tickets, please visit the website.
International 
Global fashion and lifestyle brand Cotton On Group and Australian apparel and household retailer Best and Less are both celebrating the countdown to Scoobtober with extensive apparel collections for Scooby-Doo fans of all ages. Cotton On Kids range features infant rompers, and kids pajamas, t-shirts, sweats and accessories, as well as Cotton On Women's crops, t-shirts, shorts and accessories. Best & Less' range features infant bodysuits, toddler pajamas, swimwear and t-shirts, and kids t-shirts and accessories.
In Southeast Asia, Australia and New Zealand, Boomerang is celebrating the best of Scooby-Doo throughout October in the build up to Halloween. Every day, Boomerang viewers can snack on Scooby-Doo series on weekdays and movies on weekends. In Singapore and Malaysia, it's 8:00 a.m. – Noon; in Thailand and Vietnam, it's 7:00 a.m – 11a.m.; and in Australia and New Zealand, it's 8:30 a.m. – 11:30 a.m.
In Southeast Asia, Scoobtober programming is also available to stream on regional service HBO GO, and includes: Scooby-Doo and Guess Who?, Be Cool Scooby-Doo and Scooby-Doo! Mystery Incorporated (series); Scooby-Doo on Zombie Island, Scooby-Doo! Pirates Ahoy!, Scooby-Doo! and the Goblin King, Scooby-Doo! Music of the Vampire (movies).
In the United Kingdom, 15 UK-based family and pet influencers will be gifted the ultimate Scooby-Doo bundle! Each influencer will receive a dress-up bundle from Amscan, doggy treats from Fred & Ginger, a Mystery Machine and action figure pack from Character Options, and a collection of Scooby-Doo Home Entertainment titles including Trick or Treat Scooby-Doo!
Younger fans will have the opportunity to win this amazing bundle for themselves, along with a games console, by entering the Scoobtober competition on the Boomerang UK website. Fans can also get their hands on a Scooby bundle by entering the Warner Bros. UK Twitter competition, and can watch their favourite Scooby content in style by downloading the Scoobtober Watch Party Pack, filled with recipes, activity sheets and more!
About Trick or Treat Scooby-Doo!
From Warner Bros. Home Entertainment, the animated feature film Trick or Treat Scooby-Doo! will debut on Cartoon Network and HBO Max beginning October 1. Mystery Inc. has cracked the case to top all cases! They've tracked down Coco Diablo, the   head   of   the   notorious   costume   crime   syndicate   that   includes   The   Black   Knight, Space Kook and the Ghost Diver. With Coco and her kitty in prison, Mystery Inc. thinks that they can finally enjoy a break. Wrong! Suddenly, menacing doppelgänger ghosts of the Scooby crew and favorite classic foes show up in Coolsville to threaten Halloween. Now it's up to the meddling kids – and their unlikely new partner Coco – to unmask the  latest   scoundrel   and   save   Halloween!   For   Shaggy   and   Scooby-Doo,   with   trick-or-treating on the line – this time it's personal! The movie also launches on Digital on October 4th for $14.99 SRP (US and Canada)  and DVD on October 18th for $19.98 SRP ($24.98 in Canada). 
Trick or Treat Scooby-Doo!  features   the   familiar   voice   talents   of   Frank   Welker   as Scooby-Doo/Fred   Jones,  Grey DeLisle   as  Daphne  Blake, Matthew  Lillard   as Shaggy Rogers and Kate Micucci as Velma Dinkley. Film is Executive Produced and Directed by Audie Harrison ("Uncle Grandpa") from a teleplay by Audie Harrison & Laura Pollak ("Fairfax,"   "Rise   of   the   Pink   Ladies")   and   Daniel   McLellan   ("Lost   in   Space").   Sam Register (Looney Tunes Cartoons) serves as executive producer.
About HBO Max
HBO Max™ is a streaming platform that offers best in class quality entertainment, delivering the greatest array of series, movies, and specials from the iconic brands of HBO, Warner Bros., and DC, as well as Max Originals and blockbuster films. The platform launched in the United States in May 2020 and introduced a lower priced, advertising-supported tier in June 2021. Currently available in 61 countries, HBO Max began its global rollout launching in markets across Latin America and the Caribbean last summer, followed by European launches in the Nordics, Iberia, the Netherlands and Central and Eastern Europe.
About Cartoon Network
Cartoon Network is the #1 global animated series network. Combined with a rich legacy of characters and a deep roster of creatives with unique brands of storytelling, Cartoon Network showcases original content from across Cartoon Network Studios, Warner Bros. Animation, Hannah-Barbera Studios Europe, and beyond that includes  "Craig of the Creek," "Steven Universe," "Teen Titans Go!," "We Baby Bears," and more. Under its Redraw Your World tagline, Cartoon Network's content commitment appeals to the complete spectrum of kids and families including preschoolers with the programming block Cartoonito and family co-viewing with the ultimate destination,  ACME Night. Upcoming new series such as "Batwheels,"  "Gremlins,"  "Total Drama Island," and more, comprise an inclusive  programming lineup on Cartoon Network. Cartoon Network's historic library can also be streamed on HBO Max, or is available on Amazon, iTunes or Vudu (U.S. only).
About Warner Bros. Consumer Products
Warner Bros. Consumer Products (WBCP), part of Warner Bros. Discovery Global Brands and Experiences, extends the company's powerful portfolio of entertainment brands and franchises into the lives of fans around the world. WBCP partners with best-in-class licensees globally on an award-winning range of toys, fashion, home décor, and publishing inspired by Warner Bros.' biggest franchises from DC, Wizarding World, Looney Tunes, Hanna-Barbera, Game of Thrones, Cartoon Network and Adult Swim. With innovative global licensing and merchandising programs, retail initiatives, and promotional partnerships, WBCP is one of the leading licensing and retail merchandising organizations in the world.
About Warner Bros. Discovery 
Warner   Bros.   Discovery   (NASDAQ:   WBD)   is   a   leading   global   media   and   entertainment company that creates and distributes the world's most differentiated and complete portfolio of content and brands across television, film and streaming. Available in more than  220 countries and territories and 50 languages, Warner Bros. Discovery inspires, informs and entertains audiences worldwide through its iconic brands and products including: Discovery Channel, discovery+, CNN, DC, Eurosport, HBO, HBO Max, HGTV, Food Network, OWN, Investigation Discovery, TLC, Magnolia Network, TNT, TBS, truTV, Travel Channel, MotorTrend, Animal Planet, Science Channel, Warner Bros. Pictures, Warner Bros. Television, WB Games, New Line Cinema, Cartoon Network, Adult Swim, Turner Classic Movies, Discovery en Español,Hogar de HGTV and others. For more information, please visit www.wbd.com.