Jazwares Licensed for CoComelon YouTube Series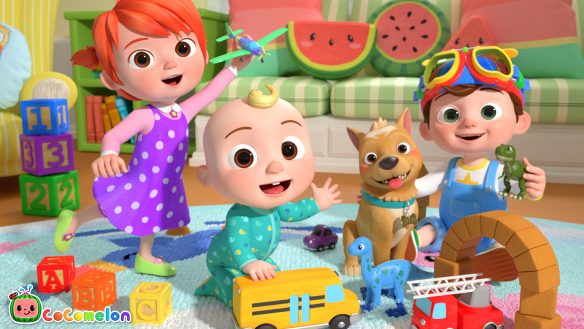 Treasure Studio, the creators of  CoComelon, licensed Jazwares for toys , bringing the YouTube animation series into the category for the first time.
CoComelon, launched on YouTube in 2006, boasts more than 72 million subscribers and over 2.5 billion monthly views. In addition to earning the distinction of being the #1 kids-focused channel, CoComelon is the #1 educational channel, #2 most-watched channel, and #3 most-subscribed channel on all of YouTube. The new toy range is set to arrive at retail in fall 2020, just in time for the holiday season.
The initial CoComelon line from Jazwares will include a wide array of categories, including plush, bath play, vehicles, figurines, and role play. The toys will feature characters and items familiar to hundreds of millions of young fans.
"Our primary goal with CoComelon has always been to engage families with entertaining and educational content that makes universally-relatable preschool moments fun," said Jay Jeon, Founder and CEO of Treasure Studio, Inc. and creator of CoComelon. "We're excited about partnering with Jazwares to extend the benefits of our popular videos beyond the screen for the very first time and give young children great new ways to experience the stories and familiar characters from one of their favorite YouTube channels."
CoComelon's beautiful 3D animation and toe-tapping songs create a colorful world that centers on the everyday experiences of young children, and millions of kids laugh, dance, sing, and play along each day. In addition to helping preschoolers learn letters, numbers, animal sounds, colors, and more, the upbeat videos gently impart positive, prosocial life lessons, providing parents with an opportunity to teach and play with their children as they watch together.
"CoComelon is widely beloved by parents and kids alike with identifiable characters, iconic music, and relatable play patterns, and we definitely expect the brand to resonate in the toy aisle," said Jeremy Padawer, EVP/Partner at Jazwares. "As more families are co-viewing content on YouTube, they are looking for new ways to enjoy their favorite characters and moments off-screen, making this the perfect time to debut a toy line inspired by the incredibly popular CoComelon programming," added Michael Rinzler, EVP/Partner at Jazwares.
"CoComelon has been a true standout in the kids' entertainment 'playground' for more than ten years and its impressive popularity just continues to grow," said long-time licensing industry veteran Samantha Freeman, Licensing Agent, TRAUB. "We look forward to working closely with Jazwares as well as other key new partners as we develop a robust licensing and merchandising program for this remarkable brand."
The deal between Treasure Studio, Inc. and Jazwares was brokered by Freeman. CoComelon is managed by Patrick Reese, Senior Director, Fullscreen. Further specifics about the upcoming toy range will be released in the coming months.
About Jazwares
Jazwares, a subsidiary of Alleghany Capital Corporation, is a global leader in consumer products, including toys, plush, collectibles, musical instruments, and consumer electronics. With over 20 years of design, development, and manufacturing expertise, Jazwares is an award-winning company with a progressive focus on identifying new trends and transforming them into high-quality products for consumers of all ages. Jazwares, which is headquartered in Sunrise, FL, has offices around the world and sells in over 100 countries. Jazwares' mission is to entertain through the creation of innovative products. The company's portfolio features a variety of dynamic, wholly-owned brands along with leading global licenses, and includes acquisitions First Act™, Russ Berrie™, Applause™, Zag Toys™, and Wicked Cool Toys. For more information about Jazwares, please visit www.jazwares.com.
About Treasure Studio, Inc.
Treasure Studio, Inc. (TSI) was founded in 2005 with the goal of making accessible, quality content for children and families. Home of YouTube phenomenon CoComelon, the platform's #1 kids-focused channel, the company launched its first YouTube channel in 2006 with the intent of making videos free to viewers around the world. The Irvine, California-based studio has been consistently producing videos and songs for 13 years. At the heart of the company is a dedicated and talented team of artists, storytellers, musicians, and animators, who love to bring both their childhoods and parenthoods into their work.