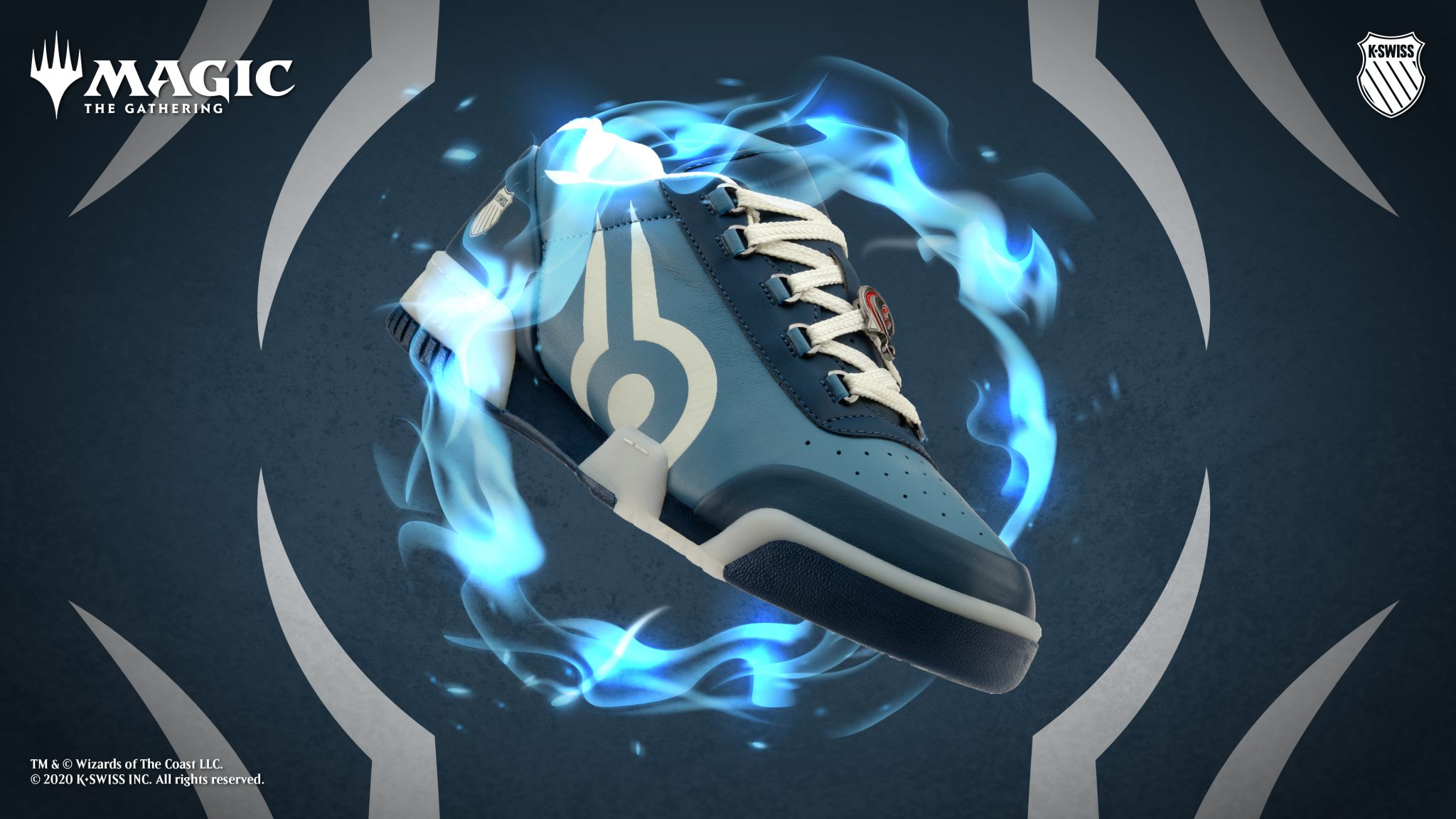 K-Swiss and Magic The Gathering Collaborate for a Uniquely Magical Reimagination of the Gstadd '86: Magic
K-Swiss and Magic the Gathering introduce their latest collaboration launching exclusively through Hasbro Pulse
LOS ANGELES—September 1, 2020—K-Swiss, the American heritage tennis brand, is proud to announce a legendary collaboration with collectible and digital collectible card game, Magic The Gathering. Introducing Magic: The Gathering x K-Swiss a limited edition sneaker inspired by the iconic vanguard of strategy card games— this uniquely magical partnership resulted in a complete reimagination of the Gstaad '86.
K-Swiss taps into Magic: The Gathering's more than 25 years of card character heritage and brings to life one of the most beloved characters, Jace Beleren. The popular Planeswalker is one of the most powerful beings in the multiverse — and this master of mental magic's well-known costume design is the inspiration for the updated K-Swiss Gstaad '86. The sneakers are crafted with premium leather overlays and underlays that are accented by glow-in-the-dark elements — the leather collar lining, printed designs, rubber outsole and extra laces are all inspired by Jace's power and costume. Metal lace clip-ons modeled after Jace's character design and a debossed Magic: The Gathering logo at the tongue and a sublimated sockliner of Jace's artwork complete the magical reinvention of this classic K-Swiss style. They are packaged with a special-edition box and tissue paper.
The Magic: The Gathering x K-Swiss Gstaad '86 will be available on September 1st. The special-edition launch is limited to just 300 pairs and will be available exclusively Hasbro Pulse retailing at $100. Find a link to hi-res imagery here.
For the most up-to-date information, follow @kswiss on Instagram.
ABOUT K-SWISS
From the beginning, K-Swiss has been driven by an entrepreneurial spirit when two Swiss brothers moved to California to create a footwear brand focused on tennis. As avid skiers, the brothers took inspiration from leather ski boots to create a tennis shoe that supported aggressive side-to-side movement. Introduced in 1966, the K-Swiss Classic was the world's first all-leather tennis shoe and powered some of the best tennis players of the time to win major championships. It quickly gained worldwide acclaim and became a style statement both on and off the court, corn casually in country clubs and just as fashionably on city streets. More than 50 years later, K-Swiss is building from its heritage as an American tennis brand and writing new chapters in its storied history. Paying homage to the hard work of our founders and the competitive nature of the game that inspired it all, K-Swiss is dedicated to outfitting and inspiring the next generation of entrepreneurs.
ABOUT MAGIC: THE GATHERING
Magic: The Gathering's compelling characters, fantastic worlds, and deep strategic gameplay have entertained and delighted fans for more than 25 years. Fans can experience Magic through the tabletop trading card game, the new digital game Magic: The Gathering Arena, a New York Times bestselling novel, critically acclaimed comic book series, and professional esports league. With over 40 million fans to date, Magic is a worldwide phenomenon published in eleven languages in over 70 countries.