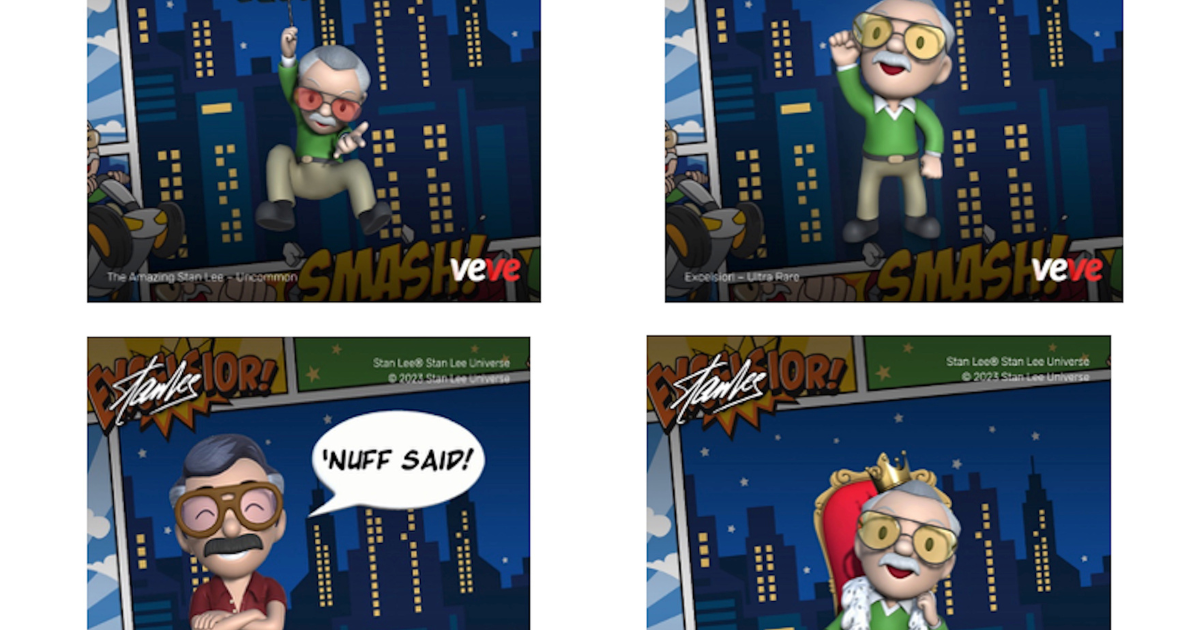 Kartoon Studios Partners with Veve for Stan Lee Digital Collectibles
 Collection sold through shortly after launch on July 18 
Beverly Hills, CA — Kartoon Studios (NYSE: TOON) announced a near-instantaneous sell through of Stan Lee digital collectibles through its partnership with digital leader VeVe.  The total drop, of over 8,000 digital collectibles opened at 8am PST, and was sold out almost immediately. This news comes on the heels of a successful opening of the Stan Lee Exhibit at The Comic-Con Museum in San Diego, California.
The Celebrating Stan Lee collection, joins STAR WARS, MARVEL and DISNEY amongst their elite collection of digital collectibles.  Celebrating Stan Lee features four digital collectibles for fans in Chibi style, which is a popular style of caricature originating in Japan and common in anime and manga where characters are drawn in an exaggerated way, typically small and chubby with stubby limbs, oversized heads, and minimal detail.  The collection includes:
The King of Cameos: A throne fit for a king – a king of cameos, that is! Stan Lee made beloved cameo appearances in comics, TV, movies, video games and much more.
'Nuff Said!: Stan Lee worked in the comic book business for almost 80 years, revolutionizing the industry and co-creating some of the most famous characters of all time while he was at it. 'Nuff Said' was one of his famous signature expressions. Talk about a legacy!
Excelsior!: Do you know why Stan Lee chose Excelsior!, which means 'ever upward,' as his comic book sign-off? Because he figured his competitors wouldn't know how to spell it and therefore, they couldn't steal it!
The Amazing Stan Lee: Amazing. Legendary. Unforgettable. We could keep listing adjectives to describe Stan Lee, but you get the picture.
Lloyd Mintz, SVP, Global Consumer Products, Kartoon Studios stated: "We are thrilled with the results of this first venture in digital collectibles.  That there was a complete sell through, and the fact that it was nearly instantaneous is a very strong indicator of the extraordinary passion that fans have for Stan Lee, and where we see the future of the Stan Lee brand.  Stan Lee Universe is so excited to be partnered with a leader in the digital collectible space, Veve, to further commemorate Stan's life and accomplishments in what would have been his 100th year, by bringing this first U.S., officially licensed Stan Lee Digital Collection to his legion of fans!"
David Yu, CEO, VeVe Digital Collectibles commented: "This sale marks an important turning point in the digital collectibles market.  Stan Lee was a true pioneer in the comic book industry. His work transcended mediums and generations, and with it, he became a larger-than-life cultural icon to fans around the globe.  Stan was always on the cutting-edge, constantly exploring innovative avenues in which to share his stories with fans all over the world.  Our new collection of limited-edition digital collectibles embraces his curiosity utilizing the latest technological innovations and commemorating his legacy with a new and fun foray into the digital collectibles world."
Kartoon Studios, through a joint venture with POW! Entertainment, owns and manages the global rights to the legendary Stan Lee's name, physical likeness, voice, signature, and  IP, called Stan Lee Universe, which includes the Stan Lee Celebrity brand, as well as new content to be created from Stan Lee's portfolio of approximately 150 unmined ideas and character creations in his post-Marvel career, along with consumer product programs to be developed for these new projects.