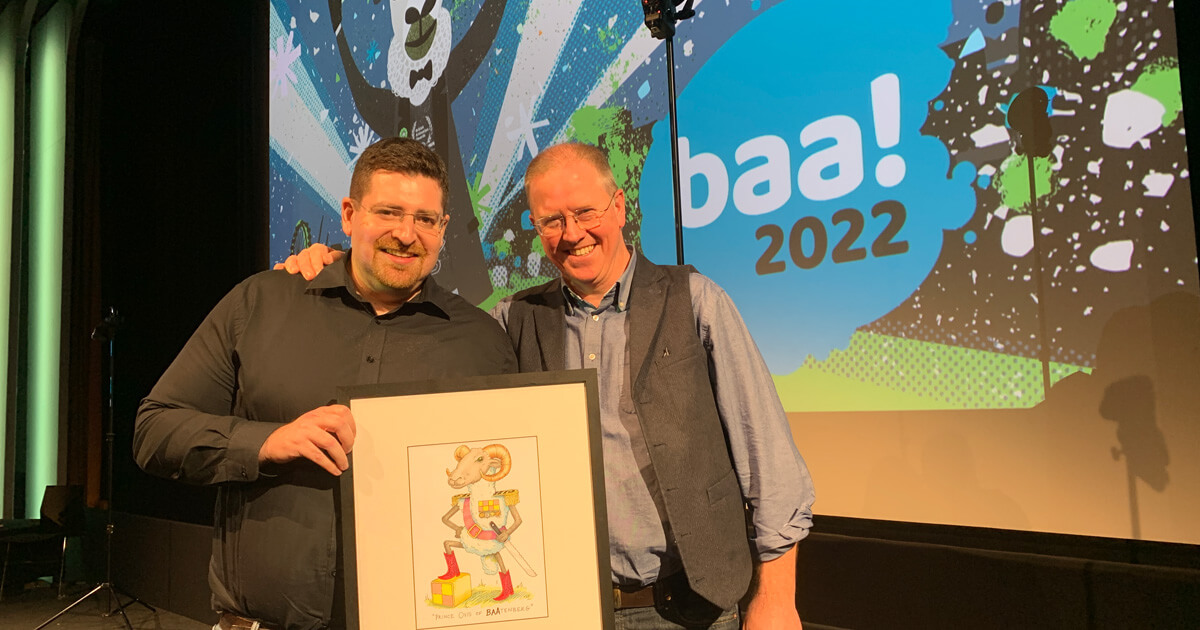 Keyframe Studios honoured at 2022 British Animation Awards
Innovative work using industry-first techniques wins Cutting Edge Award
Keyframe Studios, a creative full-service London studio and the creator and developer of the animated sequences in E4's hit comedy Dead Pixels, has been honoured at the 2022 British Animation Awards where it won in the Cutting Edge category.
This category win underlines the extraordinarily innovative approach Keyframe used for creating an in-show fantasy roleplay game called Kingdom Scrolls.
The team used Keyframe's bespoke animation pipeline built on the Unity platform – the leading real-time 3D content creation platform. In fact, appropriately enough, Unity is best-known as a game engine used in computer games. Keyframe built on this, fully customizing Unity for its own work.
This revolutionary approach is affectionately known by the Keyframe Studios team as Grue (named after a fictional monster from a popular 70s game). Keyframe has developed Grue as a bespoke pipeline facilitating high-quality animated CGI – only much, much faster than most studios can manage. This allowed the company to work to tight deadlines for the Dead Pixels material and deal with last-minute changes at very short notice.
The result in Dead Pixels – a sitcom about a group of dysfunctional gamers – has been Kingdom Scrolls, which was entirely created, designed and produced for Dead Pixels by Keyframe Studios. It even evolves like a real game. In fact the series two game, for which Keyframe won its award, was an upgrade of the game that Keyframe had developed for series one.
For series two Keyframe delivered 60 minutes of animated content featuring over 80 characters and 30 environments across an eight-month production window during which a team of 17 artists worked on the content.
Today the Grue pipeline is used in all Keyframe Studios' workflow – whether it's delivering 3D CGI, 2D, virtual reality, interactives, apps or games – including Keyframe's popular pre-school animated show the Adventures of Zeze Zebra.
The 2022 British Animation Awards jury, highlighted this innovative approach in its announcement of the award, saying: "Things should be animated for a reason, and this production completely justifies its use… The Cutting Edge category winner incorporates a pipeline that we haven't seen used so suitably before on TV production."
Now in their 26th year, the British Animation Awards (BAAs) attract the great and the good from one of the nation's most successful creative industries to this biennial celebration of their craft.
Asa Movshovitz, Founder and Animation Director, Keyframe, says: "Our work on Kingdom Scrolls for Dead Pixels was a true labour of love for which we introduced some genuine innovation to the process – a bespoke animation pipeline. We thought it would be a good fit for a Cutting Edge Award category nomination but actually winning was  an extraordinary thrill for everyone at Keyframe and fabulous recognition for everyone's very hard work."
About Keyframe Studios
Established in the UK in 2009, Keyframe Studios is a creative full-service London-based animation studio for 2D and 3D character animation. Keyframe specialize in 3D character CGI production for television commercials, TV series, digital platforms, interactive media and develop mobile games and apps. Clients include broadcasters Channel 4, BBC, Sky, BBC Studios, production companies and agencies. Keyframe also creates high-end CGI content and interactives for brands including children's edtech Marco Polo Learning, Lloyds Bank, Hyundai, Nissan, Samsung, and Vodafone.
About Unity
Unity is the world's leading platform for creating and operating interactive, real-time 3D (RT3D) content. We empower creators. Across industries and around the world.