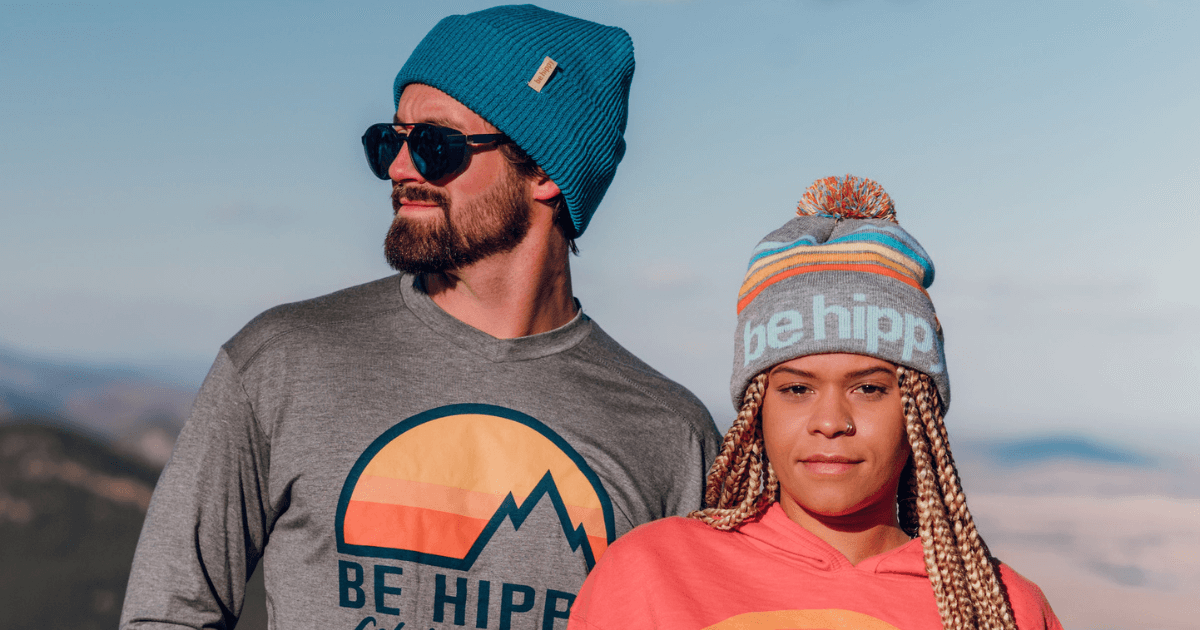 League Legacy Getting Hip with Licensing for "Be Hippy" Brand  
 Licensing and Distribution of Apparel and Accessories to Expand Be Hippy Brand Throughout the Resort and Destination Markets
 Denver CO —  "Be Hippy" the retro-trendy lifestyle brand born in the foothills of Aspen Colorado and L2 Brands, home of popular brands League and Legacy, a leader for 30 years in the college and resort markets are proud to announce that they have entered into a license agreement for apparel and accessories including popular "name-drop" customized headwear, apparel and home decor for the resort and destination markets.
"We have been working with League Legacy for many years as a supplier and we know their quality and workmanship." Stated Leigh Pearson, one of the founders of Be Hippy.  "This license is the perfect evolution of our relationship and enables us to expand the Be Hippy brand throughout the country including the resort and destination markets where League Legacy has built such a strong business."
"This is exactly the type of exciting graphics our customers enjoy ordering from us!" Explained Mark Caropreso, VP of Destination Sales at League Legacy.  Lisa Norris, EVP Sales and Marketing, says "Be Hippy is trend right and a perfect pairing with our premium fabrics, growing sustainable collections and laid-back lifestyle brands."
The "Be Hippy" brand started out of a retro-painted Volkswagon minivan traveling to various Colorado festivals and has since grown to 6 retail locations in Colorado including Aspen and Denver. In addition to the retail locations, Be Hippy's website and social media reaches over 5.5 million touch points every year.  Be Hippy is not your typical lifestyle brand, it is a vessel for positive change and a movement to spread peace and love. Be Hippy prides itself on quality and sustainability, and they are a proud supporter of "1% For The Planet" donating 1% of all sales to this worthy cause.  The new League Legacy Be Hippy collections will include traditional apparel and headwear as well as several sustainable items consistent with the Be Hippy mission.
The League Legacy licensing program features Be Hippy's retro designs and "hip" tag-lines that evoke emotion and promote conversation to bring about change.  Be Hippy products from League Legacy include headwear, apparel, and home décor in just about every color and design that any hip consumer could ask for.
The Be Hippy x League Legacy license was created by The Brand Liaison as agent for Be Hippy. The Brand Liaison will continue to build the "Be Hippy" brand through a fully integrated licensing program spreading positivity in a world that needs peace, love and licensing. "We looked at several business expansion strategies including licensing and The Brand Liaison stood out to us as the best agency to help us meet our goals." Explained Be Hippy founders Bart O'Brien and Leigh Pearson.  "They understand our brand and share our mission for positivity and sustainability."
For more information on Be Hippy licensing, email Joy Tashjian of The Brand Liaison Joy@thebrandliaison.com.  
About Be Hippy
Born in the mountains of Colorado, be hippy is a grassroots lifestyle brand focused on kindness and positivity.  It began as a dream and quickly became a lifestyle spreading feel good messages at outdoor events, festivals, and concerts. Now be hippy product can be found at their 6 be hippy stores in Aspen and Denver, including the Denver International airport where over 69 million travelers see their hip designs and products. Behippy.com offers fun sayings on products ranging from T's and sweats to hats, mugs, stickers and more!  In recognition of its responsibility to our planet, Be hippy spearheads positive change in the world and contributes a portion of sales to 1% FOR THE PLANET.  Be hippy has engaged The Brand Liaison to shift their business model to licensing as a way to spread positivity in a world that needs peace love and licensing…be hippy
About L2 Brands: League | Legacy 
Rooted in the desire to provide best-in class products with everyday comforts, League and Legacy began their journey in the early 1990's with two sets of friends, one making on-trend accessories and the other with a budding passion to make the best fitting cap on the market. After previously being known separately as League and Legacy, these longtime friends merged to form L2 Brands in the spring of 2018.  Whether it is League's apparel or Legacy's headwear and home décor, the L2 team works together to continue each brands' rich tradition of incredible on-trend product design and detail with extremely creative custom graphics.  L2 is committed to evolving and growing through new products, new markets, and new collaborations all while upholding our customers satisfaction and creating social impact.  https://league-legacy.com/
About The Brand Liaison 
The Brand Liaison is a premier licensing agency representing both Licensors and Licensees in Fashion, Entertainment, Character, Sports and Art brands.  We focus on creating new revenue streams for our clients through licensing, strategic partnerships and other brand extension programs.  For licensors, our goal is to commercialize opportunities that will extend our clients' brands into cohesive product categories to maximize their licensing potential.  For manufacturers, we assist in acquiring brands and developing strong licensing programs in order to create long term retail success.  In each case, we work closely with our clients to ensure that our brand extension activities compliment the strategic goals and objectives of each client and brand that we represent.