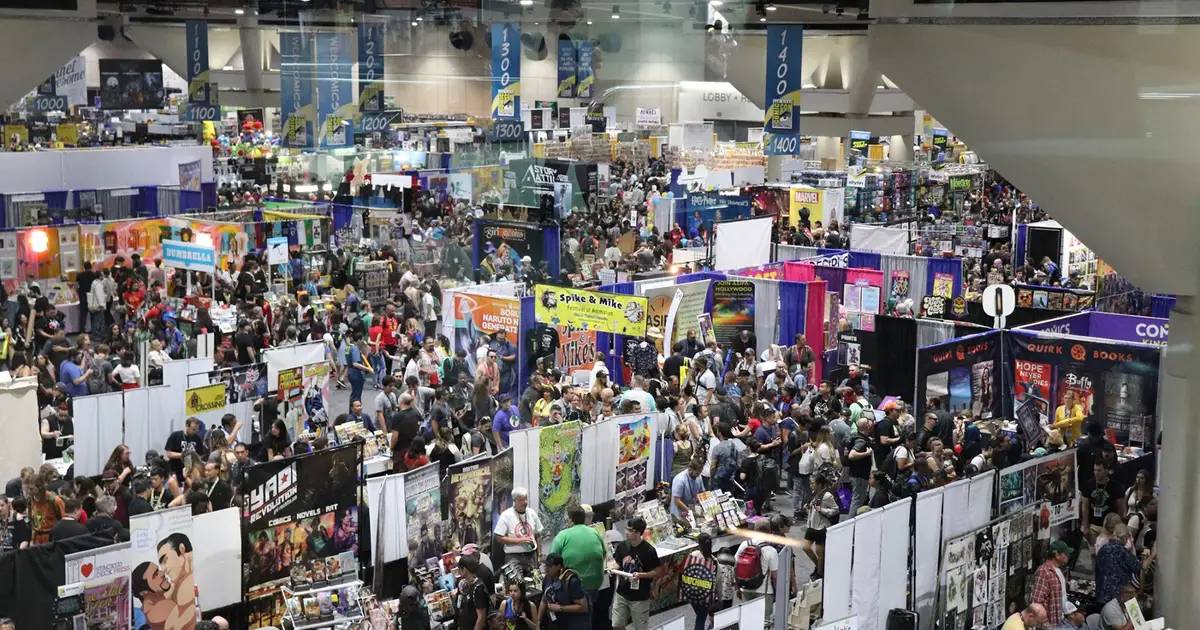 Licensees Steal the Spotlight at Comic-Con
With many studios choosing not to exhibit at San Diego Comic-Con (SDCC) this year, there was an opening for licensees and lesser-known properties to take center stage at the fan event.
While the actors' and writers' strikes were the topic of discussion at the show, there were no picket lines at the convention (which was expected to draw 135,000). However, studio presence was largely limited to consumer products staff attending the show for scheduled meetings.
Paramount did maintain a booth at this year's event as it promoted the upcoming Teenage Mutant Ninja Turtles: Mutant Mayhem (August 2) with a 20-minute clip from the film. And while Warner Bros. Discovery cancelled its plans for a booth, the company did premiere three films at SDCC, including Justice League: Warworld (July 25), and the Babylon 5: The Road Home science fiction series (August 15).
Stepping into the void left by studios were major toymakers like Hasbro and Mattel, the latter riding a wave of PR surrounding the Barbie movie's release on Friday. The live-action film represented a "milestone moment" for the company, said CEO Ynon Kreiz. Mattel inked approximately 100 licensees for the Barbie movie's licensing program.
"We set out to create a cultural event that is more than making a movie," Kreiz said. "Barbie is a pop culture icon that is both timeless and timely. It speaks to the potential of Mattel Films and the progress of our strategy to capture full value of our intellectual property."
And with so many studios sitting out SDCC, there was an opening for the convention's legendary 6,500-seat Hall H. Typically reserved for the launch or promotion of major tentpole films, this year the hall highlighted lesser-known IPs. For example, Project K (January 12)—the first Indian film to be showcased at the pop culture convention—hosted a panel discussion in Hall H.
And DC Comics, home to characters that have long been fodder for blockbuster feature films, focused much of its attention on comic books and consumer products at its booth this year. While upcoming movies like Blue Beetle (August 18) and Aquaman and The Lost Kingdom (December 20) were promoted at the DC booth, there was also a book-oriented event dubbed "Dawn of DC." Further underscoring the comic book focus was publisher Sumerian, which is readying an American Psycho comic book series based on the 2000 film that will be released on October 11.
Outside the convention, many brands hosted pop-up experiences. Hulu's new adult animation sub-brand, "Hulu Animayhem," sponsored an immersive experience in the parking lot of Bayfront Park, while Bandai Namco featured a Dragon Ball special exhibition at the Marriot Marquis San Diego. And Peanuts Worldwide hosted a "Beagle Scouts" pop-up while IDEA Lab held a "Cosplay Repair Station" at the San Diego Public Library.
One SDCC tradition that carried on without interruption this year was the sale of event-exclusive products. Jakks Pacific's Disguise costume division, for example, sold through a "large amount" of the 1,000 Michael Myers Funko Pop masks produced for the show, said Tara Cortner, President and General Manager at Disguise.
In fact, the sale of exclusive products covered the cost of Disguise's booth space. The company took space at SDCC for the first time this year and hosted a panel discussion featuring its Super Mario Bros. and Sonic the Hedgehog costumes. DC also stocked its booth with exclusive merchandise, including resin statues of its characters priced at $499.
"The trend has been for exhibitors to have exclusive product as a means for driving fans to their booths and also underwriting the cost of being at a show like this," said Jim Lee, President and Publisher of DC Comics. "But it is also a great way to stoke fandom. People go online, they go to Discord channels, they talk about what they scored at Comic-Con. They wait long lines to go into Hall H or to meet creators and celebrities, and they also wait in long lines to buy exclusive merchandise."