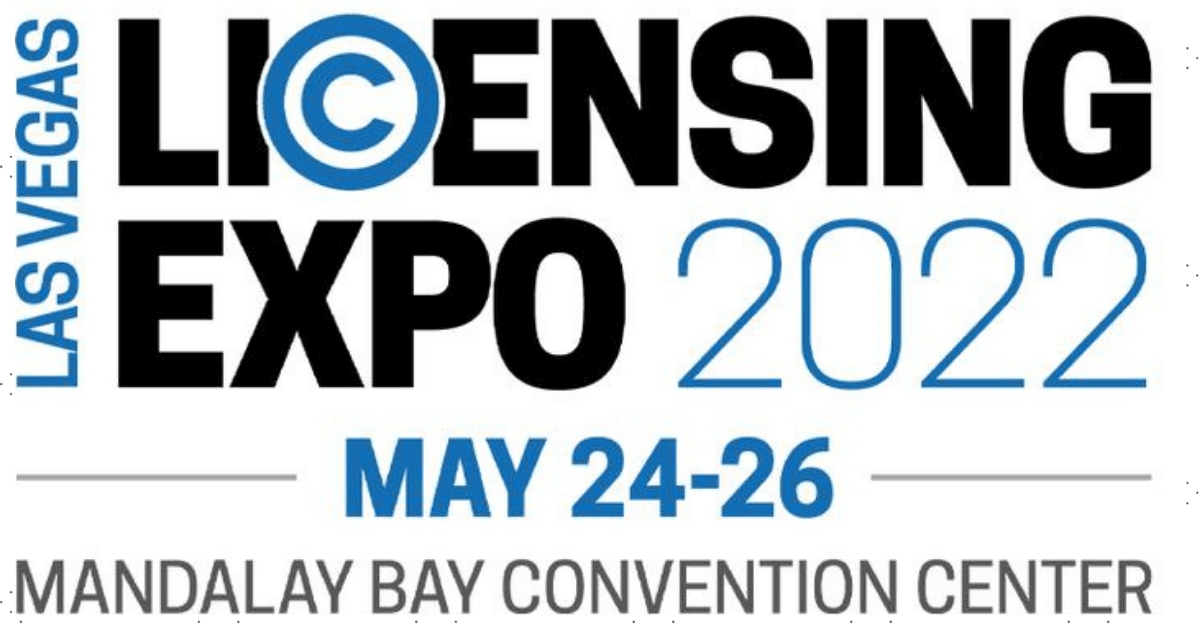 Licensing Expo 2022 Reveals New Raft of Confirmed Exhibitors, Including Riot Games, Amazon Studios, Netflix, MLB Players, and Sesame Workshop
Riot Games and Moonbug Entertainment are first-time exhibitors
Newly signed returning brands include Amazon Studios, Netflix, MLB Players, The Coca-Cola Company, Sesame Workshop, kathy ireland Worldwide and La Panaderia
1,000+ meetings confirmed to date
Register here to access the online platform and schedule meetings before arriving on-site
Las Vegas, NV – Licensing Expo, produced in partnership with industry trade association Licensing International, continues to lock in the world's most sought-after IP owners for the 2022 edition spanning a wide array of product categories. Most recently signed exhibitors for the May 24-26 event, held at the Mandalay Bay Convention Center, include Amazon Studios, Netflix, MLB Players, The Coca-Cola Company, Sesame Workshop, La Panaderia, United Talent Agency, TSBA, LAI GAMES, MADE, and Genius Brands International, plus first-time exhibitors Riot Games and Moonbug Entertainment.
"Brand extension as a strategic marketing and revenue-driving tool is taking off across nearly every category – an exciting trend that will be reflected on our show floor in May," said Anna Knight, SVP of the Global Licensing Group, organizers of Licensing Expo. "We are seeing an incredible variety of brands from every category: sports to gaming, entertainment to FMCG showcased this year. This is the real strength of Licensing Expo as there is nowhere else you can see such a wide variety of brands available for license under one roof."
Big box retailers, leading manufacturers, and best-in-class licensees are flocking to Licensing Expo in search of new potential partners, the hottest new IP, and to discover new trends, underscoring the industry's pent-up demand following three years without an in-person trade show. New and notable registrants include H&M, Procter & Gamble, Pull & Bear, Amazon, Kohl's Department Store, Hallmark Cards, Super RTL GmbH, McDonald's, Mad Engine, Hot Topic, Burlington Stores, Logitech, the TJX Companies, Rubies Costumes, Taco Bell, Build A Bear, Jakks Pacific, Educas Borras, Old Navy, Primark, ROSMAN, American Greetings and Centric Brands.
Other brands confirmed to exhibit at Licensing Expo 2022 include Buzzfeed, Epic Rights, Funko, Frida Kahlo, Hasbro, Joester Loria Group, Laika Studios, LEGO, Mattel, MGA Entertainment, MHS Licensing, MGM Studios, NASCAR, NFL Players Inc, Paramount, Paul Frank, Peanuts Worldwide, Penguin Random House, Pokemon Company, Sanrio, SEGA of America, The Beanstalk Group, The Smiley Company, The Smurfs, Toei Animation, Ubisoft, Universal Pictures, Warner Bros CP, WWE and 200+ others. See the full exhibitor list here.
The event recently opened its online platform, strategically designed to complement the live show, providing registered guests the opportunity to sift through exhibiting brands by category and schedule meetings in advance of the May 24-26 event. Attendees and exhibitors alike are taking advantage of the digital resource, with more than 1,000 meetings confirmed already with five weeks to go, and thousands of requests pending.
Knight continued: "We're so excited to share the growing exhibitor list with our community; to date, over 230 exhibiting companies are confirmed who represent 5,000+ of the world's biggest brands from every sector, with still a month still to go. The breadth of interest from brands that have never exhibited before and emergent categories is remarkable and is drawing registrations from big-box retailers, leading manufacturers, and best-in-class licensees."
Licensing Expo Exhibitor Commentary: 
BuzzFeed – "We're super excited to be coming to Licensing Show which will be the first time we're coming together as Buzzfeed, Inc with a portfolio of category-leading brands: BuzzFeed, Tasty, Complex, Hot Ones and our News brands BuzzFeed News and Huff Post," said XX at BuzzFeed. Our booth will be powered by tech and full of live content — including minute-by-minute changing screens and themes: with fan-favorite BuzzFeed celebs, Tasty videos and Hot Ones interviews and we'll be having a LIVE Hot Ones Challenge!" 
Death Row Records x Snoop Dogg – "We're very excited to be a part of our first ever license show showcasing Death Row Records x Snoop Dogg! Come see us at booth #F101." 
LAI Games – The 2021 Virtual Licensing Expo stood out as a great event in a sea of virtual event experimentation. VLE was efficient, accessible, and led to multiple valuable relationships and deals for us. These successes led us to exhibit at Licensing Expo this coming May – we're extremely excited to re-connect with the industry in person and meet with existing and potential new partners during our time on-site.  
LAIKA – "LAIKA is thrilled to be exhibiting for the first time at Licensing Expo with a lobby display featuring puppets and sets from our five Oscar®-nominated films (Missing Link, Kubo and the Two Strings, The Boxtrolls, ParaNorman, Coraline). These pieces showcase the unique, handcrafted detail that goes into creating LAIKA's stop-motion animated masterpieces and contributes to our characters' enduring appeal to consumers; a trend that's sure to continue with our next film, the epic fantasy adventure Wildwood. We're delighted for Expo attendees to experience the magic of LAIKA first-hand and explore new licensing opportunities with our properties." 
The Bunker Media Group – "The connecting and scaling of fresh voices empowers innovation. We could not be more excited to connect with some of the world's most influential brand owners at Informa Markets' 2022 Licensing Expo. We are looking forward to introducing Christian Lee Hall, and his 2nd Coming Comix Universe. Christian forged his path, as he self-published 200+ distinct, yet mainstream, marketable comix characters, each featuring vibrant storylines, with numerous more compelling creations on the way."  
TheSoul Publishing – "TheSoul Publishing is in a completely unique position as a licensor. We have unmatched global reach and marketing opportunity that's already baked into our value proposition for our manufacturing and retail partners. With a particular focus on our DIY juggernaut 5-Minute Crafts, we're excited to explore the possibilities at the 2022 Licensing Expo and to soon offer our fans an incredible array of consumer products across our brands." 
Registration for Licensing Expo is free – secure a pass today and log into the digital platform made available to all attendees and exhibitors to begin scheduling meetings with industry-leading brands. 
Licensing Expo is an ideal platform for industry press to discover the latest trends and emergent brands – register for free press credentials here. Registered press are invited to participate in the second annual Media Day, slated for Monday, May 23, from 2:00 p.m. to 5:00 p.m., for the chance to hear exclusive presentations from senior-level executives at Hasbro, Brandgenuity, Crayola, Shell Brands, Legendary Entertainment, Jazwares, SEGA, Paul Frank, Falcon's Beyond, Viz Media, and ZAG – happy hour to follow immediately. Contact LicensingPR@informa.com to RSVP as attending press.
About Licensing Expo
Launched in 1980, Licensing Expo is the world's largest and most influential annual tradeshow dedicated to licensing and brand extension. Every year, more than 5,000 brands and 16,000 retailers, licensees, manufacturers, distributors, and licensing agents attend Licensing Expo from more than 70 countries. Licensing Expo is a part of the Global Licensing Group at Informa Markets, the licensing industry's leading tradeshow organizer and media partner. Its mission is to provide licensing opportunities around the world by bringing brands and products together. 
About Global Licensing Group
The Global Licensing Group at Informa Markets is the licensing industry's leading tradeshow organizer and media partner. Its mission is to provide licensing opportunities around the world by bringing brands and products together. The following events and information products are produced for the licensing industry by the Global Licensing Group at Informa Markets: Licensing Expo, Brand Licensing Europe, Licensing Expo Japan, Licensing Expo Shanghai, The Licensing Leadership Summit, License Global magazine, License Global Daily E-News and The Licensing Mixtape podcast. Global Licensing Group events are sponsored by Licensing International. 
About Licensing International
Licensing International is the leading trade organization for the global licensing industry. Licensing International's mission is to foster the growth and expansion of licensing around the world, raise the level of professionalism for licensing practitioners, and create greater awareness of the benefits of licensing to the business community at large. Founded in 1985, Licensing International members in over 40 countries enjoy access to an array of benefits, including extensive educational programming and worldwide networking events. Visit LicensingInternational.org for more information and to utilize licensing's definitive online resource.