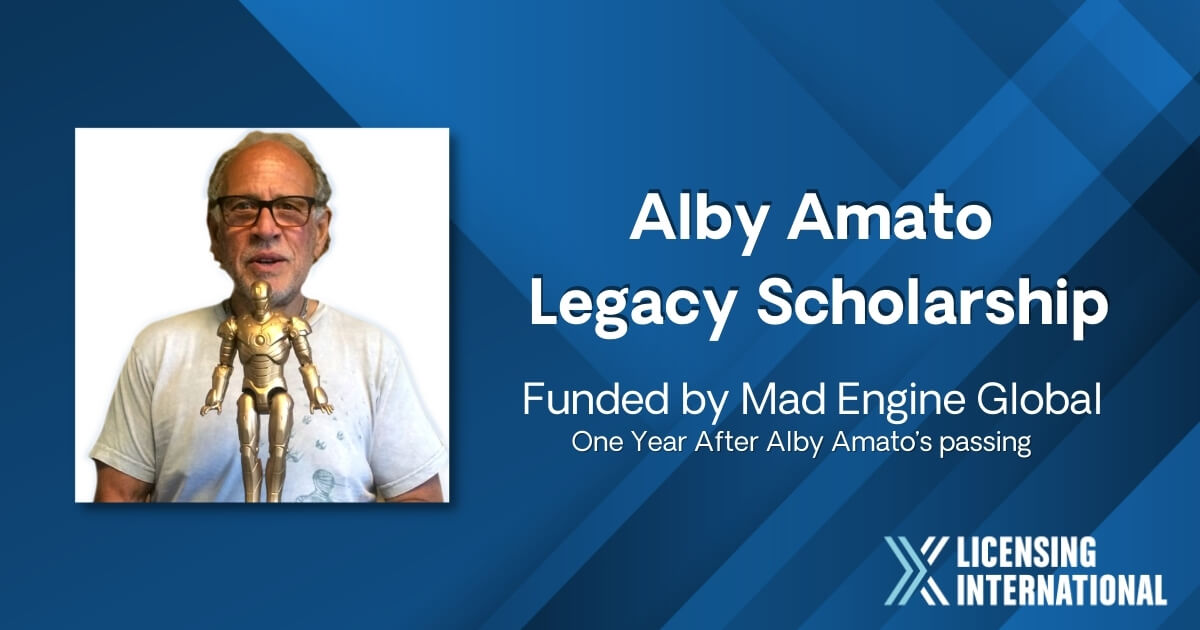 Licensing International Announces the Alby Amato Legacy Scholarship, Funded by Mad Engine Global
NEW YORK, NY SEPTEMBER 20, 2021 – Licensing International – the leading trade organization for the brand licensing industry – is thrilled to announce a legacy scholarship honoring Mad Engine founder Alby Amato, a true visionary for the Licensing Industry.  This scholarship is part of the Licensing International Scholarship Program which is designed to inspire the next generation of talent toward a career in brand licensing.
The Alby Amato Legacy Scholarships, funded by Mad Engine Global's generous donation of $50,000, will be awarded to college juniors who have demonstrated an interest in a career in licensing with a focus in retail and an eye for t-shirt design.
"Alby was deeply committed to the licensing industry and also to its creative community," said Dean Allen, Mad Engine's Chief Merchant.  "The Licensing International Scholarship is an opportunity for Mad Engine to support and foster the next generation of the Licensing Industry and the perfect way to honor Alby's legacy, which is alive and well at Mad Engine."
Alby was the epitome of the American Dream – an immigrant who arrived in the United States with nothing and created a small empire in the apparel space.  In 1979, Alby immigrated to the United States from South Africa and started a small retail chain in San Diego.  In 1987, he founded Mad Engine, which at the time was a small contract printer, selling full package t-shirts to national brands such as Polo, Todd Oldham, Lee Jeans, Levis and Reebok.  Alby kept working hard and continued innovating and in 2002, he managed to obtain the Marvel license and forever change the course of Mad Engine.  Marvel Comics gave Alby its first Lifetime Achievement Award.
Alby sold Mad Engine in 2011 but continued to work with the organization in different roles through the years and remained an inspiring visionary for the company.   Mad Engine's corporate stewardship – whether its Mad Sustainable or the Million Mask Giveaway – has its roots in Alby.  Alby was a great person who wanted Mad Engine to exemplify those same characteristics.  Alby was a wonderful father, a family man, a mentor to so many other people in this industry and other entrepreneurs, and an incredibly charitable person.
Maura Regan, President, Licensing International: "We cannot think of a more fitting way to honor the legacy of Alby Amato and his deep commitment to inspiring the next generation of licensing professionals.  We are grateful for Mad Engine's continued commitment to Alby's legacy."
Licensing International will begin accepting student applications for scholarships in November 2021.   Scholarships will be awarded to students seeking degrees in business, e-commerce, marketing, design, engineering, entrepreneurial studies and other brand licensing industry-related programs, who also meet a number of other eligibility requirements.
To learn more about the Licensing International Scholarship Program or make a donation, click here.