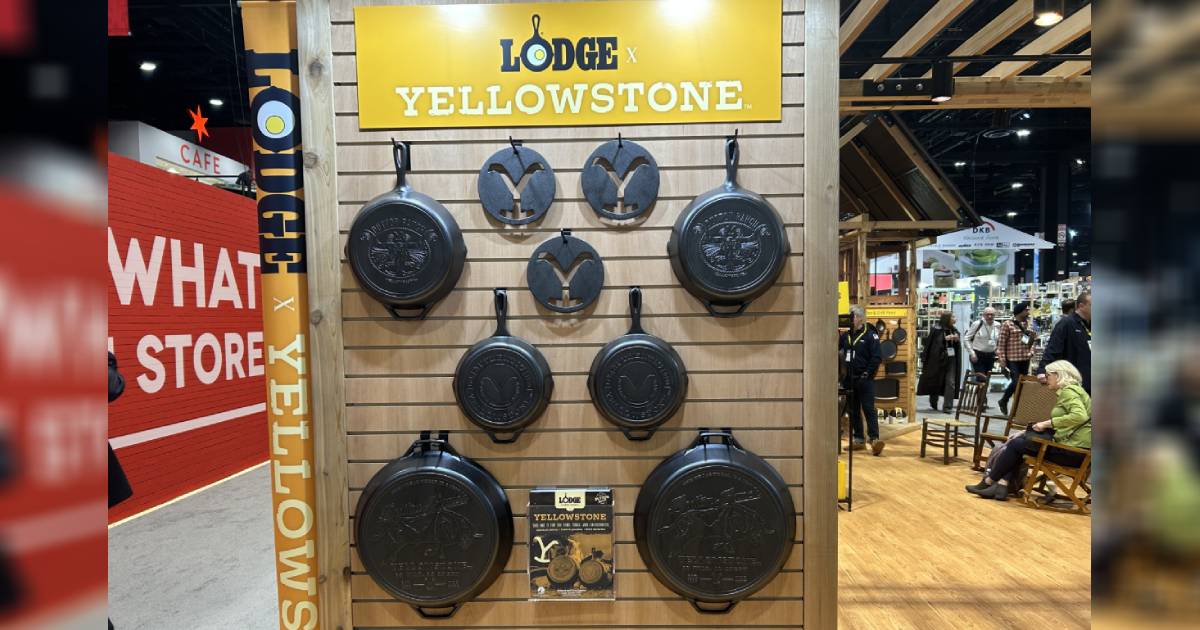 Licensing is a Key Ingredient in Housewares
Brand licensing is increasingly being served up as a main ingredient in housewares as suppliers seek to ward off competition and rising materials costs, industry executives said this week at the Inspired Home Show in Chicago.
U.S. housewares sales are expected to decline 5% to $40.4 billion this year as pandemic-related increases ease, according to The NPD Group. Licensing is one strategy to entice consumers who are cutting down on discretionary spending, and a broader use of licensed IP was evident across the show floor.
Lodge, best known for its cast iron cookware, shared a booth with Paramount and its Yellowstone licensees, including Zak Designs (glasses), Tervis (30-ounce stainless steel tumbler), Silver Buffalo (mugs), Green Gables Furniture (bedstead, love seat, curved leather sofa), Proud Grill Co. (grilling products), and Select Brands (mini waffle maker). Lodge itself has 10 Yellowstone-inspired SKUs.
Mon Chateau and Gibson Housewares showed lower priced Sur La Table Essentials expresso machines, air fryers, and cookware. In the case Mon Chateau, the new line is priced about $20 less than a more featured version that was launched through Costco 18 months ago and will expand to other chains this year including Best Buy and Target. And Baker's Secret will ship Oreo-branded bakeware this spring, including 15- and 17-inch rolling pins, 24-cup muffin pans, and 8.7-inch fluted tube pans.
"It has been challenging and when the business slows down as retailers work through their excess inventory, a well-known brand really helps in a crowded market," said Corey Jacobson, SVP of Sales and Marketing at Mon Chateau. "Not many consumers are going to recognize and buy a product with the Mon Chateau name on it."
The weight a brand carries will likely be more important than ever this year as retailers spend much of the first half selling off excess inventory. The bulk of that inventory is expected to clear by June, with new products arriving by September, industry executives said.
With retailers so far being relatively conservative in placing orders, suppliers are taking this time to fine-tune their product plans. And while shipping container prices have declined, materials costs remain something that will be a factor during negotiations. As the market stabilizes, it will become harder to raise prices, said Jennifer Dalquist, EVP of Sales and Marketing at cookware supplier Nordic Ware.
Lifetime Brands, which last year acquired water bottle supplier S'well, will position it at a premium to its own Built brand and continue expanding an inbound licensing program that has ranged from Disney to fashion label MCM, said Jocelyn Kepko, Division Sales Manager at Lifetime Brands. It will keep S'well in relatively limited distribution including at Amazon Marketplace, direct-to-consumer, and corporate promotional products, she said. Lifetime may also extend licensing for the first time to Built, which is sold through mass retailers.
In addition to a number of companies seeking to break into the U.S., the Inspired Home Show also featured many teams seeking exclusive retail agreements.
PME Cake, which has Harry Potter licensing rights for cake decorations in EMEA, is seeking to secure distribution in the U.S., for example. Spain-based Stor, which has licensed children's water bottles under Minecraft, Bluey, and other entertainment brands, is also looking to grow in the U.S.
Meanwhile, Uncanny Brands is seeking to expand distribution for its licensed kitchen appliances (waffle makers, slow cookers, and popcorn machines) by developing exclusive programs for three retailers, which will consist of 2,500 – 4,000 units each for limited runs in the fall. Among the retailers are Kohl's (Marvel Gogo mini-waffle makers and slow cooker), Michael's (Hello Kitty Café mini-waffle maker) and Canadian retailer Showcase.
"If it's not exclusive, a consumer is going to walk into the store, go to their phone, and see if they can get it cheaper on Amazon," Uncanny President Matthew Hoffman said. "If there is something exclusive with a different design, you have to buy it at the retailer because you aren't getting it anywhere else. It's a reason for people to come into a store. It just can't be price or convenience—it has to be special."