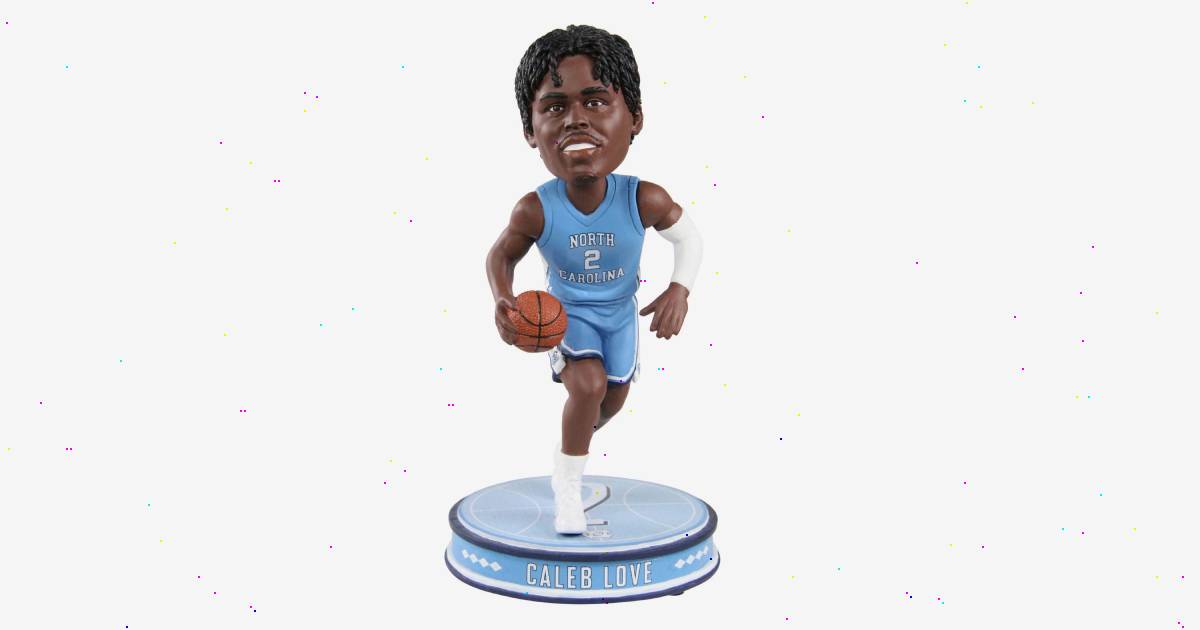 Licensing Slowly Coming Into Play for NIL
In the year since the U.S. Supreme Court threw out the NCAA's restrictions on "education-related benefits," name, image and likeness (NIL) licensed merchandise is slowly coming into play.
For the most part, the NIL business for collegiate athletes has largely focused on endorsement, sponsorship, and other marketing-related deals with merchandise largely sidelined for the time being.
That isn't to say there haven't been agreements. Foco developed University of North Carolina men's basketball player bobbleheads to mark the school's surprise run in March in the NCAA Men's Basketball Championship. High-end custom suit supplier Reveal Suits signed licensing pacts for the Villanova University and University of Michigan football teams that require players post a minimum of six times each year on social media. Print-on-demand supplier BreakingT has built a business with school name and player image, and number t-shirts across a broad swath of collegiate sports including baseball and women's softball in addition to football and basketball. And Fanatics' Topps has agreements with nearly 150 schools for trading cards.
Yet for those involved in licensing the focus is on developing a long-term strategy.  To start there is the product development cycle, which in the case of bobbleheads, for example, can take six months to bring to market. Then there's the transfer portal, which collegiate athletes can enter to switch schools. Former University of Oklahoma quarterback Spencer Rattler was a three-year starter until he was replaced last fall, prompting him to transfer to the University of South Carolina last November and moving his booblehead to discount bins. Dabobbleheads.com was promoting Rattler's bobblehead this week in a University of South Carolina uniform that was listed as "coming soon." Then there's the challenge of gaining distribution with national retailers, many of whom are reluctant to carry NIL merchandise that may only have currency in local markets.
"The challenge is that it is hard to scale this business on a national level," said a licensee executive. "I am not saying retailers are not going to take a bite of this and they probably should, but is really going to ramp at the bookstore and local level. Whether we are successful out of the gates, it is going to take three to five years to build this [merchandise] business and figure out what our approach is. Right now it is very incomplete, but there is potential."
That correct approach, at least in the beginning, for merchandise may indeed be at college campuses and bookstores where athletes have attained some degree of fame and through alumni networks. For example, University of Michigan retailer M Den has installed player-related sections in its store and hosted autograph signings, including one for star sophomore quarterback J.J. McCarthy.
While local retailers in many cases have bought in for football and basketball, whether licensees are willing to place bets on athletes in other sports categories including woman's volleyball and gymnastics and men's wrestling and volleyball remains to be seen. There are plenty of promotional deals available for these sports – Louisiana State University junior gymnast Olivia Dunne has landed several agreements on the strength of her TikTok (4.5 million and Instagram (1.3 million) followings – but for potential licensees, it's a question of ensuring a return on the product investment.
"If the athlete has a following on campus and is a micro-influencer it might make sense, but I am not sure if we are going to sell enough product to justify the cost," said Matt Katz,  director of licensing at Foco. "Right now the market is more focused on quick turn product that can be done in a matter of weeks, not months. Our product tends to take a little longer so the longer the athlete stays in school the better it is for us."
That return could be lengthened as NIL moves to the top tiers of high school sports. For example, Jared McCain, the Gatorade California Boys Basketball Player of the Year and a senior guard at Centennial High School in Corona, CA, signed a promotional deal with Kay Jewelers for this past Mother's Day. He also has promotional pacts with Crocs, Warner Bros., Topps, and others.  There are eight states that allow NIL for high school athletes, while there are 30 states that permit it.
"With his explosive growth on socials, we're taking full advantage of the California NIL laws to not only do meaningful brand partnerships but build his brand and passions off the court as well," said Ryan Nguyen of Sanders Sports & Entertainment, which represents McCain.