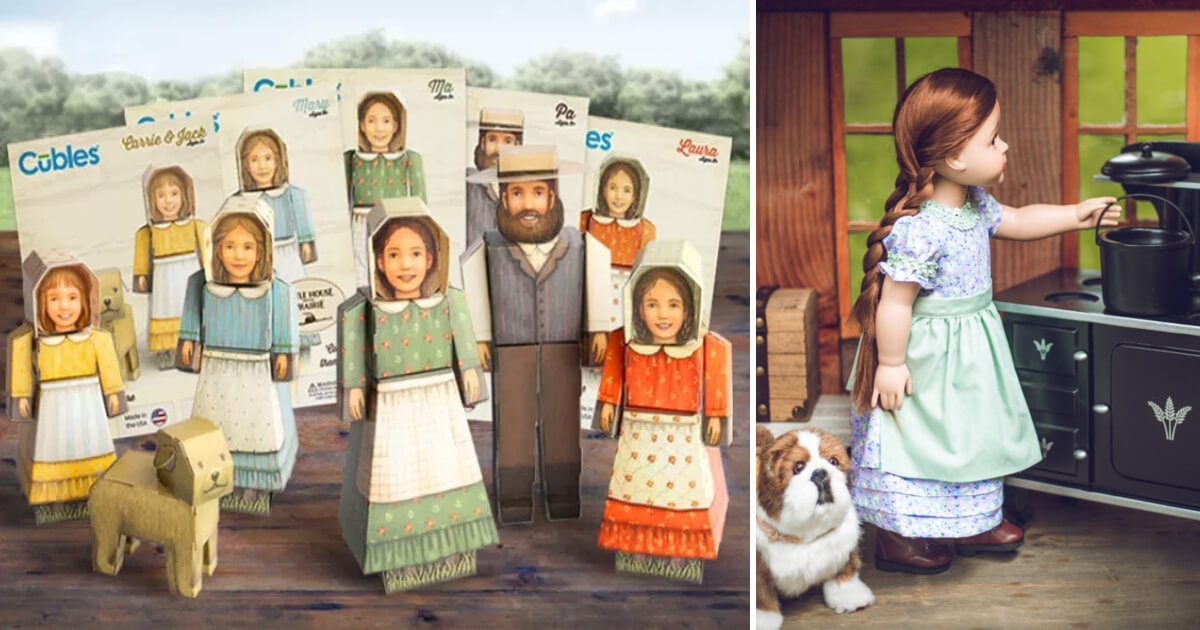 Little House On the Prairie Licensees Look Forward to Celebrating The Past in 2021
New York, NY – With most families spending more time at home this past year, Little House on the Prairie® licensees Cūbles and The Queen's Treasures have been helping parents engage children with toys that provide solid, interactive, year-round play value and a connection to stories about family togetherness, homeschooling, gardening, baking and the joys of a simpler life.
Both licensees are now poised to continue that work with new Little House on the Prairie products planned for 2021.
We are very pleased with the continued success of our licensees as they expand their Little House on the Prairie collections for children to engage in creative play," said Trip Friendly, CEO of Friendly Family Productions.
The Queen's Treasures
"The Little House on the Prairie books have always been popular in home-schooling communities and, when parents had to take on the role of homebound educators because of the pandemic, many of them connected with the material as well," says Joann Cartiglia of The Queen's Treasures, makers of Little House on the Prairie 18" dolls, and doll clothing, furniture, and accessories.
For 2021, Cartiglia will continue to expand her company's Little House on the Prairie Collection with an 18″ doll version of a classic cast iron wood-fired cook stove which coordinates with cookware and table accessories already in the line. The Queen's Treasures also has plans to expand the collection's age range by launching a new toddler toy grouping based on elements from Little House in the Big Woods later this year.
The fully-assembled 1890s-style wooden stove sized for play with 18-inch dolls is available for preorder now and will ship in late May. The MSRP is $89.99.  The "Little Bears on the Prairie" line will feature handmade mini-jointed teddy bears and several Little House wooden structures with furniture, including a cabin, mercantile, school, and church.   This toddler line be marketed for age 3-6 years and will be a nice complement to the My First Little House Books series for read-along, play-along fun.
Cūbles
Minnesota-based Cūbles launched its line of Little House on the Prairie® Cūbles for children to assemble unique paper toys of each member of the Ingalls family. The collection launched shortly after the pandemic shutdowns began in the spring of 2020 and quickly saw customers embrace them as a great STEM activity that engages children in the process of building toys which they can then enjoy through creative play.
"We will expand our line in 2021 with the release of ColorMe Little House on the Prairie Cūbles which are the same as the current Little House Cūbles, but designed for kids to color them first so the finished toy is like a coloring book come to life!" says Cūbles inventor and CEO Joel Morris.
Cūbles also announced plans to switch its packaging from compostable plastic sleeves to paperboard sleeves, so the entire product is 100% recyclable paper.
"It's wonderful to see Little House on the Prairie still inspiring licensees and captivating fans with stories of pioneer life set a century and a half ago and to know its themes of family, community, courage, optimism, and perseverance still resonate and are worth celebrating today," says Carole Postal, President of Spotlight Licensing and Brand Management, the agency appointed by Friendly Family Productions to manage the Little House on the Prairie merchandise licensing program.
# # #
About Cūbles
Cūbles are the paper toy, re-invented. Every Cūble is made of strong and sturdy paperboard, not your typical printer paper. They require no glue or scissors, great for a hands-on, stress free activity at home or on the go. Cūbles have moving parts held together by paperboard so they are playable without the plastic. And best of all their color coded instructions and patented engineering make each one fun and easy to build.
Cūbles is dedicated to being an earth friendly, forward thinking, creative, good to know type of company.  Every Cūble is made in the USA and 100% recyclable, including the packaging.  And best of all, for every tree used to make Cūbles, the company plants 100 more!
To stay up to date on product release schedules and for wholesaler information, please contact info@cubles.com
About The Queen's Treasures
The Queen's Treasures (thequeenstreasures.com) specializes in creating exquisite doll accessories, doll clothes and doll furniture scaled perfectly for the popular trend in 18″ sized dolls like American Girl® dolls as well as doll accessories, clothes, and furniture for 15" sized baby dolls. Founded with the mission to provide heirloom quality toys that can be cherished for generations, The Queen's Treasures focuses on creating toys that can foster children's imaginations while reinforcing a positive "message."
About Little House on the Prairie
Little House on the Prairie is a world-famous and beloved brand rooted in the stories of an American pioneer family. Written by Laura Ingalls Wilder for children and young adults, these classic books have sold over 60 million copies in 100 countries. Wilder's stories of her family's struggles and joys were adapted into one of television's most successful and long-running series.
The official Little House on the Prairie website (littlehouseontheprairie.com) is the hub for a highly-engaged and growing community with more than 1 million followers on social media. Website visitors can celebrate their pioneering spirit by engaging with fun lifestyle content related to cooking, crafting, gardening, and family activities. Fans can also learn about the rich history of Laura Ingalls Wilder and find inspirational quotes and interviews.
About Friendly Family Productions
Friendly Family Productions (FFP) is a Los Angeles-based entertainment company which owns film, television, merchandising, and other rights to the beloved Little House books by Laura Ingalls Wilder, as well as to the Little House on the Prairie® trademark. FFP launched the official Little House on the Prairie® website (littlehouseontheprairie.com) and has developed a highly engaged social media following.
About Spotlight Licensing
Spotlight Licensing and Brand Management, Inc. (spotlightlicensing.com) is a New York City based boutique licensing agency specializing in representation of Entertainment, Art/Design, Digital properties and Character Brands. In addition to Little House on the Prairie, Spotlight represents BOO The World's Cutest Dog, Call the Midwife, Downton Abbey, ELMER the Patchwork Elephant, The Last Kingdom, and Precious Moments among other properties.