Live Events Operators Balance Costs, Benefits of Licenses
Location-based entertainment  (LBE) is becoming a top priority for licensors, but the cost of adding licensed IP weighed heavily on the strategies of operators of escape rooms, family entertainment centers (FECs) and parks last week at the IAAPA Show in Orlando.
Licenses can be used to break down barriers to new technology – think of what Pokemon Go! did for augmented reality. That's the same factor that helping to drive the LBE community toward licenses for Virtual Reality (VR). For example, Minority Media recently licensed Transformers for a new iteration of what had previously been a non-licensed game called Chaos Jump. And LAI Games has sold nearly twice the number of units of its VR-based simulator ride under Ubisoft's Rabbids videogame brand as it had previously in a non-licensed products.
At 135-store Dave & Buster's, the cost of a VR System, can run upwards of $150,000 per ride. The company worked with VRStudios to develop simulator systems based on Star Trek, Jurassic World, Terminator and Men in Black, says Kevin Bachus, VP of Entertainment and Game Strategy. Licensed VR typically carries a more than 10% cost premium over an equivalent non-licensed system. Dave & Buster's charges a $5-$7 premium to engage with the VR machines.
Most VR systems require 18-24 months for an operator to recoup the investment, says George Smith, President of Family Entertainment Group, which operates nine Bonkers and InTheGame stores that have a total of 15-24 non-licensed VR systems among the locations.
Managing the costs
"There is a lot being said about VR being the future" for FECs and that you have to buy into it because it is the way the industry is going," says Bachus, whose company has been involved with VR for more than two decades. "But you have to be very careful because there is still a lack of understanding of what VR is, and you have to think of it as part of an overall product strategy and how you are going to manage the costs."
The issues of managing the cost tied to VR also applies to FECs more broadly and to escape rooms, where licenses carrying both upfront fees and typically a 5-7% share of gross revenue, put them outside the budgets of smaller operators.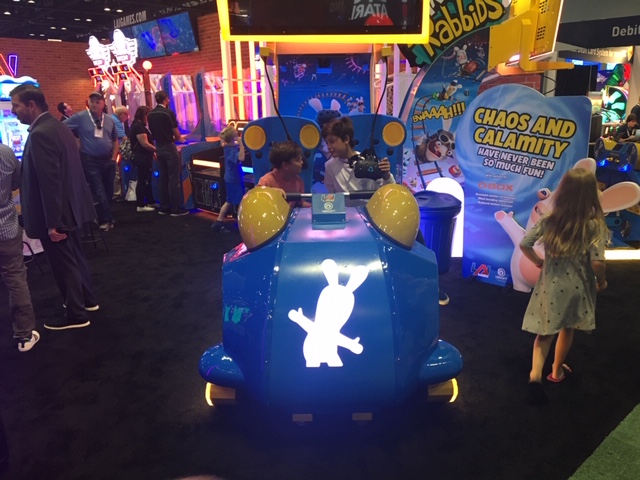 "A lot of the brands are moving into this segment [FECs], but for operators the downside is the expense factor and the licensors' standards are very high," says Gerald Merola, Managing Partner at the consulting firm Amusement Entertainment Management. "Right now it (licensed VR systems} is still a top-tier" parks leaving smaller FECs to focus on less-costly local promotions for non-licensed VR.
Hasbro continues to be a major player in the location-based business. Kilburn Live has licensed 28 Hasbro brands, including Monopoly, My Little Pony and Clue, among others with an exclusive for 10,000-70,000-sq.-ft. FECs, says the company's Charles Keegan. Kilburn is said to be near an agreement for its first Hasbro-branded location (at an undisclosed site within North America) that would feature a café along with multi-player games and an arcade. Kilburn, which is targeting higher end malls, also is positioning the Play-Doh and Tinker Toy brands for edutainment locations.
Kingsmen Creative has the U.S. license for Nerf FECs, and also opened its first Nerf FEC in Singapore earlier this fall.
Lionsgate Entertainment was weighing its options after parting with park operator Parques Reunidos, which earlier this year scrapped plans for opening 50,000-sq.-ft Lionsgate-themed FECs in New York, Lisbon and Madrid. Lionsgate is considering an FEC for a new studio complex that is expected to open in Yonkers, N.Y. in 2020. Senior VP Jenefer Brown says FEC plans haven't been finalized, but there could something along the lines of a studio tour.
An escape room plateau
The company is proceeding cautiously with escape rooms, which include a Saw location that Egan Productions operates in Las Vegas, says Brown. "If we are going to work with a partner we want to make sure whatever experience they create is going to be commensurate with the brand," says Brown. "We would love to work with some of these smaller escape room operators, but the challenge is they don't always have the capital required or the space to create an experience that is going to meet fan expectations. And that does create a bit of divide between the types of experiences you will find."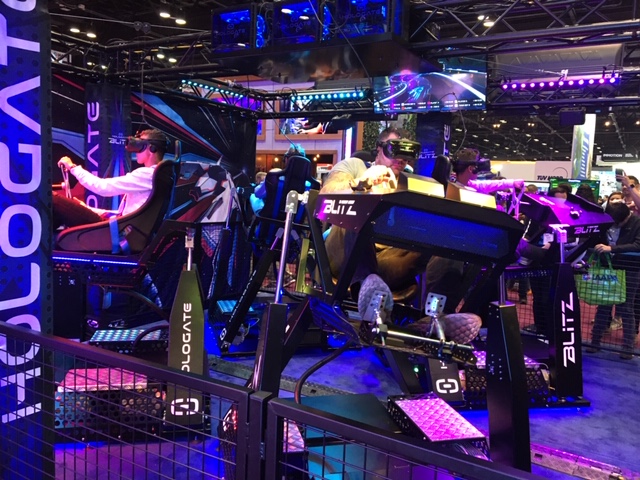 The escape room business, after expanding rapidly to 2,300 sites last year from about two dozen in 2014, is contracting a bit, with about 200 expected to close this year; others are being fine-tuned, according to the research firm Room Escape Artists. For example, dark ride and VR supplier Triotech last summer relocated an 8,000-sq.-ft. Fear the Walking Dead Survival escape room in Las Vegas, to another location half the size with a single guide and three rooms, down from 5-10 actors and seven rooms, says Triotech's Christian Martin.
"It was just too big and we found we could tell the story with much less space and fewer actors" by switching to animatronics and other technology, says Martin. "It wasn't as much that consumers weren't attracted to the property, as that the costs for the larger space and actors were too high."
Other things we saw at at IAPPA:
IP-based theme parks are continuing to expand rapidly in Asia with about 70 new facilities parks under construction in China alone, according to the engineering firm Aecom. Among these, Lai Sun Group opened a vertical 235,000-sq-ft., multi-story Lionsgate Entertainment World with 25 attractions, including Hunger Games and John Wick-themed rides and marking the studio's first LBE in China. Landing International Development also is scheduled to open the 1.2-million-sq.-ft. Lionsgate Movie World in Jeju, South Korea in 2021.
In the U.S., when Merlin Entertainment opens Legoland New York in Goshen, NY in July, it will likely feature an even deeper assortment of Lego IP now that the company is owned by Kirkbi – the private investment company of Lego's Kirk Kristiansen family — and the Blackstone Group. Merlin, which operates eight Legolands, will likely add rides and themes highlighting Lego's Mind Storm robotic kits and deploy some of the properties that Lego has licensed in for those kits, a Merlin spokeswoman said.
It also is planning to expand into China with the opening of a Legoland Resort in Shanghai in 2023.
Merlin will also continue to expand with other licensed brands. It will open Discovery Centers in San Jose, CA and at the American Dream Mall in New Jersey next year, along with new locations for Peppa Pig and Sea Life aquariums.
Meanwhile, PBS has dropped plans that it first aired at last year's IAPPA show for 30,000-sq-ft. LBEs as part of design agreement with Falcon Creative Group, says PBS' Dawn Ciccone. PBS was planning to seek a licensee to operate the facilities. "We have some big projects in the works and entering the LBE space wasn't fitting in that strategy," says Ciccone.
Not surprisingly, SmartStudy Co.'s Baby Shark has made it into arcades. Game supplier Bob's Space Racer showed a custom-built six-person water shooting game featuring licensee Good Stuff's Baby Shark plush figures. Farmingdale, NY-based Adventureland Theme Park will launch it in 2020.

Bob's Space Racer water shooting game with Baby Shark will be launched at Adventureland in Farmingdale, NY

The cost of dark rides, a staple of many regional parks, continues to come down. The Producers Group, which developed The Simpsons dark ride at Universal Studios Hollywood, introduced a dark ride assembly kit that will be sold for $5 million, exclusive of any licensing fees –about half of what it would have cost 10 years ago, says Co-CEO Edward Marks. The kits can be assembled into a ride in about three months, shorter than the typical 8-12 months, says Marks.
Aardman Animation is developing a series of 11-minute 4D films –combining 3D films with simulated effects – that can be paired with dark rides, says Aardman's Ngaio Harding-Hill. Supplier Sally Corp. has licensed "Adventure Through Time", despite its being in the early stages of production. And Aardman is working with design firm P&P Projects on a dark ride for international markets based on "Fish Tales," says Harding-Hill. Aardman's first 4D film, "Fabula", will premiere Dec. 4 at the Efteling theme park in The Netherlands.
For Aardman, the film represents the first time content has been developed from the start with theme park rides in mind, says Harding-Hill.
"It is really about getting the message out that we are not just about the stop motion processing characters," says Harding-Hill.
Contacts:
Aardman Entertainment Ngaio Harding-Hill, Head of Attractions and Live Experiences, +44 117 984 8485, ngaio@aardman.com
American Amusement Entertainment, Gerald Merola, Managing Partner, 732-254-337, profitwizz@aol.com
Dave & Buster's, Kevin Bachus, SVP Entertainment and Games Strategy, 214-357-9588, kevin-Bachus@daveandbusters.com
Family Entertainment Group, George Smith, President, 847-842-6310 x1001, George.smith@fegll.com
Hasbro, Matthew Proulx, Senior Dir. Global Brand Experiences, 818-478-4797, matthew.proulx@hasbro.com
Kilburn Live, Charles Keegan,
LAI Games, Tabor Carlton, Marketing Dir., +61 417 771 974, tabor.carlton@laigames.com
Lionsgate Entertainment, Jenefer Brown, SVP Global Live and Location-Based Entertainment, jbrown@lionsgate.com
Minority Media, Michael Zaidan, VP Business Development and Global Sales, 814-842-8001, micahel@weareminority.com
PBS, Dawn Ciccone, VP and Head of Brand Licensing, 202-679-6512, dlciccone@pbs.org
The Producers Group, Edward Marks, Co-CEO, 818-606-9093, Edward.marks@producers-group.com
Triotech, Christian Martin, VP Marketing, 514-354-8999 x210, c.martin@trio-tech.com