LMCA and Foreman Digital LLC Announce Launch of George Foreman's KNOCKOUT FORMULATM from Real Time Pain Relief ®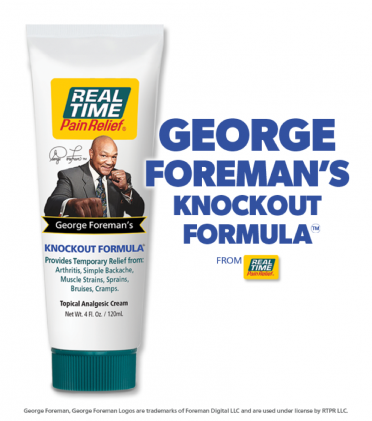 New York—October 7, 2019—George Foreman has unveiled the new George Foreman's KNOCKOUT FORMULA from Real Time Pain Relief, developed under a licensing agreement brokered by LMCA with RTPR LLC. George Foreman's KNOCKOUT FORMULA from Real Time Pain Relief delivers easy to use, on-site pain relief.
"George Foreman's KNOCKOUT FORMULA is specifically created to absorb quickly for convenient use whenever pain hits you," said RTPR Co-Founder Tim Flatt.  "Formulated and packaged in the USA, it contains cypress, rosemary, jasmine and lavender, and is free of parabens, GMOs, SLS or any artificial dyes, for pain relief you can feel good about."
Infused with 24 of nature's ingredients, including magnesium, wintergreen oil, and turmeric root extract, the non-greasy formula is effective on sprains, simple backaches, cramps, arthritis and more.
"I jumped at the opportunity to partner with RTPR LLC to create George Foreman's KNOCKOUT FORMULA.  I have used the product and it works, it really works," said two-time world heavyweight champion and Olympic gold medalist, George Foreman.  "Whenever I have pain or muscle strain, and I often do, I just "Real Time it" and it delivers a powerful relief.  I'm excited for consumers to see results too."
George Foreman's KNOCKOUT FORMULA will be available online in a 4oz tube for an MSRP of $19.95.  For more, visit: www.rtpr.com/george-foreman-knockout-formula
LMCA, Foreman Digital LLC's licensing agency, brokered the deal with RTPR LLC. LMCA has been helping the world's leading brands grow and generate new revenue around the world for over three decades. For licensing opportunities with the George Foreman® brand please reach out to LMCA at info@lmca.net and (212) 265-7474 or visit www.LMCA.net for more information.