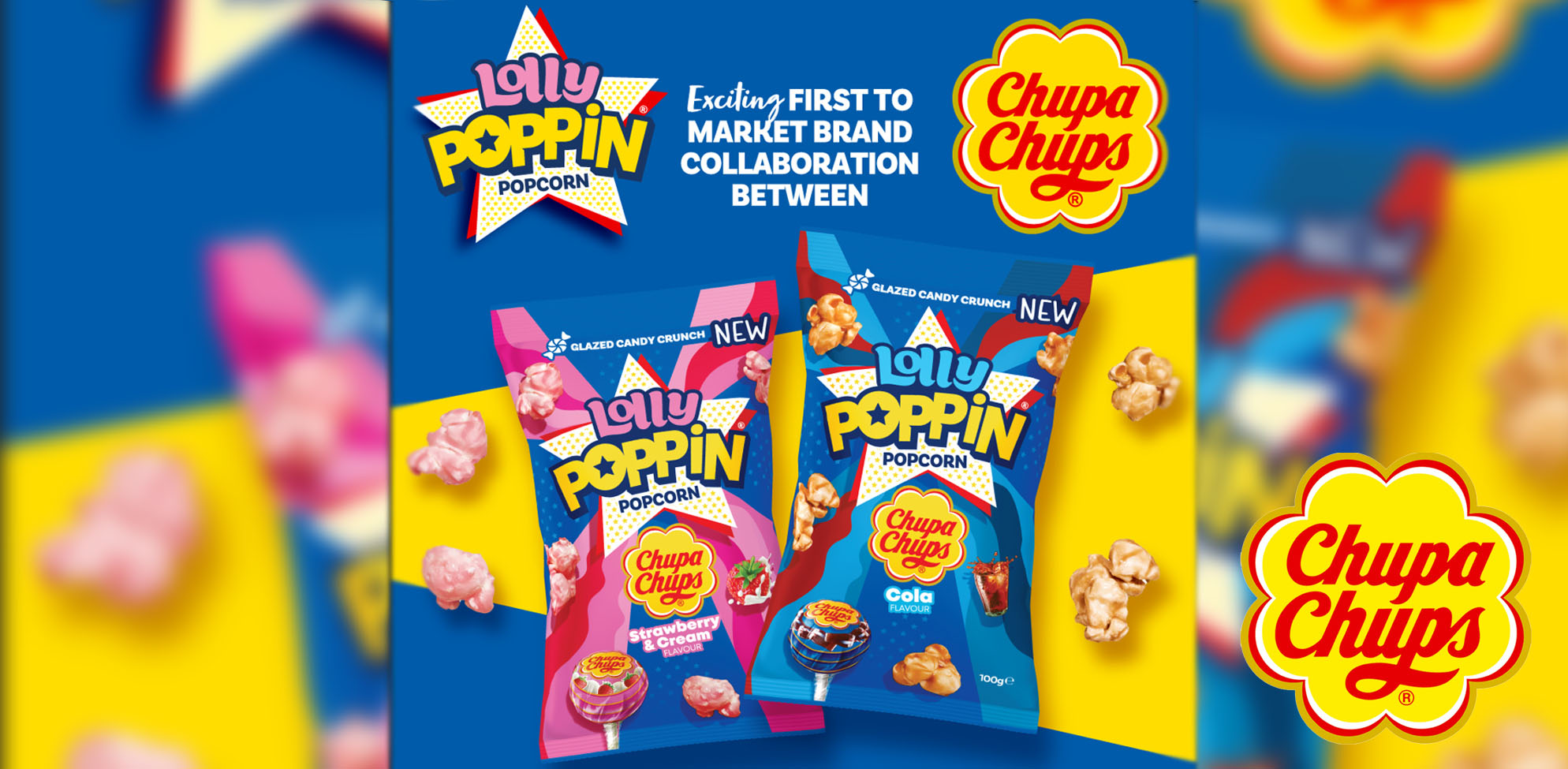 Lolly Poppin® Chupa Chups: The New Australian Candy Glazed Popcorn
First Brand Collaboration for Poppin® in its 30 Years of History
Perfetti Van Melle and Kinrise have been paired by the Australian Brand extension agency Asembl to launch two new iconic flavours for Poppin®'s first ever collaboration in its 30 years of history: Lolly Poppin® Chupa Chups Cola and Lolly Poppin® Chupa Chups Strawberry & Cream.
Featuring the same great magical taste of Poppin® popcorn but deliciously coated in Chupa Chups' bestselling flavours Cola and Strawberry & Cream, the Lolly Poppin® Chupa Chups will be available from Woolworths and independent grocery stores.
Combining two favourite brands in one delicious snack, Lolly Poppin® Chupa Chups are a magical glazed candy crunch sensory experience.
With no artificial colours or flavours, the Lolly Poppin® Chupa Chups snacks contain less than 120 calories per serve, contain 23% whole grain and are made with Australian corn.
Suitable for both vegetarians and vegans, the Lolly Poppin® Chupa Chups are forever licking popcorn fun!
"We are excited about the crunchy experience that Kinrise Poppin® have created with our iconic Chupa Chups flavours for the first time in the Australian market. They have developed the perfect snack for all. Consumers will be captivated immediately by the colourful and pop design of the packaging followed by its delicious taste!" said Perfetti Van Melle Area Licensing Manager, Marta Ballesteros.
"We are thrilled to be launching this new Lolly Poppin® popcorn range with Chupa Chups. The same great taste of Poppin® popcorn but now coated in Chupa Chups' bestselling flavours, Strawberry & Cream and Cola that everyone loves. This exciting brand collaboration will generate lots of excitement in the category as consumers get to have their favourite brands in one delicious snack," said Kinrise Poppin® Brand Marketing Manager, Tracey Fitzsimmons.
About Poppin®
For 30 years, Poppin® has created magic with the sensory experience of warm freshly popped popcorn. Poppin® Popcorn is number 1 in Microwave Popcorn proudly popped from 100% Aussie corn and is a source of wholegrain. With Poppin®, be the star of the show, movie night, or anywhere there's a microwave. Easy as POP! DING! WOW!™
Poppin®, market leader in microwave popcorn, has invested $3.2m in a Masterbrand campaign that reached 8.2m consumers and resulted in one third of Australian household purchasing Poppin® Popcorn. Kinrise is looking to grow the Poppin® brand further by launching into the ready to eat popcorn segment with an exciting new candy glazed popcorn range called Lolly Poppin®.
About Asembl
Asembl is a strategic and research driven brand extension agency with a deep understanding of design, FMCG and lifestyle. We work with global brand owners to bring new licensed product & service innovations to market and brand stories to life. Working with brand owners, retailers & manufacturers our work creates millions of new touch points for consumers to experience loved brands. Asembl is part of the Merchantwise Group and is headquartered in Melbourne Australia. For more information, please visit www.asembl-brands.com
About Perfetti Van Melle Group
The global confectionery group Perfetti Van Melle is a privately-owned company producing and distributing candies and chewing gum in more than 150 countries worldwide and it owns many much loved brands, of which several build successful licensing programs in key markets across the globe.
Chupa Chups has been conquering the heart and taste of kids and teens since 1958. The brand has become world famous for its round lollipops in many flavours and the flower shaped logo which was designed by the famous artist Salvador Dalí in the late sixties.
Chupa Chups' characteristic flavour profile is also ideal to bring credibility and to inspire innovative food and beverage products that never fail to stand out on retail shelves.