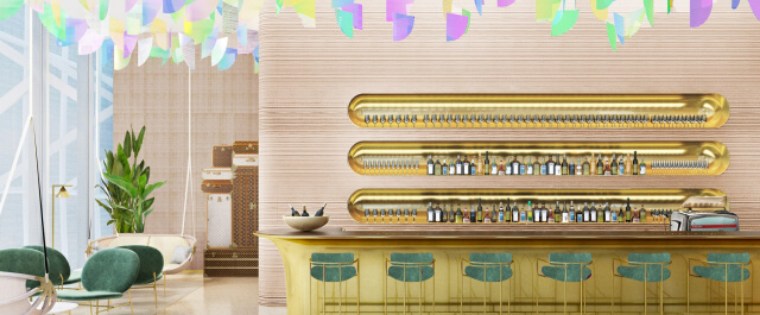 Luxury Brands Show Appetite for Restaurants
Luxury fashion has always been about more than high-end product, but new extensions like LVMH's planned Louis Vuitton-themed Le Café V restaurant in Japan, showcase a growing trend among the world's biggest luxury brands to cater to consumers' appetite for lifestyle concepts.
Like Louis Vuitton, many of these brands are extending themselves – whether via short-term promotions or permanent installations – into food experiences recognizing that, in an age in which consumers prize experiences, products and logos are no longer enough.
Instagrammable (Food) Moments
Luxury labels are well aware that with today's consumers, especially the all-important millennials, food is often about creating "Instagrammable moments" that can provide the kind social media currency money can't buy.
And conveniently many of these new luxury brand restaurants are popping up either inside or alongside retail stores.
The Ralph Lauren Café in London is next to the brand's flagship store and is festooned throughout with an equestrian aesthetic.
At Tiffany & Co's Blue Box Café inside the brand's flagship New York location (it's closing, along with the store, for renovation and will reopen in 2021) features color cues inspired by (what else?) those coveted blue boxes.
Tiffany also took the concept to the West Coast with a two-day pop-up Tiffany Café last May nestled on the outdoor patio of the its LA boutique.
And if that wasn't enough to whet your appetite…
Here are a few other choices currently available on the luxury brand menu:
Prada Mode, the luxury label's roving private member's club, hit Paris last week for a two-day stand, its fourth such event since launching in 2018. The club took over the historic Maxim's restaurant where 1,000 handpicked invitees experienced site-specific artwork, live performances and nosh from famed chef Bertrand Grebaut.
Dior opened a café on the third floor of its boutique in Miami's Design District last year, expanding on a concept already seen in Seoul, South Korea and St. Tropez, France.
Gucci opened the 50-seat Gucci Osteria inside the larger Gucci Gardens, which combines a retail store with a museum celebrating the brand's history.