MFA and Bob Ross Sign Licensing Agreement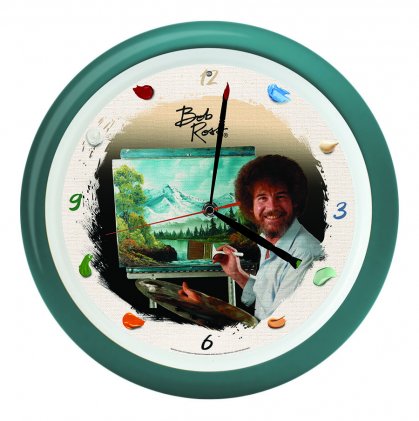 Sylvania, OH — Mark Feldstein & Associates, inc. (MFA), a product development company and importer of innovative home décor, seasonal décor, and giftware, has signed a licensing agreement with Bob Ross®, the late host of "The Joy of Painting" television series. The agreement was brokered by Firefly Brand Management.
MFA will be producing a series of whimsical plastic Bob Ross Wall and Desk Clocks with sounds, and Glass Clocks without sounds. All clock dials will feature colorful Bob Ross inspired designs while the sound clocks will play his actual recorded signature expressions like "We don't make mistakes – we just have happy accidents."
"Bob Ross brought the joy of painting to people around the world with a kind and calm demeanor that continues to make him a cultural icon celebrated by generations of fans", said Mark Feldstein, President, MFA. "We are very excited to develop a group of clocks that showcase the positivity and can-do spirit that Ross communicates to his viewers."
"We are always excited to see new products come to fruition and roll-out for the popular Bob Ross brand," noted Cynthia Modders, CEO of Firefly Brand Management. "Bob Ross fans are going to absolutely love MFA's high-quality designs and certainly are going to be thrilled to 'hear' those iconic Bob Ross quotes again that remind us of how much fun his painting and life can be."
Joan Kowalski at Bob Ross Company: "This isn't just a clock; it is a piece of art all by itself. Beautifully crafted with lots of Bob Ross color and charm, it's going to become a real favorite out there.
MFA's Bob Ross clocks are the latest in a long tradition of unique products from MFA, including other themed-sound clocks licensed by a variety of companies including Audubon™, Coca-Cola®, Freightliner Trucks, Peanuts®, Thomas Kinkade™ and many others. MFA has also introduced other innovative products such as our award-winning Revers-A-brella® Inverted No Drip Umbrella, Hy-Genie® UV-C Sanitizing Products, and SecureBrite™ LED Lighting.
About Mark Feldstein & Associates, inc.
With over 35 years as a Product Development Company and Importer of housewares and giftware, MFA offers a wide range of unique products for the home, office, and personal use.
Products are sold through specialty, grocery, drug, department store, mass & gift retailers, catalogs, home shopping and ecommerce.