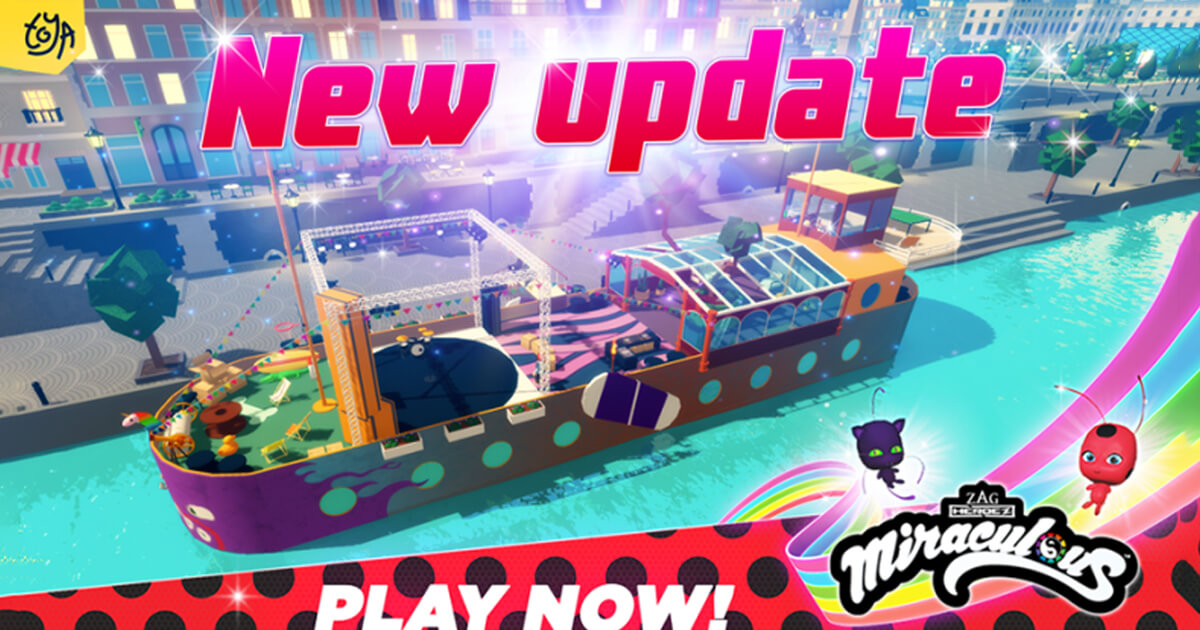 Miraculous Ladybug RP from ZAG and Toya Exceeds 100M Gameplays as the Newest Hit on Roblox!
In 7 weeks and without any marketing, the first adaptation of a TV show to Roblox establishes itself as a hit game. Released by Zag Games and Toya, Miraculous RP: Quests of Ladybug & Cat Noir passed 100 million plays in under two months.
ZAG Games, a new division by award-winning global independent animation studio ZAG, and Toya, a female-led, Tel-Aviv based studio  partnered on Miraculous RP: Quests of Ladybug & Cat Noir, which has shown all signs of a hit, passed 100 million visits in seven weeks, with 88% of players giving the game a "thumbs up." Without any marketing efforts, the game exceeded one million daily active users in its first week of beta, with a rolling 7-day average of 1.2 million users, representing almost 3% of Roblox platform's global daily active user base.
Miraculous RP: Quests of Ladybug & Cat Noir is a role play game based on the ZAG and ON kids & family (Mediawan Group) mega-hit animated series, Miraculous™ – Tales of Ladybug & Cat Noir, and the first game based on a TV series to be developed on Roblox. The game was released on May 4, 2021, in the open beta mode to test game stability.  Due to the high number of plays within a short timeframe, Roblox's indexes started including the game in the "Popular" category within 48 hours and the "Up and Coming" category within 72 hours. Influencers and players alike have been raving about the game across all platforms, including YouTube, Instagram, Twitch, Discord and TikTok.
"Fans of the famous Ladybug and Cat Noir characters were highly engaged during the development of the game's play tests, providing feedback on ideas, design concepts and more," commented Elinor Schops, VP of ZAG Games and Interactive Experiences. "When the fans discovered the beta release, they quickly started playing and we are thrilled that our first game on Roblox has been so widely and quickly embraced."
In Miraculous RP: Quests of Ladybug & Cat Noir, players are transported to Miraculous Paris.  There they can role play characters from the show, recreate their favorite moments, hang out with friends, explore the city, play mini-games, defeat villains, and even create their own Miraculous superhero.
"Never did we anticipate such viral success during our Beta testing mode. We are humbled by how the game has been received by the community on Roblox and how players are using their voices to promote it across many platforms. This resonance represents tremendous validation for Toya's mission and approach to creating on the platform – with inclusivity and a commitment to developing strong and diverse characters that serve as role models for girls, boys, and young adults to play with." said Anat Shperling, CEO of Toya
Roblox has been applauded by a variety of outlets, including Common Sense Media, who gave it 4 out of 5 stars, praising the website's variety of games and ability to encourage creativity in children; while the Family Online Safety Institute praised the platform for "allow[ing] kids to play, explore, socialize, create and learn in a self-directed way," and granted especial praise to Roblox Studio for its ability to encourage children to experience game development.
ZAG's first "official" global mobile game for Miraculous™ – Tales of Ladybug & Cat Noir was released in April 2018 and ranked as the #1 game in 39 countries with over 150 million downloads to date. This is Toya's seventh game on the Roblox platform. With its +1miilion daily active users, tens of thousands of concurrent players, and long playtime, Toya Studio and Zag Games are looking to add new content and host unique live events in the coming months.
The launch of the Roblox game coincides with the debut of ZAG's second big-budget animated movie, Miraculous World – Shanghai – Lady Dragon.  Fans are also eagerly awaiting the launch of the theatrical feature, Ladybug & Cat Noir: Awakening (US$100M+ budget), which is planned for release worldwide in fall 2021 or first quarter of 2022.
During 2020, Miraculous grew its digital reach by 178%.  Miraculous attracts over 15 million subscribers across its nine official YouTube channels, currently available in eight languages.  With a total 22 billion views, fans have collectively viewed more than 300 million hours of content.   Miraculous is available on TikTok, Facebook, Twitter, Instagram, and Tumblr—whose 12 official accounts feature dedicated accounts for the series' main characters– boasting five million followers in total.
About ZAG
ZAG America, LLC is a global independent entertainment studio specializing in world-class storytelling across TV, film and digital platforms. ZAG's foundation is rooted in compelling characters, limitless imagination, and masterful storytelling infused with original musical scores. The company is home to world-class entertainment properties under the ZAG HEROEZ label, including Miraculous™: Tales of Ladybug & Cat Noir,  Power Players, and the upcoming Ghost Force. Founded in France in 2009, visionary director and composer Jeremy Zag further expanded the company to the USA in 2012, establishing a creative headquarters, known as the "ZAG Lab" and the Global Brand Franchise office in Santa Monica, California, with a focus on developing content beyond the screen into lifestyle brands covering a broad array of touchpoints.
About Toya
Toya is a female-led studio partnering with the biggest platforms in the gaming industry to develop and promote games that reflect equal opportunities, diverse characters, and more dynamic storylines across the gender spectrum. The studio has a special focus on Roblox, where they  believe there is the greatest potential to challenge the "norms"of everyday gaming and offer a culturally innovative view of play. At the core of Toya's approach is developing nonlinear, open-ended games you can play with friends, that deliver inspiring role models and enable their players to learn critical skills necessary to succeed in the outside world.
About ZAG HEROEZ™ Miraculous™ – Tales of Ladybug & Cat Noir
Two typical teens with secret identities, Marinette and Adrien, transform into superheroes, Ladybug and Cat Noir when evil threatens Paris, their beloved City of Lights. Miraculous taps into girls' affinity for tales of first love, secret identities, teamwork, empowerment, friends, family, compassion, fashion, and is the perfect illustration of the "girl power" phenomenon: strong girls who don't back down and make their way in the world!  Miraculous is created by ZAG and produced by ZAG and ON kids & family (Mediawan Group) with co-production partners Brazil's Globosat and Italy's DeAgostini Editore S.P.A, in collaboration with Disney Channel EMEA, and French broadcaster TF1.
 About ON kids & family (Mediawan Group)
Co-founded by Aton Soumache, Dimitri Rassam and Thierry Pasquet, ON kids & family is an independent European studio and major global player in the production of animated content for children and families, mainly TV series and international feature films. With almost 500 employees in Paris, Montreal, Los Angeles, Hyderabad and Luxembourg, ON kids & family brings together global authors and partners in order to develop brands using different formats such as animated series and feature films, licensing and merchandising, and digital platforms and contents. The Group mixes innovation, technology and international talent to create wonderful fairy tales for children and families with numerous productions such as Le Petit Prince ("The Little Prince"), "Miraculous", Le Petit Nicolas ("Little Nicholas") and Robin des Bois ("Robin Hood"), which have attracted record audiences and become major international hits. ON kids & family also produced the animated film "Playmobil: The Movie", directed by Lino Di Salvo (Pathé Distribution).  In 2019, On kids & family has partnered with successful artist Joann Sfar to create "The Magical Society", dedicated to developing the universe of the author. The first production of this partnership is the "PETIT VAMPIRE" animated movie, that will be released on Oct. 21rst 2020 in France.
Following a strategic merger, ON kids & family joined the Mediawan Group in June 2018.
Find out more about ON Kids & Family: www.onkidsandfamily.com