Mondo TV at MIPCOM ONLINE+: Big shows For Today – And Big Plans For Tomorrow!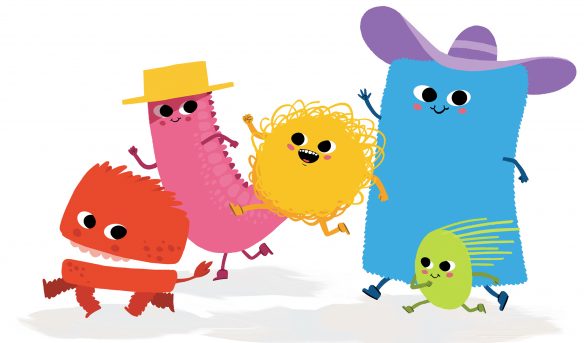 Mondo TV, one of the largest European producers and distributors of animated content, will showcase several properties at the MIPCOM online event in October. This year's line-up includes a new version of the classic tale Grisù, the recent arrival of MeteoHeroes, the third series of the internationally established shows Robot Trains and Sissi the Young Empress, the continuing success of Invention Story, and three brilliant new show concepts already in advanced planning stages and generating a stir: Annie & Carola, Masked Cinderella and Hey Fuzzy Yellow.
A major Mondo TV news story at MIPCOM ONLINE+ is a new production: Grisù, based on the original property "Grisù il draghetto" by Marco Nino & Toni Pagot, adapted by Mondo TV France. Grisù wants to be a firefighter when he grows up. There's just one problem: he's a dragon – and when he grows up he is supposed to be a fire-breathing dragon. But Grisù knows that firefighting is his destiny – and he proves every day that there's no dream too big! Find out more in this delightful animated adventure comedy aimed at all children from 4 to 7. The classic tale of Grisù, a little dragon and his dad, is set to return in a new 3D CGI 52 x 11′ format.
The four opening episodes of MeteoHeroes, Mondo TV's highly anticipated environmentally themed animated series, premiered on Cartoonito on the 22nd of April. The premiere was accompanied by a major media campaign for the 50th anniversary of Earth Day, during which the stars of MeteoHeroes played their roles as ambassadors in the fight to protect our planet.
The series launched on the 6th of July when the four opening episodes again appeared, followed by 14 brand-new episodes, further building brand momentum ahead of the launch of new episodes in October. MeteoHeroes is already proving a hit in the Italian market, and other EMEA countries and channels have already been secured, including Switzerland's RSI (with a launch on the 5th of September), and Minika in Turkey.
The amazing adventures of six superpowered kids helping to save the Earth from threats to the environment is promoting a positive message in a fun and entertaining way. But there's much more coming from this new Mondo TV co-creation with Italian forecasting group Meteo Expert – Icona Meteo; a podcast is planned to coincide with the launch of new episodes in October. This new 'branded podcast' is the first inspired by an animated series. But that's not all. MeteoHeroes product packaging will contain a special QR code; kids just need to frame it with their smartphone to listen to the podcast. 
Following on from the international success of the second season of Robot Trains the 52 x 11' 3D CGI third series is currently in production and will launch in autumn 2021.
Mondo TV, which was the distributor and licensing agent of series one and added co-production to its portfolio alongside CJ E&M, one of South Korea's largest content and media conglomerates, for series two, is in charge of the whole production, distribution and licensing for series three (excluding China and Korea).
In season 3 the Railwatch team – trains that can become robots to defend Railworld and its natural energy sources – are finally ready to face the villainous Train X and his trio of mischievous sidekicks. When Train X takes control of the deadly dark energy, a mysterious Silver Railwatch comes to the rescue and joins forces with the Railwatch team. Will they all be able to stop the lethal energy – before it destroys Railworld? 
Invention Story, the tale of Kit, an intelligent, thoughtful and creative fox who, in each episode, comes up with an amazing new invention, launched on the 25th of April on Frisbee in Italy, performing to great results, with additional new episodes coming to the screen from October 2020. The series is due on US Hispanic pay TV leader Vme Media for distribution on English-language network Primo TV later this year. Invention Story launched in Russia on Karusel in March 2020 and premiered onTV2 kids' channel Kiwi in Hungary in October 2019. Kidoodle.TV, operating a hybrid AVOD / SVOD business model, has launched in all countries worldwide except China, where Invention Story has been available on Mango TV since last summer and will premiere on the national broadcaster CCTV 14 – children's channel later this year after the exclusive launch on the CCTV app in March 2020. It's also now available on TIMVISION, the on-demand TIM TV channel, throughout Italy, and on Genius Brands' newly launched Kartoon Channel throughout the US.
The star of Sissi the Young Empress is based on a real historical figure – a charming young empress who captured the public imagination well beyond her Austrian homeland. The first two series of Sissi the Young Empress have been a big success with the show's target audience of young girls. The third season previewed on Cartoonito on Boxing Day 2019, with a rollout after the Christmas holidays. It combines a brand-new format – a 26 x 11' series in 3D CGI – with fresh new content and even more of the magic, and adventure that made series one and two so popular!
The series has been available from September 2020 on Canal Panda's Portuguese-language cable, satellite and terrestrial services for audiences in both Portugal and Portuguese-speaking Africa. Another major deal will see all three series of Sissi the Young Empress coming to the US-based English-language network Primo TV, owned by Hispanic pay TV leader Vme Media. The new series will launch on RSI Switzerland in 2021 and Chinese distributor Jetsen Huashi TV has recently snapped up digital rights to the series for distribution in mainland China.
Spanish public broadcaster RTVE has confirmed its participation in the co-production of the animated series Annie & Carola, the exciting and highly original new project written by Txema Ocio and directed by celebrated producer and director Myriam Ballesteros, owner of MB Producciones, who recently teamed up with Mondo TV Iberoamérica. The precise details of RTVE's participation will be announced at a later stage.
A funny and highly inventive animated comedy, Annie & Carola – 52 episodes of 11 minutes each in high definition 2D – is expected to launch in the second half of 2022.
It's all change in the fairy tale kingdom. The princesses are influencers. The stepmothers are getting therapy. The Big Bad Wolf has gone vegan. And Cinderella, along with her stepsisters, is at high school, where she's just like any normal teenager – except that she's also a masked heroine battling evil!
Meet Masked Cinderella, the heroine of the hilarious, inventive and thrilling new co-production from Mondo TV Iberoamerica and MB Producciones. The series, 26 x 22' in high definition HD, it's still at an early stage of development. In fact, it has been selected for the pitching sessions at Cartoon Forum. A wide-ranging venture with a universal appeal, based on classic fairy tales but with a wonderfully original approach, the aim of Masked Cinderella is to create characters, worlds and stories that can generate content for a TV series, a full-length film, merchandising and transmedia.
In fact both Masked Cinderella and Annie & Carola are specifically designed as transmedia 360 projects. Both projects will bring together a rich cast of characters, funny and engaging storylines and thrilling adventures with highly original concepts that reflect the aspirations and concerns of today's children and teens.
Having confirmed its role as co-producer of the two projects, Mondo TV will entrust the entire pre-production phase of the series to Mondo TV Producciones Canarias.
Pitching at Cartoon Forum, Hey Fuzzy Yellow is a 2D/hybrid show of 52 episodes x 11' that combines educational content with pure and crazy entertainment. Now in co-development between Mondo TV and Toon2Tango, the new kids' and family entertainment venture headed up by long-time television and movie industry experts Ulli Stoef and Jo Daris, and created by US-based Jungle Fruit, Hey Fuzzy Yellow helps kids develop independent thinking and self-expression through exploration and play. A fiercely fun romp through infinite possibilities starring a group of extraordinary characters led by a fuzzy yellow ball and driven by a lot of music in various styles, this is a show that defies conventions and has its own set of rules. Oh, and did we mention it's very, very funny?
Matteo Corradi, Mondo TV CEO, says: "The last six months haven't been easy, but we've maintained a high level of creativity and planning and we're really looking forward to showing the results of our work during MIPCOM ONLINE+. We've got some great shows, amazing partnerships and incredible ideas to tell online visitors about – and that's exactly what we're going to do!"
ABOUT MONDO TV
Mondo TV is a group of companies operating across a number of sectors in the entertainment business. It is the leader in Italy – and among the largest players in Europe – in the production and distribution of animated TV series and full-length feature films for TV and cinema. It also has a strong presence in the Latin American territories through its sister company Mondo TV Iberoamerica, based in Spain. With Heidi Bienvenida, co-produced by Mondo TV Iberoamerica and Alianzas Producciones, it has recently successfully moved into the production of live-action entertainment. Mondo TV has also enjoyed success with a number of co-productions – including Heidi Bienvenida, Invention Story, Robot Trains and  MeteoHeroes – and continues to actively pursue partnership opportunities with potential production and broadcasting partners. Mondo TV owns one of Europe's largest animation libraries: it consists of more than 2,000 episodes of television series shown all over the world, along with more than 75 animated movies. The group's licensing division, Mondo TV Consumer Products, was founded in 2010.
ABOUT MONDO TV IBEROAMÉRICA
Mondo TV Iberoamérica S.A. is an audiovisual content producer and distributor operating in Spain, Portugal, LatinAmerica and the Spanish-speaking US. It was founded in January 2008 as Mondo TV Spain S.L and as a distribution branch of the Mondo TV Group S.p.A directed at the Iberian and Latin American markets; its work is currently focused on two main areas. The distribution in Iberian and Latin American markets of animation content and fiction series for children and young people remains an important part of the company's business. However, the company's main focus now is to increase its target audience through the production and co-production of fiction content for a broader target age. As part of this trend, it has recently begun to co-produce fiction series with prestigious Latin American and European partners. As a confirmation of its plan of expansion and growth, Mondo TV Iberoamérica has also created a production studio: Mondo TV Producciones Canarias, based in Tenerife, which aims to officiate as a international hub for the creation, development and production of top-quality animation and fiction projects for the entire Group.
Since December 23, 2016, the company has been listed on the Alternative Stock Market (MAB). For more information, visit the website. www.mondotviberoamerica.com