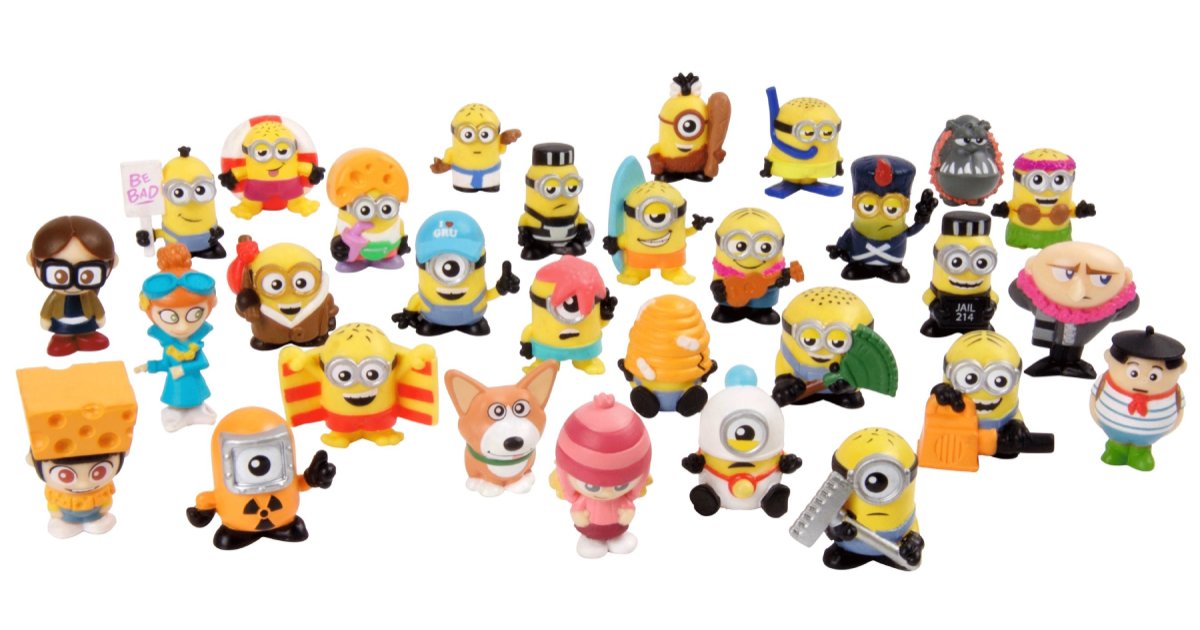 Moose Toys Signs Multi-Year Global Agreement with Universal Products & Experiences as Master Toy Licensee for Illumination's Despicable Me and Minions
LOS ANGELES (June 5, 2023) — Moose Toys, a leading product and marketing innovator in the toy industry, has entered into a global partnership with Universal Products & Experiences as master toy licensee for the world's most successful animated franchise of all-time, Illumination's Despicable Me and Minions, it was announced today. Under the new multi-year licensing agreement, the toymaker's first wave of products will feature an extensive line of action figures, playsets, roleplay and collectibles as well as co-branded toys, including Moose's Heroes of Goo Jit Zu, for the release of Despicable Me 4. Toys are scheduled to be on shelves late spring 2024 ahead of the film's theatrical release on July 3, 2024.
"This global partnership represents both a major expansion of Moose Toys licensed portfolio and an extension of our relationship with Universal Products & Experiences; accomplishments of which we are extremely proud," said Joe Smith, vice president of global and U.S. marketing, licensed brands, Moose Toys. "Illumination's Despicable Me and Minions franchise is full of humor, friendship and fun, attributes that align perfectly with the Moose brand and personality. It is an ideal fit, and we cannot wait to infuse this beloved franchise with Moose Toys innovation."
"We're thrilled to expand our partnership with Moose Toys and collaborate on an all-new line inspired by Illumination's Despicable Me 4," said Joe Lawandus, Senior Vice President and General Manager, Global Toys and Hardlines, Universal Products & Experiences. "Moose shares our creative vision and passion for designing a fresh, new, innovative line capturing the joy and mischievousness of Illumination's iconic Minions. Fans of all ages and across the globe embrace the Minions as their own, and we can't wait for them to start collecting this dynamic new line of toys and collectibles."
Moose Toys' Despicable Me 4 toy line are scheduled to be available at major retailers across the globe late spring 2024.
About Moose Toys
Moose Toys exists to make kids superhappy. For this revolutionary brand happiness lies at the heart of everything we do. With trailblazing toy design, development and manufacturing, no wonder our toys consistently scoop the most longed-for awards. Sprinkling some Moose magic across categories including action figures, collectibles, craft, dolls, games, plush, preschool, vehicles and youth electronics, we've earned our stripes as one of the most creative companies in the industry. As an energetic bunch, we're always on the move, developing groundbreaking content, entertainment and worldwide licensing deals to boot.
This family-run business is proudly built on unshakeable ethical foundations. Our passion for making kids superhappy stretches far beyond our WOW-worthy toys. The Moose Happy Kids Foundation creates moments of happiness and laughter for the children around the world who need it most. We've had a BIG impact on little people, making 3.5 million kids smile so far… and counting.
Australia might be our Moose family home, but with a 600+ strong team dotted across the world, we're committed to sharing our signature superhappy revolution far and wide!
About Illumination
Illumination, founded by Chris Meledandri in 2007, is the entertainment industry's leading producer of event-animated films, including The Super Mario Bros. Movie, the first film of 2023 to earn more than $1 billion worldwide, Despicable Me—the most successful animated franchise in cinematic history—as well as Dr. Seuss' The Lorax, Dr. Seuss' The Grinch and The Secret Life of Pets and Sing films. Illumination's revered studio library includes three of the top 10 animated films of all time.
In April 2023, Nintendo and Illumination's The Super Mario Bros. Movie opened to a staggering $377.5 million worldwide—the biggest animated global film opening weekend of all time—and set new records as the biggest opening weekend in Illumination history, the biggest domestic, international and global opening of 2023 so far, the biggest Easter weekend opening ever and the biggest video-game adaptation opening ever.
Illumination is now responsible for the two biggest animated opening weekends of the pandemic era, and The Super Mario Bros. Movie is currently the highest grossing film, in any genre, of 2023.
Illumination's iconic, beloved franchises—infused with memorable and distinct characters, global appeal and cultural relevance—have grossed more than $9 billion worldwide. Illumination has an exclusive financing and distribution partnership with Universal Pictures. Illumination's upcoming films include Migration in December 2023 and Despicable Me 4 in summer 2024.
About UNIVERSAL PRODUCTS & EXPERIENCESUniversal Products & Experiences (UP&E) globally drives the expansion and elevation of NBCUniversal's iconic collection of brands, intellectual properties, characters, and stories based on the company's extensive portfolio of properties created by Universal Pictures, Illumination, DreamWorks Animation and NBCUniversal Television and Streaming. The division executes this through innovative physical and digital products, engaging retail and product experiences across our expansive global theme park destinations (for both owned and 3rd party IP), location-based venues, e-commerce product platforms, and retailers around the world. Along with global brand strategy and creative, UP&E's three lines of business include Consumer Products, Games and Digital Platforms, as well as Theme Parks Products & Retail. UP&E is a division of Universal Destinations & Experiences, part of NBCUniversal, a subsidiary of Comcast Corporation. More information is available at universalproductsexperiences.com