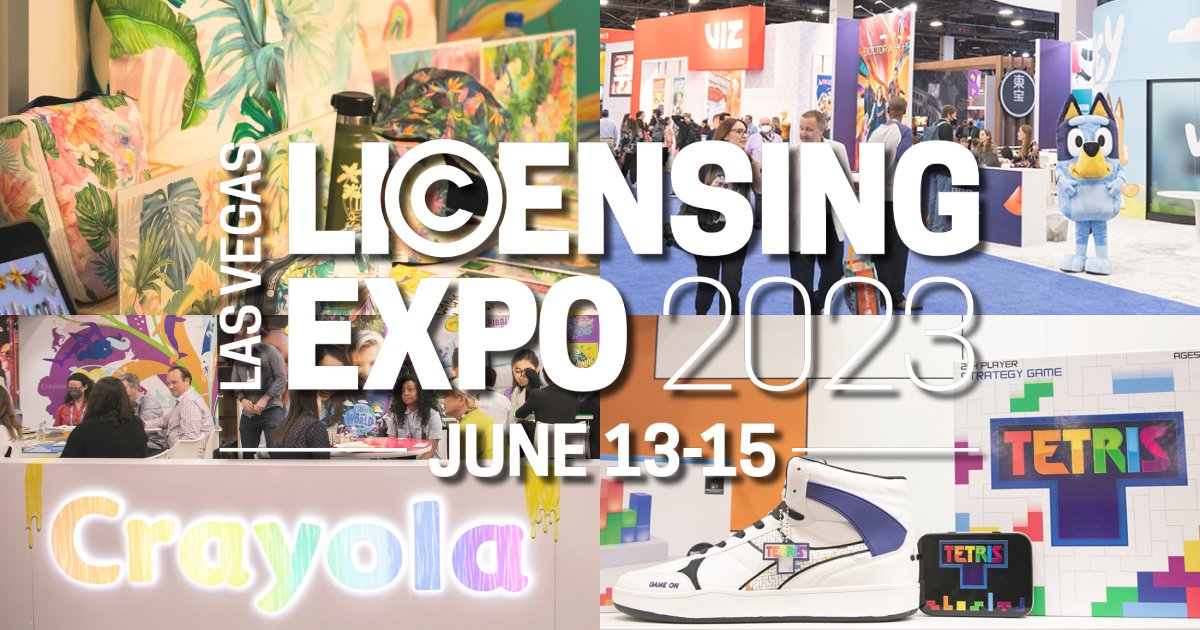 More than 175 Exhibitors Already Confirmed for Licensing Expo in June With Growing Cross-Category Interest
LAS VEGAS, NV. (March 2, 2023) – Licensing Expo, the world's largest and most influential event dedicated to licensing and brand extension, today announces the ever-growing list of brands signed to exhibit across all major licensing categories. Taking place June 13-15 at the Mandalay Bay Convention Center in Las Vegas, organized by the Informa Markets Global Licensing Group, and sponsored by Licensing International, the event will showcase thousands of IPs, both major and emerging, spanning a wide variety of categories including Entertainment, Music, Sports, Food and Beverage, Publishing Art & Design and more, with a highlighted thematic show focus on Fashion.
First-time exhibitors include Blanca Pictures, China Brand Group, Pinkfong USA, Thunderbird Entertainment, Van Gogh Museum, YuMe Toys, Retrobands America LLC, China Television Industry Group, El Reino Infantil and Penguin Random House.
Highlighted under the 2023 Fashion theme, brands represented include Hang Ten, Members Only, Maui & Sons, Skechers, Betsey Johnson, Bearpaw, Laura Ashley and Etonic, as well as several celebrity-inspired apparel lines. With nostalgic music brands proving to be increasingly popular in apparel ranges, alongside rapidly increasing interest in music IPs and properties, Licensing Expo will once again play host to leaders in the space. Exhibitors such as Epic Rights, Global Merchandising Services, and Sony Music Entertainment, are a few of the big name agents representing artists including: David Bowie, Wham!, Aerosmith, KISS, AC/DC, Sting, Iron Maiden and more.
"The breadth of companies, categories and territories represented this year is already attracting a high quality of licensees and retailers to register, including Urban Outfitters, Hot Topic, Unilever, Primark, Amazon, Walmart, Mad Engine, Jakks Pacific and many more. With exciting fashion-themed announcements still to follow, 2023 is set to be a great year for Licensing Expo" says Anna Clarke, SVP Global Licensing Group. "We are also seeing an exceptional rise in interest from first-time exhibitors, new verticals and international brands as Licensing Expo remains the world's leading event for emerging IPs, expanding existing partnerships and tapping into the latest in consumer trends and products."
Other notable brands and companies confirmed to exhibit include BBC Studios, The Walt Disney Company, Legendary Entertainment, Mattel, Moonbug, Peanuts Worldwide, Hasbro, MGA Entertainment, Funko, The PokémonCompany, Beanstalk, Paramount, Smiley, LAI Games, Jazwares, CAA Brand Management, Joester Loria Group, Capcom, SEGA, Ubisoft, Sesame Workshop, Riot Games, IMG, The Coca-Cola Company, Sony Pictures Entertainment, Wildbrain, Art Brand Studio, Crayola, Frida Kahlo, Giordano Studios and many more, repping some of the world's hottest brands including , Keith Haring, Barbie, MTV, Teletubbies, Kenny Scharf, BMW, Crash Bandicoot, Paw Patrol, Dr Seuss, Pop Tarts, Godiva, Baileys, Oral-B, Pepsi, Bluey, Cocomelon, Cheetos, David Bowie, Vicks, Kodak, Hot Wheels, Call of Duty, League of Legends, Assassin's Creed and 5,000+ more.

To access the growing exhibitor list now available online and to register to attend or exhibit at Licensing Expo 2023, visit LicensingExpo.com.
About Licensing Expo
Launched in 1980, Licensing Expo is the world's largest and most influential annual tradeshow dedicated to licensing and brand extension. Every year, more than 5,000 brands and 16,000 retailers, licensees, manufacturers, distributors, and licensing agents attend Licensing Expo from more than 70 countries. Licensing Expo is a part of the Global Licensing Group at Informa Markets, the licensing industry's leading tradeshow organizer and media partner. Its mission is to provide licensing opportunities around the world by bringing brands and products together.
About Global Licensing Group
The Global Licensing Group at Informa Markets is the licensing industry's leading tradeshow organizer and media partner. Its mission is to provide licensing opportunities around the world by bringing brands and products together. The following events and information products are produced for the licensing industry by the Global Licensing Group at Informa Markets: Licensing Expo, Brand Licensing Europe, Licensing Expo Shanghai, Brand & Licensing Innovation Summit and License Global. Global Licensing Group events are sponsored by Licensing International.
Licensing International
Licensing International is the leading trade organization for the $315+ billion global brand licensing industry. Licensing International's mission is to foster the growth and expansion of brand licensing around the world, raise the level of professionalism for licensing practitioners, and create greater awareness of the benefits of licensing to the business community at large. Founded in 1985, more than 1,500 Licensing International member companies in over 40 countries enjoy access to an array of benefits, including extensive educational programming and worldwide networking events. Visit www.LicensingInternational.org for more information.
ContactsInforma Markets Licensing PRlicensingpr@informa.com