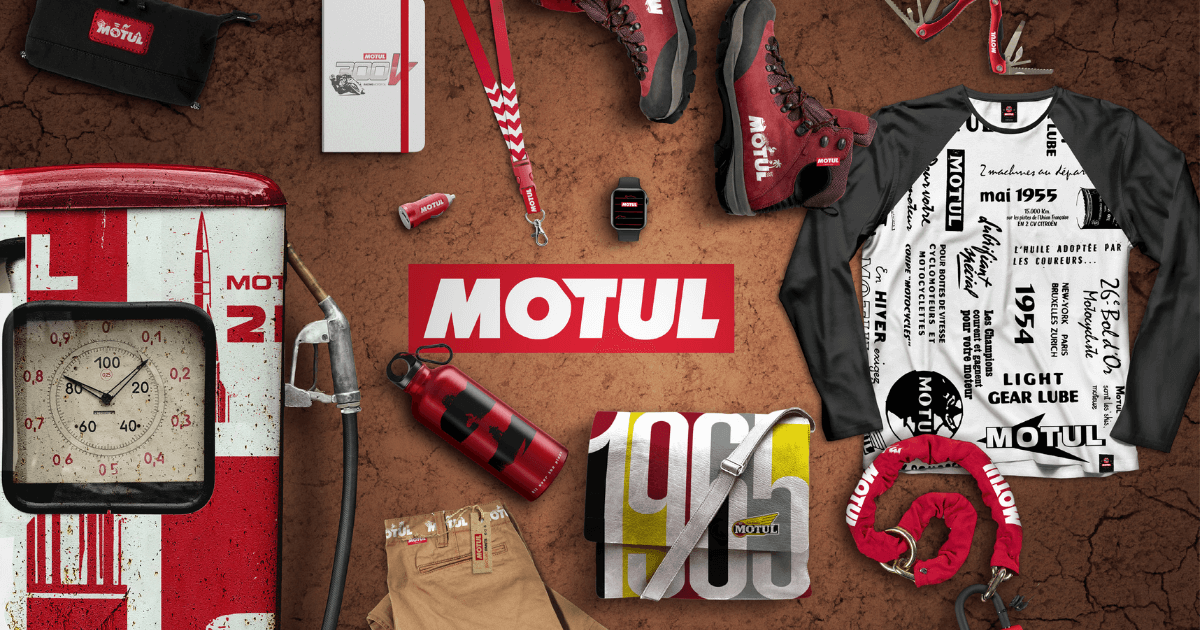 Motul Announces Appointment of Ingram as Licensing Agent for Japan
The major lifestyle brand Motul has appointed Ingram as its agent for Japan.
Founded in 1992 Ingram (an abbreviation of International Guidance Research And Management) has been a leading name in the Japanese licensing business for nearly three decades.
Based on its philosophy of "Connecting people through licensing", Ingram has, for nearly 30 years, built a strong reputation, both in Japan and overseas, for developing well-known global properties in the Japanese market and bringing popular Japanese brands to the international market.
An impressive client list includes major Japanese hits such as Rilakkuma, Mamegoma and Tarepanda, while , among overseas properties targeting the Japanese market, an extensive portfolio includes UCLA, Nesta, Cambridge University and a number of major lifestyle brands including Norton, Santa Fe, Route 66 and now, of course, Motul.
Motul is a world-renowned company, specialising in the formulation, production and global distribution of high-tech engine lubricants. For many decades it has also been a dedicated technical partner and official supplier to the finest motor racing teams and manufacturers in history. Its presence today extends to over 160 countries, and numerous event partnerships including the Dakar Rally, Le Mans and Goodwood Revival.
The Motul brand is now bringing its 100-year heritage, and its associations with speed, style, adventure, performance, elegance and above all winning, to a major lifestyle branding campaign. It will be targeting a wide range of categories, ranging from apparel, stationery, houseware and apparel to backpacks, phone covers, kitchenware and of course car accessories.
Ben Kato, founder and owner of Ingram, says: "We are thrilled to be working with Motul, a renowned company in motor sports, as its licensing agent in Japan. By combining Motul's powerful brand identity with our strength in licensing and promotion, we expect to build a strong presence in Japan for Motul and a diverse range of products across many sales channels. Motul is a genuinely exciting prospect in this market, and I am looking forward enormously to working with this property."
Managing the Motul campaign is Laurent Taieb, a licensing specialist with over 25 years' experience. He says: "Motul is a globally recognised name that is perfectly positioned to become a popular lifestyle brand in multiple categories and markets. We are delighted to be working in the key Japanese market with Ingram, an established and respected name with a strong international reach and a powerful reputation for working with both overseas and lifestyle brands." 
About Motul
Motul is a world-class French company specialised in the formulation, production and distribution of high-tech engine lubricants (two-wheelers, cars and other vehicles) as well as lubricants for industry via its Motul Tech activity.
Unanimously recognised for more than 160 years for the quality of its products, innovation capacity and involvement in the field of competition, Motul is also recognised as a specialist in synthetic lubricants. As early as 1971, Motul was the first lubricant manufacturer to pioneer the formulation of a 100% synthetic lubricant, issued from the aeronautical industry, making use of esters technology: 300V lubricant.
Motul is a partner to many manufacturers and racing teams in order to further their technological development in motorsports. It has invested in many international competitions as an official partner or supplier for teams in: 24 Hours of Le Mans (cars & motorcycle), FIA WEC, Super GT, IMSA, Dakar, MotoGP, World SBK, Enduro, Isle of Man TT, Le Mans Classic, Goodwood Revival and score of others.