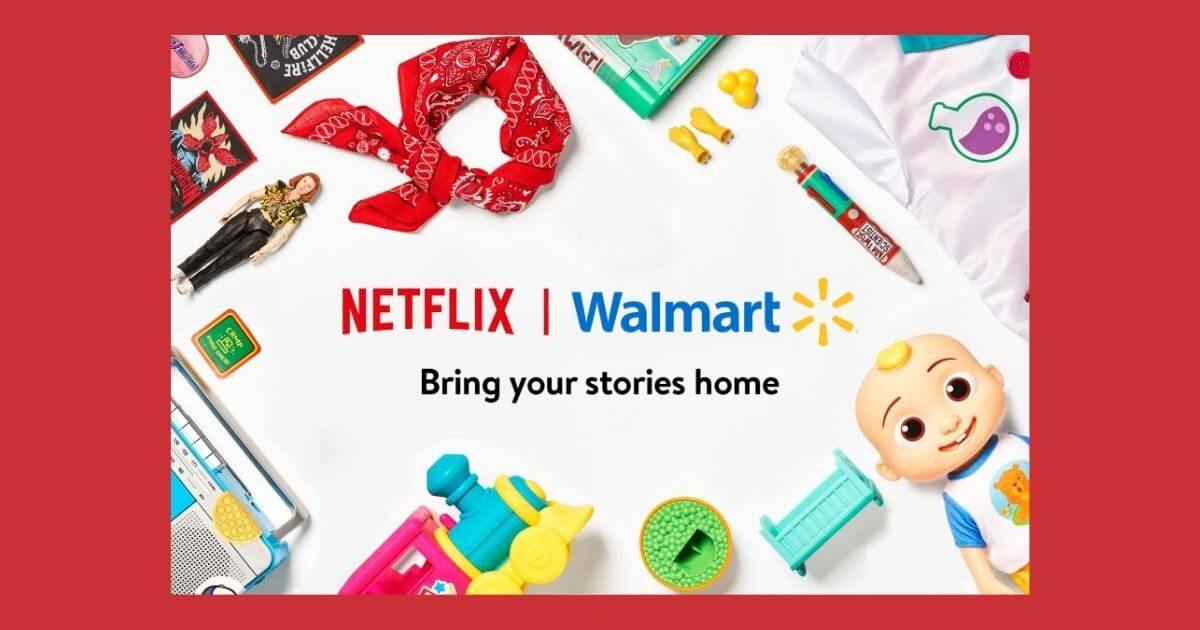 Netflix-Walmart Pact is a Marketing Match
The agreement announced early this week via a Walmart blog post for the mass marketer to establish a  dedicated Netflix Hub at Walmart is the streaming service's most mass-driven step yet in consumer products and licensing, and gives Walmart a deeper connection to a significant pop culture driver.
Netflix earlier this year launched its own online store, and products connected to a few of the shows it streams have broad retail distribution, but the Walmart pact is a big step for a company that didn't make a significant push in licensing until Stranger Things became a surprise hit in 2017.
What about Squid Game?
Ironically, though, the goods that could be seen on the Hub this week didn't include a single item from the current megahit Squid Game. The series that are called out at the top of the Hub are Stranger Things; Ada Twist, Scientist; CoComelon (which appears on Netflix, but is produced and licensed by Moonbug Entertainment) and The Witcher. Merchandise offerings for those and other series (some marked as pre-orders) are plentiful; products highlighted in the announcement are heavy on Walmart exclusives, many from the existing base of Netflix licensees.
But pop over to https://www.netflix.shop/ and the first five screens you'll scroll through have nothing but Squid Games apparel.
Physical shelves?
It's unclear whether the agreement involves any kind of specific destination within Walmart's physical stores; there's no direct mention of that in the blog post (under the name of Jeff Evans, EVP, Entertainment, Toys and Seasonal for Walmart U.S.) that announced the Hub this week.
The extensive collection with Walmart is only the latest indication of a deepening effort by Netflix in licensing. Over the past two years, it has ramped up its staffing in the area, including the hiring of Josh Simon as VP of Consumer Products just as the pandemic took hold in March, 2020.  While Netflix started streaming in 2012 and had some major hits early on, including House of Cards, at the start it didn't own licensing rights to the properties. And the fact that Netflix has generally closely guarded its viewership data, forcing potential licensees and retail partners to rely in large part on metrics surrounding social media mentions and other "soft" measurements when considering where to place their bets.
But those some of those barriers have been lowered. Netflix this week said "Squid Game" series had 111 million views in the first month it was available. It's also increasingly producing its own content and retaining the licensing rights (such as a capsule home décor collection with Musée du Louvre, tied to its French "Lupin" series and a Hypland streetwear collection based on the Yasuka anime property). It even licensed the Netflix brand for a 11-piece apparel collection with Japanese fashion brand and retailer Beam that launched in May.
Even with the higher profile at Walmart, licensed goods and ecommerce merchandise represent a miniscule part of Netflix's business. CEO Reed Hastings has long said as much and has made clear that it's more about marketing exposure than revenue generation, so a Walmart partnership would seem to squarely fit that goal.
In connection with the Walmart launch, Netflix also is introducing the Netflix Fan Select service, which is designed to give fans a chance to vote on merchandise they would like to see from Netflix shows and then have the retailer "bring them to life."