New Story Rolls Out at Macy's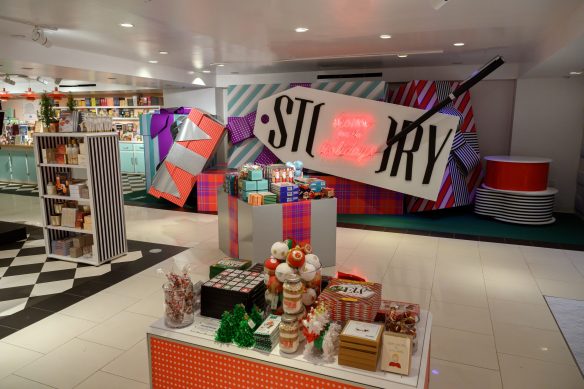 As Story at Macy's rolled its fourth installment Wednesday, the challenge has been fielding merchandise that remains consistent across 35 locations, while also carrying products from local suppliers, Macy's Brand Experience Officer Rachel Shechtman told us at the opening of the "Home for the Holidays" format at Macy's Herald Square store in New York.
Story, which Shechtman launched as a single 2,000-sq.-ft. store before the concept was purchased by Macy's in 2018, carries about 2,000 SKUs across its locations from 200 vendors, about half of whom are local suppliers.
For example, while Kellogg's has prominent placement for its product as the sponsor of "Home for the Holidays" display in Herald Square, there also are ample local offerings from Bocce's Bakery (ginger snaps), Owl's Brew (tea-based cocktail mixers) and Hella Cocktail Co. (Bloody Mary mix and bitters).
"We are trying not to duplicate what is in the [Macy's] store; we try to complement and augment what they have by having a different assortment from smaller businesses" that might not otherwise find a home in Macy's, says Shechtman. "The goal of Story is [to] get customers to come back more frequently, and to acquire new customers, and we have had success on both fronts so far."
Story also uses the larger Herald Square Story location – 7,000 sq. ft. vs. 1,700 in other stores – to put a slightly different spin on the events that are at the heart of the Story format. Events and merchandise selection are based on the size of the location and each display is "almost treated as an individual store," says Shechtman. A decision on whether to expand Story to other Macy's stores will be made after the concept marks its first anniversary in April.
The Story displays at the 36 stores, which run through Dec. 31, will host 274 events and activities, i.e. creating Rice Krispie treats, and holiday decorations. But the Herald Square store will have a trunk show in its event space on Nov. 21 featuring fashion designer Iris Apfel's personal jewelry collection, while other locations will use local vendors for 19 other trunk shows, says Katie Crown, Story's Director of Programming. In addition to potentially attracting new customers, the events typically have generated a spike in Story's sales, says Shechtman.
Contact:
Story, Rachel Shechtman, Macy's Brand Experience Officer, rachel.shechtman@macys.com