New Toy Company Play Around Signs Angry Birds, Masha the Bear Licenses.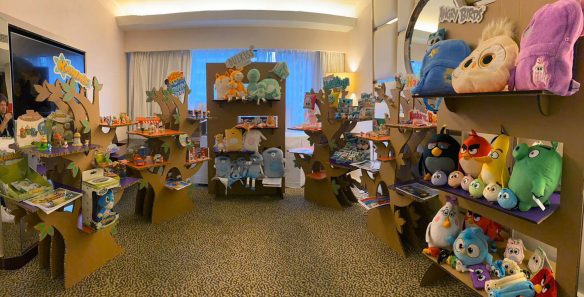 Founded by a team of execs from established promotions company, Pea&Promoplast, Angry Birds and Masha the Bear licensee Play Around is a new toy company led by a dynamic team with a passion for creating innovative projects for both own brand and licensed range.
The team behind Play Around has a wealth of experience in working with multi-channel concepts and projects across premium collectables and toys, for some of the best-known brands in the world, and is now bringing its knowledge and creativity together on two major new licensing projects, as well as its own label offerings for the initial launches.
The overall goal for the brand new company is to 'make kids laugh' to enhance the spirit of play and to create products children can really enjoy.
The first of the licensed properties is Kids in Town – a multi-ethnic world in which a range of diverse characters from different cultures and background come together with common values. The brand offers a wealth of inspiration for regular new content and Play Around will be creating a range of toys to pitch to buyers and retailers within the next few months.
Kawais is an animal-based property with a strong environmental theme. The world of animals who all live on an island together, also offers a strong collectability element for licensing. Play Around's new range features animal collectables, each with their own symbol and charm to represent their individual world. The playset has a nature feature, allowing children to plant seeds and watch them grow to create a living world for their toys.
The characters in the Kawais range live in trees, branches and other habitats, which are all modular and interchangeable and made out of wood fibre to continue the theme of sustainability.
Massimiliano Piazzolla, General Manager of Play Around, comments: "We're really excited to launch the new company and our exciting debut ranges to retailers and distributors. The reception from the trade so far has been overwhelmingly positive, and we are building a solid foundation for the consumer launches later this year."
Play Around team will attend Nuremberg Toy Fair to meet new partners. Contact m.piazzolla@peapromoplast.com to arrange a meeting.
For further information please contact:
Jane Garner & Sian Dorrington
Jgarner@kgmpr@com
sdorrington@kgmpr.com
+ 44 ( 0 ) 1279 887 101