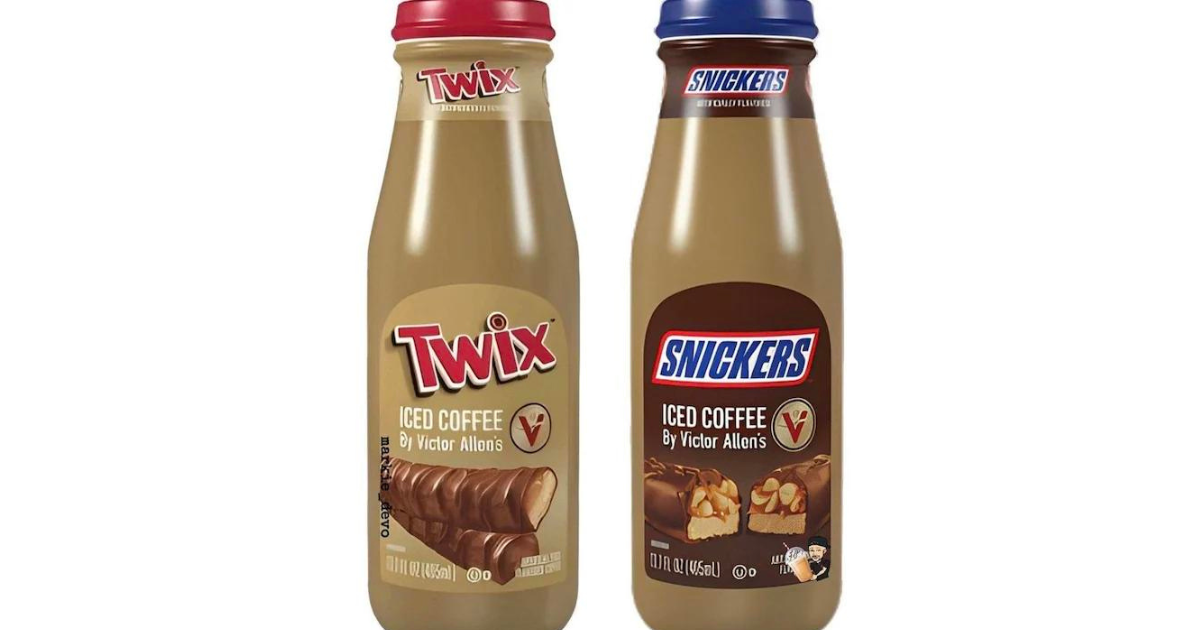 New Victor Allen's Snickers & Twix Iced Coffees Bring Delicious Innovation to the Ready-to-Drink Category
Victor Allen's Snickers & Twix Iced Coffees are now available at retailers & convenience stores nationally including Walmart, Food Lion, Tops, and Giant.
Neenah, WI —  Trilliant, parent company of Victor Allen's coffee brand nationally, launched SNICKERS™ and TWIX™ Ready-to-Drink Iced Coffees.  Victor Allen's® SNICKERS™ and TWIX™ Iced Coffees are made with real cream & sugar to deliver the perfect mix of the classic SNICKERS® and TWIX® flavors fans love with a subtle undertone of coffee that will transport you to a happy place with each & every sip, while providing a little boost of energy along the way. The deal was brokered by Mars' licensing agency, Brand Central.
Victor Allen's® candy flavored iced coffees will bring first of its kind disruptive innovation to a category trending with unique flavor experiences that allow consumers to treat themselves. Victor Allen's SNICKERS™ & TWIX™ Iced Coffees will provide consumers with a moment of bliss to treat themselves responsibly with the 13.7oz bottles only having a total 220 calories which is lower than most other big brands in market.
"At Victor Allen's, we understand the trends of where coffee is headed with consumers wanting new & exciting flavors to treat themselves daily in a convenient RTD format," said Zac McAuley, Trilliant Senior Brand Manager. "We're excited to tap into these trends in partnership with such historic Mars Wrigley brands like SNICKERS® & TWIX®.  We look forward to bringing innovations to market that push the traditional limits of coffee for years to come.  Stay tuned."
With a simple twist of a cap, consumers will be able to transport their taste buds to a place never before possible within the ready-to-drink coffee category.  For the first time ever, the deliciousness of coffee paired up with the classic flavors of SNICKERS® and TWIX®, will allow coffee and candy lovers alike to treat themselves to a whole new kind of sensorial ready-to-drink coffee experience.
"Mars is delighted to team up with Victor Allen's to provide consumers with a whole new way to enjoy the beloved flavors of SNICKERS® and TWIX®, in an entirely new format," said Martin Terwilliger, Senior Marketing Director, Mars Wrigley.  "Mars is excited to deliver moments of everyday happiness to fans through product extensions like Victor Allen's® SNICKERS™ & TWIX™ Iced Coffees, providing more options for consumers from their favorite brands."  
Victor Allen's® SNICKERS™ and TWIX™ Iced Coffee Ready-to-Drinks are available now nationally including Walmart in 13.7oz bottles.  More sizes to be announced soon.
About Trilliant Food & Nutrition, LLC
Founded in 1979, Trilliant Food and Nutrition is a vertically integrated, high-quality manufacturer in the coffee, powdered, ready-to-drink, and wellness beverage categories.  For more information please visit www.Trilliantfood.com or www.VictorAllen.com
About Mars, Incorporated
Mars, Incorporated is driven by the belief that the world we want tomorrow starts with how we do business today. As a global, family-owned business, Mars is transforming, innovating, and evolving to make a positive impact on the world. Across our diverse and expanding portfolio of quality confectionery, food, and pet care products and services, we employ 140,000+ dedicated Associates. With almost $45 billion in annual sales, we produce some of the world's best-loved brands including Ben's Original™, CESAR®, Cocoavia®, DOVE®, EXTRA®, KIND®, M&M'S®, SNICKERS®, PEDIGREE®, ROYAL CANIN®, and WHISKAS®. We are creating a better world for pets through our global network of pet hospitals and diagnostic services – including AniCura, BANFIELD™, BLUEPEARL™, Linnaeus and VCA™ – using cutting edge technology to develop breakthrough programs in genetic health screening and DNA testing. For more information about Mars, please visit www.mars.com. Join us on Facebook, Twitter, Instagram, LinkedIn and YouTube.