Nominees for Best Licensed Promotion
Congratulations to the 2020 Licensing International Excellence Awards Nominees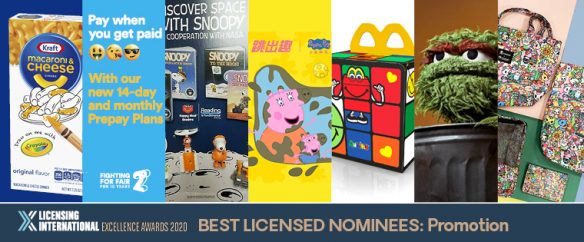 All successful licensing requires creativity, but the list of efforts among the programs nominated as Best Licensed Promotion showcases the range of techniques that can employed to use a brand, character set, or even an "independent agency of the United States Federal Government" to promote a third party.
Overall, more than 600 entries were received this year from companies in 22 countries and were judged by a panel of 152 executives from 20 nations. The licensing industry will make its selections from a ballot that includes 175 nominees in 23 categories of brands, properties and companies.
For a full listing of the categories and the nominees please click here.
Here are the nominees for Best Licensed Promotion:
Crayola and Kraft Mac & Cheese – Crayola / Kraft
Crayola and Kraft Macaroni & Cheese made mealtime more fun with a creativity-infused back to school promotion.
The campaign featured a custom Kraft Macaroni & Cheese package kids could color while Mom cooked, a redemption offer and the first-ever Crayola Create it Yourself (CIY) promotional overlay.  Crayola's content arm, CIY, created video content encouraging kids to upcycle a Kraft Macaroni & Cheese box and noodles to make a hedgehog or dolphin craft.  Kids participated in an online contest sharing their upcycled creations, and 100 grand prize winners were awarded a personalized box of Kraft Macaroni & Cheese.
JoyPixels 2degrees "Fighting for Fair" – JoyPixels / Born Licensing
New Zealand telecommunications provider 2Degrees licensed JoyPixels emojis in a major national campaign celebrating 10 years of 'Fighting for Fair'. The campaign, created by TWBA New Zealand, consisted of twenty 30-sec. TV spots and online videos as well as print, out of home, online, social, in-store and more…!
JoyPixels' extensive asset library allowed 2Degrees to convey a wide range of messages using just one IP. For example, a selection of animal emojis were used to bring to life a SPCA testimonial showing how 2Degrees fights for fair for Kiwi businesses. JoyPixels emojis were also used in 2Degrees business testimonials for The Body Shop and Fahey Fence Hire.
Peppa Pig TMall Super Brand Day – Hasbro/eOne & TMall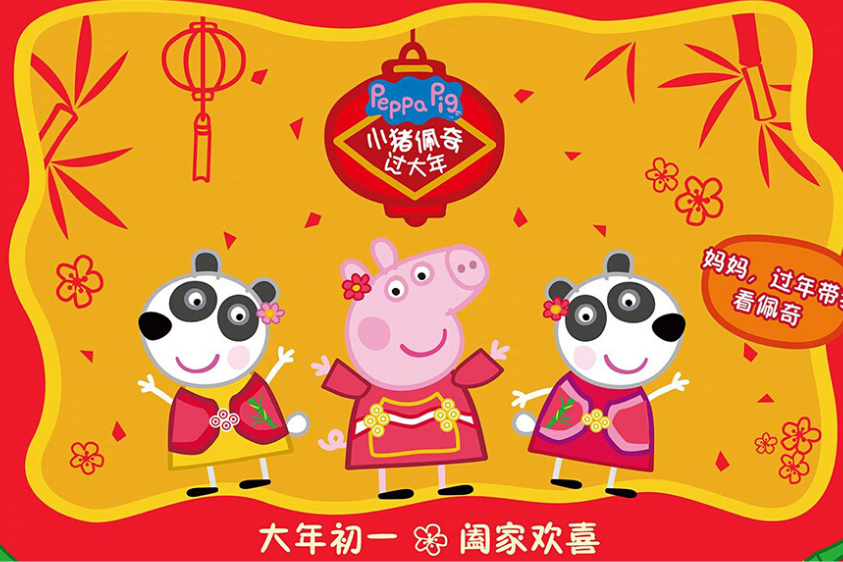 Peppa collaborated with e-commerce leader Tmall to leverage its unparalleled integrated communications and retail platforms, delivering Peppa Pig's first Super Brand Day and hitting a 24-hour e-commerce sales record for the brand. Peppa Pig also had the privilege to be selected as one of the 30 top brands to take part in the Tmall Double 11 logo collaboration, a testament to the brand's star power in China. The logo promotion brought Peppa Pig's brand image to children and families in 21 cities and received around 5 million RMB ($710K) in free media value.
The World of tokidoki at Changi Airport – tokidoki / Pacific Licensing Studio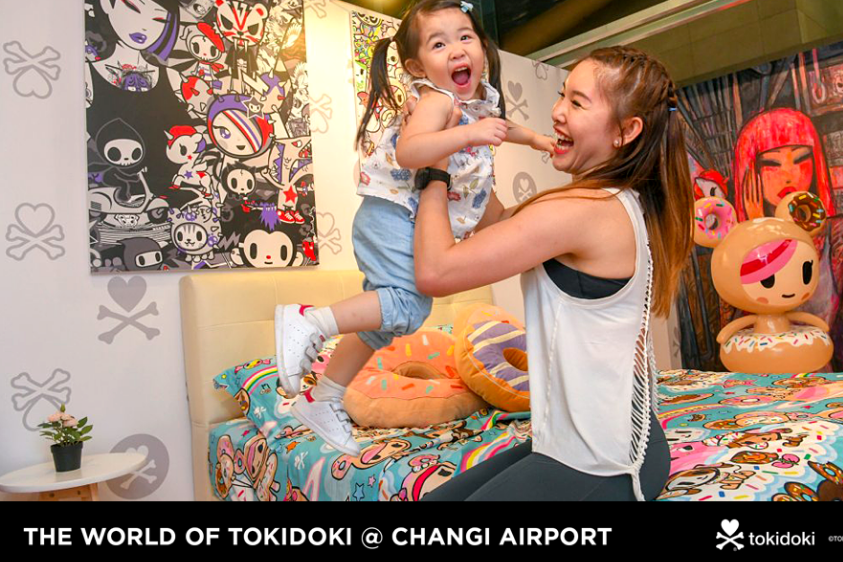 tokidoki and Pacific Licensing Studio collaborated with Singapore Changi Airport Group to execute tokidoki's first airport promotion. The label's characters were brought to life through the larger-than-life tokidoki inflatable and tokidoki@home.  tokidoki also introduced themed travel premiums, merchandise and Singapore's first character appearances.
The promotion held from 15 March to 1 May 2019 attracted an all-time high footfall of >1000 visitors daily for school holiday promotion, achieved a record-breaking premium redemption rate, fully redeemed by the 3rd week. Thanks to the extensive media coverage, the event became the buzz of 2019, leading to a Changi activation re-visit in 2020.
Rubik's & SmileyWorld McDonald's Happy Meal – SmileyWorld / Rubik's / McDonald's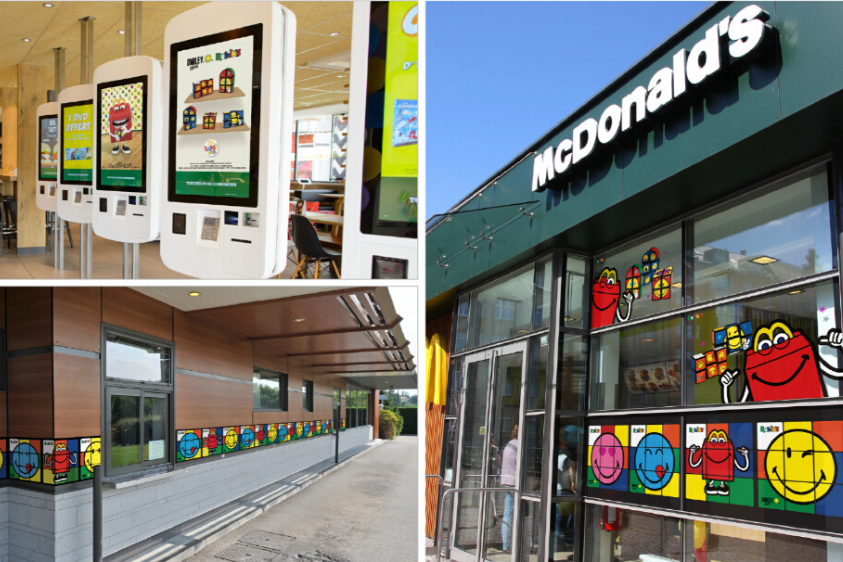 Bringing together Rubik's and SmileyWorld in the exciting McDonald's Happy Meal promotion combined the smartest brand in the world with the happiest brand in the world for the first time. This created different levels of gameplay for children with the mix and match smiley faces and the Rubik's Cube twist and turn.
The success of the 2019 promotion has led to McDonalds running a further Rubik's Cube happy meal promotion in 2020.
McDonald's "Discovery Space with Snoopy" – Peanuts Worldwide / NASA / McDonald's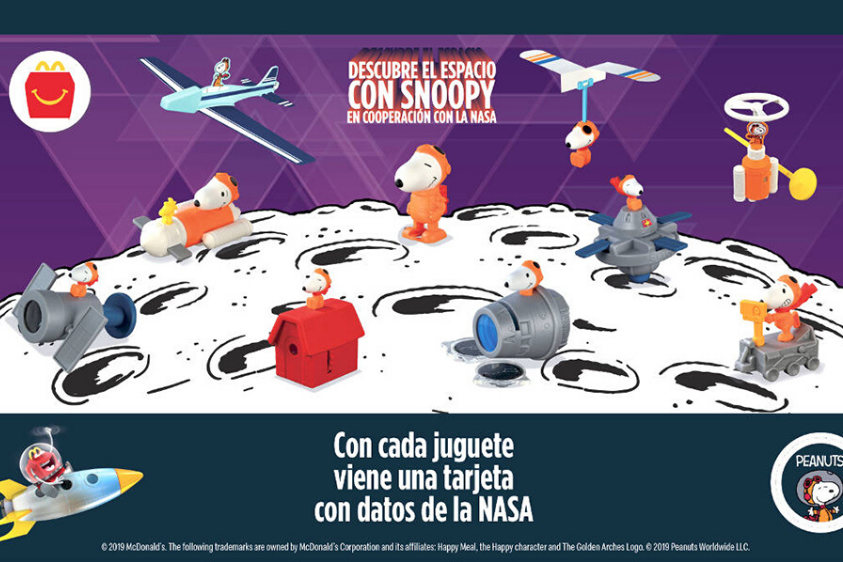 In 2019, in celebration of the 50th anniversary of the Apollo missions, Peanuts Worldwide and McDonald's launched the Discover Space with Snoopy Happy Meal program. The program, which rolled out to 97 countries around the world, brought NASA-approved Astronaut Snoopy STEM content into McDonald's restaurants, happy meals, and the McPlay app. The program comprised a total of 10 STEM toys, each of which came with a NASA-approved fact card, and 4 books about Snoopy's adventures in space. The promotion, supported by regional TV campaigns, in-store signage, and localized social media support, included over 125 Million Happy Meals around the world.
Squarespace & Sesame Street "A Cautionary Tale" – Sesame Workshop / Squarespace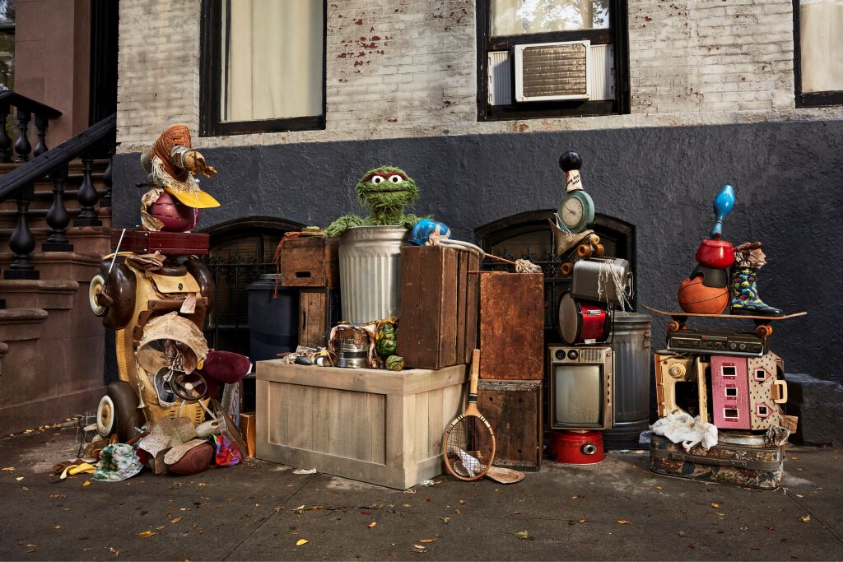 Sesame Street's 50th Anniversary was the perfect time for Squarespace to create their first-ever holiday campaign featuring everyone's favorite Grouch – Oscar!  Squarespace shares in Sesame Workshop's commitment to supporting creativity, imagination and self-expression for all generations and this partnership allowed both brands to lean into those commitments in a fun and grouchy way!
This 360-degree campaign is centered on a short film, A Cautionary Tale, which follows Oscar as he is reluctantly catapulted out of his trash can and into the spotlight as New York's most unlikely successful artist.  The film has over 23 million views on YouTube and showcases the iconic Oscar the Grouch in a truly unique, heartfelt and unexpected way.  In addition to the short film, a series of unique and exclusive "Trash Art Capsules" were created by New York City Garbage Artist, Justin Gignac, featuring materials found on Sesame Street.  Each capsule was showcased on Oscar's very own Squarespace website and sold out in less than one day – proceeds from the Capsules went to Sesame Workshop, the nonprofit behind Sesame Street.  Squarespace also hosted a community event for children to celebrate the impact of looking at an object from a different point of view and to inspire a new generation of creative minds to create their own works of art using recycled objects…with a few grouchy tips from Oscar himself!