Nominees for Best Product: Publishing, Social Expression, Back-to-School
Congratulations to the 2020 Licensing International Excellence Awards Nominees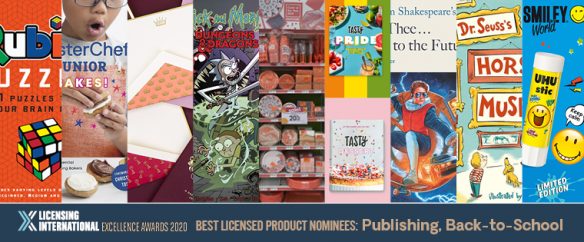 This category features products based on a wide range of property types, including corporate brands, a classic puzzle game, live-action and animated TV series, and even a couple of mashups that integrate names that emanate from vastly different corners of the entertainment universe.
Overall, more than 600 entries in the 2020 Licensing International Excellence Awards competition were received this year from companies in 22 countries, and were judged by a panel of 152 executives from 20 nations. The licensing industry will make its selections from a ballot that includes 175 nominees in 23 categories of brands, properties and companies.
For a full listing of the categories and the nominees please click here.
Here are the nominees for Best PRODUCT: Publishing/Back to School:
Carlton Books – Rubik's Puzzle Book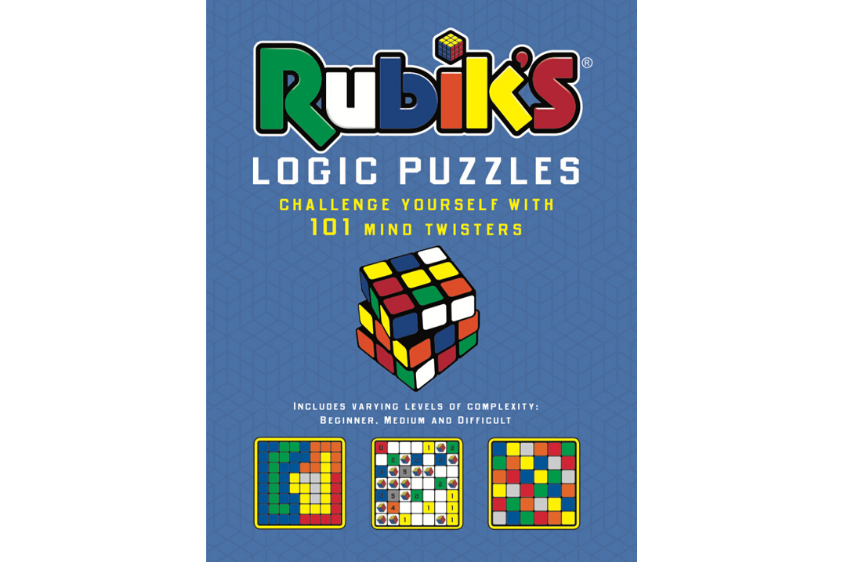 The second Rubik's puzzle book from Carlton Books, The Rubik's 101 Puzzles to Test Your Brain Power, is a visually impactful, brain-boosting title for adults.  This book offers the chance for puzzle fans and toy lovers to boost their brains with stimulating and challenging puzzles that test logic, strengthen memory, and sharpen mental prowess. This is an example of a brand extension which takes the key brand values of a toy and successfully applies them to the totally different medium of publishing and transforms traditional puzzle formats into something distinctly Rubik's by applying the iconic colors and shapes of the Cube. The book has 101 colorful puzzles that test puzzle-solving skills through a range of difficulty levels is now available in the UK, Hungary and Czech Republic, the US, and also on bookshelves in South Korea and Sweden.
Clarkson Potter – MasterChef Junior Bakes! Cookbook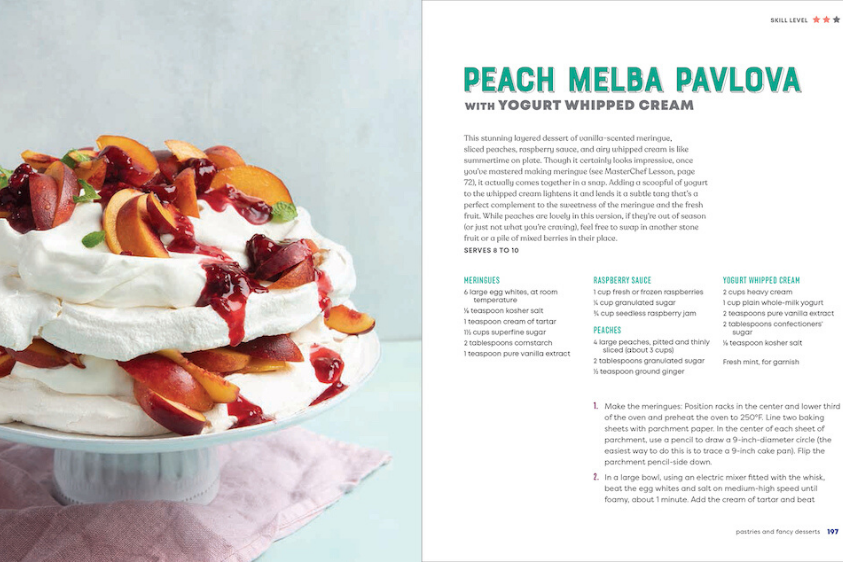 Endemol Shine North America, the producers of the hit series, partnered with publisher Clarkson Potter, a division of Penguin Random House, to inspire a love of baking in the next generation of at-home junior chefs, with the release of the second MASTERCHEF JUNIOR cookbook, MasterChef Junior Bakes!
This latest cookbook from MASTERCHEF JUNIOR is packed with baking guidance and know-how, insider info from MASTERCHEF JUNIOR alumni and photographs from fan-favorite show moments. Home bakers of all ages and skill levels can bake and refine their skills in the comfort of their own home, like a MasterChef.
Crane Stationery Co. – Downton Abbey Stationery Collection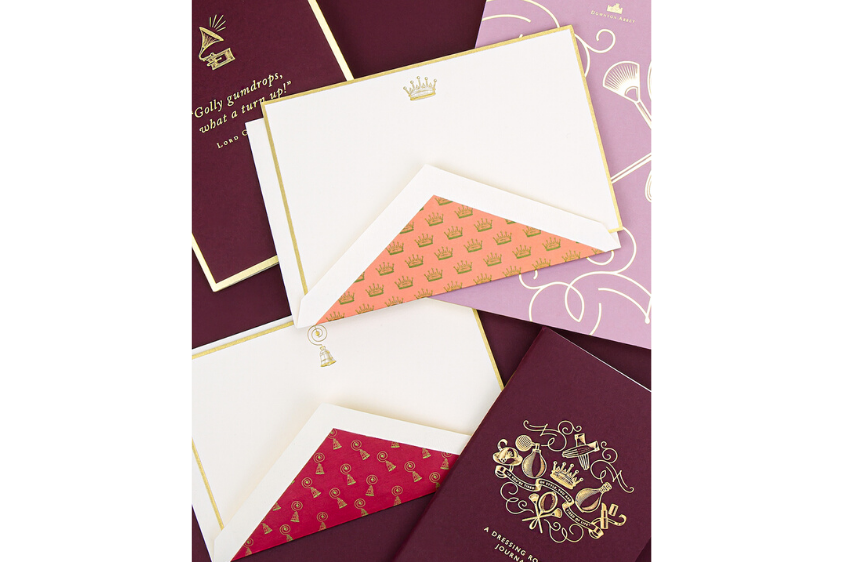 The Downton Abbey Stationery Collection by Crane Stationery was full of gracious charm and truly exuded the style and elegance of Downton Abbey. Crane's craftsmanship and effortless elegance has won the brand legions of devotees for generations. The collection spanned multiple formats including notebooks, notepads, Thank You notes, greeting cards, calendars and more. Crane's eco-friendly, hand crafted stationery printed on 100 percent cotton paper was the perfect expression of the style and sophistication of Downton Abbey Manor.
The product line was so successful across all retail and ecommerce channels that Crane Stationery was having trouble keeping it in stock! Downton Abbey was one of Crane's most successful and highly demanded collections in recent years.
IDW Publishing – Rick & Morty vs Dungeon & Dragons Graphic Novel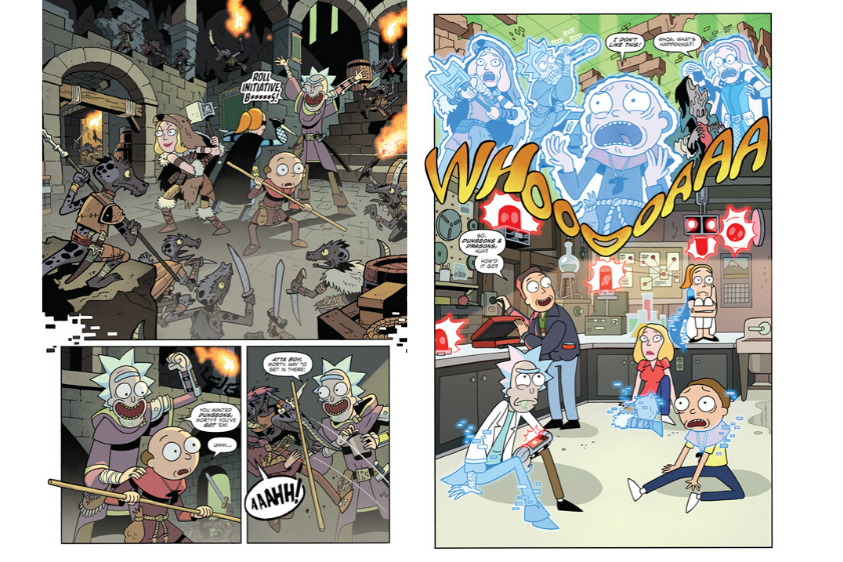 IDW is very proud of the success of Rick and Morty vs. Dungeons & Dragons, which was one of the 500 top-selling graphic novels of 2019. Critics and fans have been overwhelmingly positive, driving sales for the series to over 200k individual units. The creative team found the heart in each of the properties, and what they brought to the pages of the book struck a chord with readers across the world.
Party City – Pantone's 2019 Color of the Year Partygoods & Tableware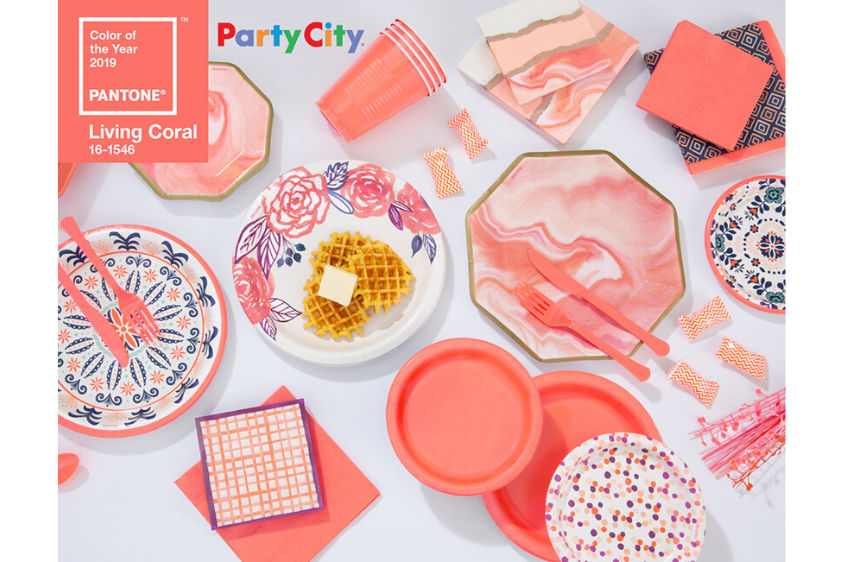 Pantone, together with licensing agency Brand Central, developed a direct-to-retail partnership for Pantone with the #1 party destination, Party City.  The line included an assortment of 30 Party Goods and Tableware SKUs that were inspired by Pantone's 2019 Color of the Year, Living Coral. The collection was featured in all Party City stores, approximately 875 doors, with a featured end cap as well as a prominent promotion on the Party City website. The collaboration leveraged Pantone's "Color of the Year" and elevated the everyday basics of party goods to appeal to a more sophisticated customer.
Penguin Random House – Tasty Dessert & Tasty Everyday Cookbooks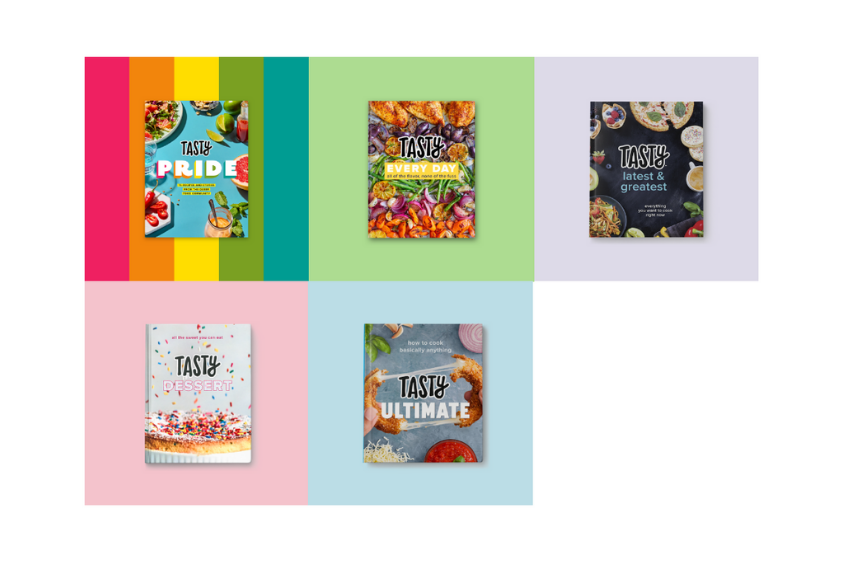 Penguin Random House is the world's largest English language publisher, while Tasty is the world's largest food network, with over 100 million active Facebook followers in the US alone.
Penguin released the third Tasty cookbook, TASTY DESSERT, in March of 2019, and the fourth Tasty cookbook, TASTY EVERYDAY, in October of 2019.
By December 2019, in less than two years, Penguin Random House's Tasty cookbook series passed its one millionth book sold. The Tasty cookbook series is sold around the world in over 10 different languages.
Quirk Books – William Shakespeare "Get Thee Back to the Future" Mash-Up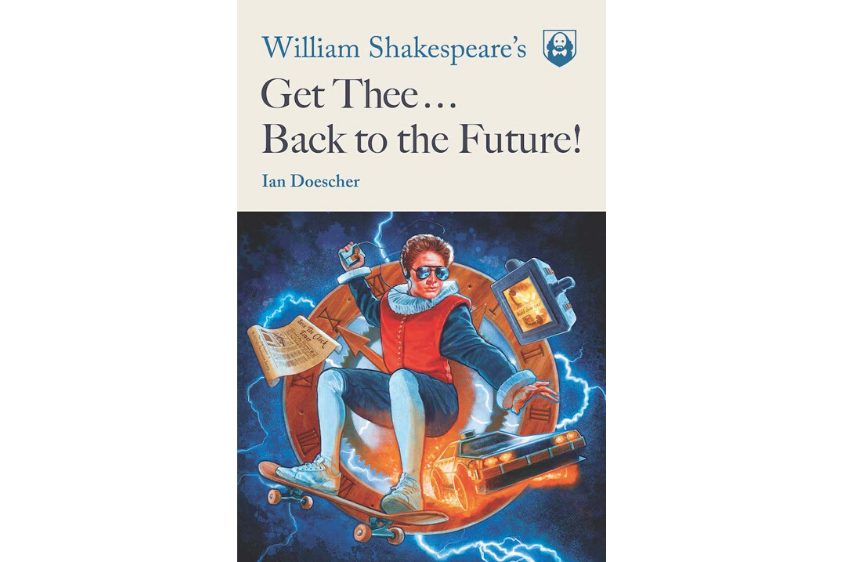 William Shakespeare's "Get Thee Back to the Future" is a unique mash-up by New York Times bestselling author, Ian Doescher, based on the iconic '80s film and written in the style of the Bard of Avon. Every scene and line of dialogue from the movie is re-created in authentic Shakespearean rhyme, meter and stage directions. The story is rounded out with woodcut-style illustrations and plenty of inside jokes and Easter eggs, from Huey Lewis call outs to the inner thoughts of Einstein the dog.
Random House Children's Books – Dr. Seuss's Horse Museum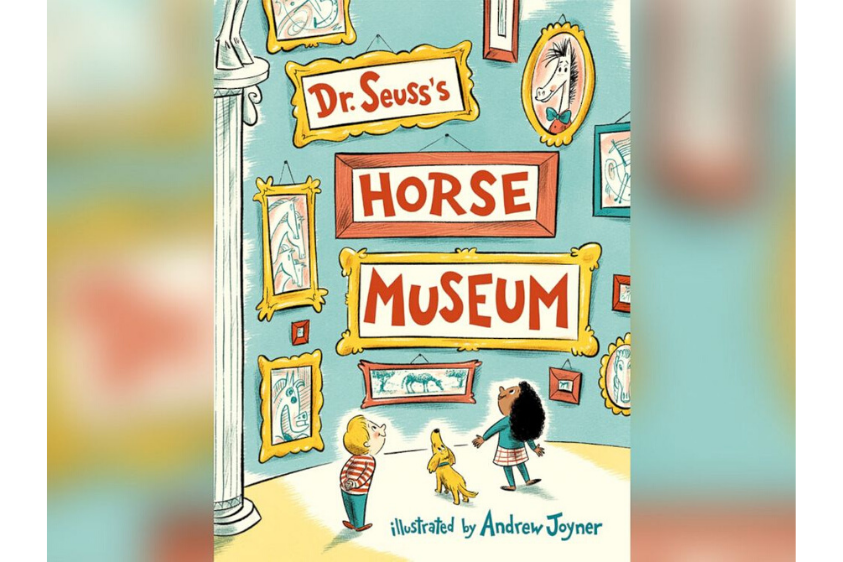 An original Dr. Seuss book is cause for celebration across the globe, and with the publication of "Dr. Seuss's Horse Museum," Random House Children's Books and Dr. Seuss Enterprises provided readers and fans with another memorable book that they could add to their collections. With the books' announcement on Good Morning America in February 2019, thousands of fans preordered the book.  And these preorders, along with week-one sales in September 2019 and strong publicity, propelled the book into the #1 spot on the New York Times bestseller list, one of the most coveted designations for any book.
UHU – Smiley UHU Limited Edition Glue Stick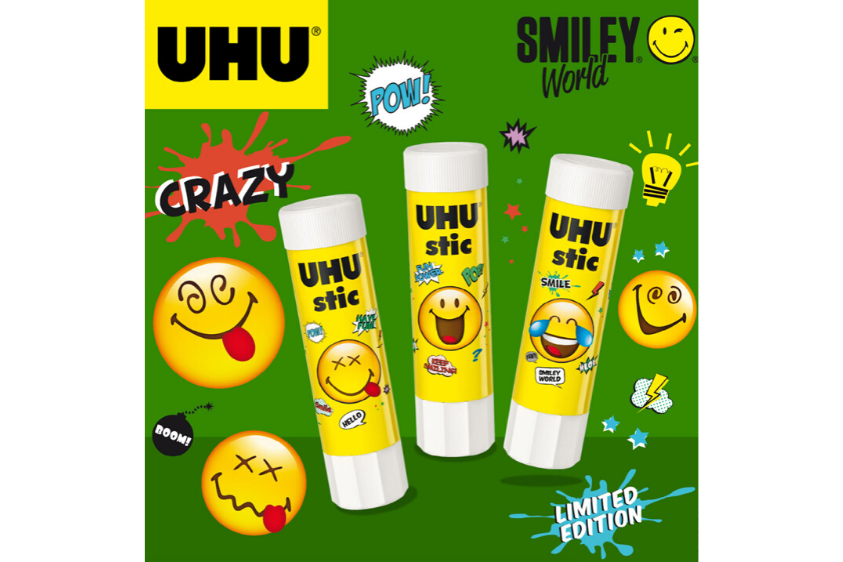 UHU, a worldwide leading glue brand, teamed up with SmileyWorld on a new product line, that sees a selection of the most famous Smileys used on the packaging of a UHU stick limited-edition, featuring a special glow-in-the-dark effect on the labels of each glue stick. The new partnership helps kids explore their emotions through play, underpinning UHU's efforts to target kids in early school years. UHU is a world-class brand that utilizes sustainable materials and natural ingredients while maintaining a design focused and innovative approach that ensures their product stands out at retail.
The range sold extremely well in leading stores across France since its launch in September 2019 is being earmarked to extend into other European and International countries in the coming months of 2020.