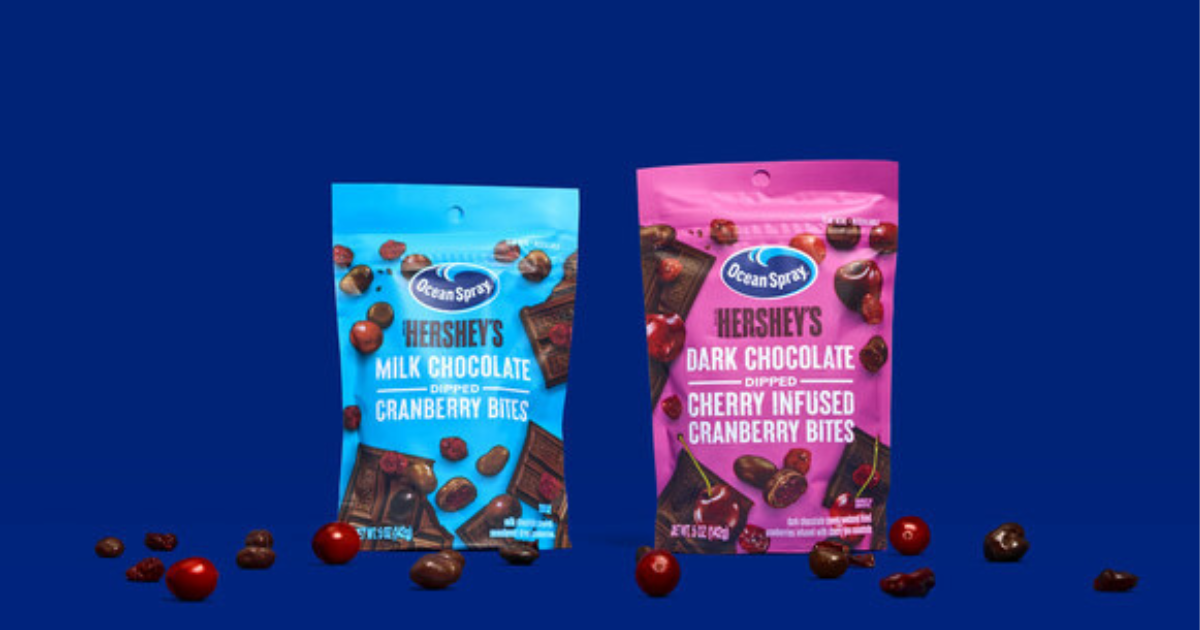 Ocean Spray and Hershey Launch a Sweet New Partnership
Two Iconic Brands Deliver New Innovation Snack Line Including Milk Chocolate Dipped Cranberry Bites and Dark Chocolate Dipped Cherry Infused Cranberry Bites
Boston, MA — Ocean Spray Cranberries announced a new partnership with The Hershey Company, an industry-leading snacks company, for a line of sweet treats made from real fruit. The new snack line features a delicious chocolate experience with Milk Chocolate Dipped Cranberry Bites and Dark Chocolate Dipped Cherry Infused Cranberry Bites, surprising your taste buds with sweet flavors.
Ocean Spray has continued to expand its foods and snacking portfolio introducing a variety of new products. The new collaboration with Hershey allows for unexpected flavor pairings offered in multi-serve resealable pouches in both 5oz and 8oz for the entire family for snacking, on-the-go, as well as perfect to mix into trail mix and sprinkle on top of ice cream.
"What better way to build our snack portfolio than to partner with Hershey's, the #1 milk chocolate brand in the U.S., offering our consumers the ultimate snack to evolve the dried fruit category," said Monisha Dabek, Chief Commercial Officer, USA, at Ocean Spray. "It's important for us to create products that are made from real fruit, innovating how we feature the cranberry in a variety of flavor combinations for year-round snacking and sweet treats for the whole family."
"We are excited by this partnership and extension of our iconic Hershey's brand into new snacking occasions," said Ernie Savo, President, Hershey Licensing Company. "Ocean Spray is synonymous with cranberry, and we can't think of better way to enjoy this wonderful superfruit than with an indulgent touch of delicious Hershey's milk chocolate."
Milk Chocolate Dipped Cranberry Bites and Dark Chocolate Dipped Cherry Infused Cranberry Bites are joining Ocean Spray's existing and beloved snack, Greek Yogurt Dipped Cranberry Bites, and will be available in select stores across the United States including Walmart, Publix and regional grocery stores.
ABOUT OCEAN SPRAY
In 1930, Ocean Spray was founded by three maverick farmers – bonded by bold cranberry love. Since then, we've grown into a vibrant global agricultural cooperative, built on the strength of roughly 700 farmer families in the United States, Canada, and Chile. Together, we've worked to preserve the family farming way of life for nearly 100 years, and for generations to come. Today, our cranberries show up in more than a thousand deliciously nourishing products in over 100 countries worldwide. United by passion and purpose, Ocean Spray is committed to trailblazing the power of the mighty cranberry through its offbeat taste and uncanny nutrition to feed better, happier lives for all. Born Tart. Raised Bold.