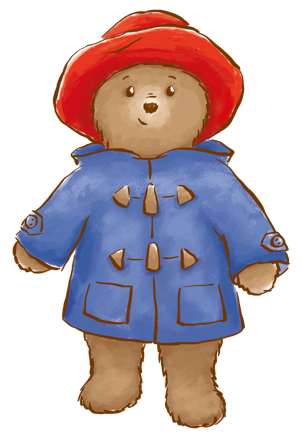 Paddington continues his journey with License Connection
The Copyrights Group, the brand development agency for writers, artists and brand owners has appointed License Connection as its licensing agent in Benelux for Paddington Bear.
The Paddington books were written by Michael Bond and the first volume: "A Bear Called Paddington" was published in 1958. Since then, thirty-five million copies of the Paddington books have been sold worldwide and the series has been translated into over forty different languages
The Paddington movies produced by Studiocanal, with Harry Potter's David Heyman have become the most successful independent family movie franchise ever, with more than $500m at the box-office.
In 2020, a brand-new Paddington TV series designed for a pre-school audience, is launching worldwide on Nickelodeon. The Adventures of Paddington features a young Paddington and reaches out to a whole new generation of fans!
License Connection will represent the Paddington brand across classic, baby, movie and TV for a broad range of products in the Benelux region. 
"We are very pleased to be working with License Connection on Paddington Bear in the Benelux," says Franca Bernatavicius, Senior International Licensing Manager at The Copyrights Group. " This is a very exciting time for Paddington, with the rich publishing heritage and the success of the films now paving the way for the upcoming TV series and a new generation of fans across the Benelux." 
"We are delighted that The Copyrights Group has appointed License Connection as the Benelux Licensing Agent for Paddington, says Licensing Connection's Daphne Kellerman. "We see great potential for the brand in the territory because of its heritage and the new adventures that are about to come. It is a well-known brand already globally and we look forward to add partners to create new products, so kids and parents can go on their own journey with Paddington." 
About The Copyrights Group
The Copyrights Group, a subsidiary of Vivendi, is a full-service international agency and consultancy offering strategic brand development, licensing and retail expertise.
With a wealth of industry experience, The Copyrights Group focuses on the long-term development of intellectual properties.
About License Connection
License Connection is an International Licensing Agency & Consultancy Company that connects top brands with a range of quality products in Europe. Since the start of the company in 2002 License Connection works closely together with their partners to translate creative ideas into concrete sales promotions, successful campaigns and licensed products. With years of experience, License Connection offers its licensing partners a unique service.