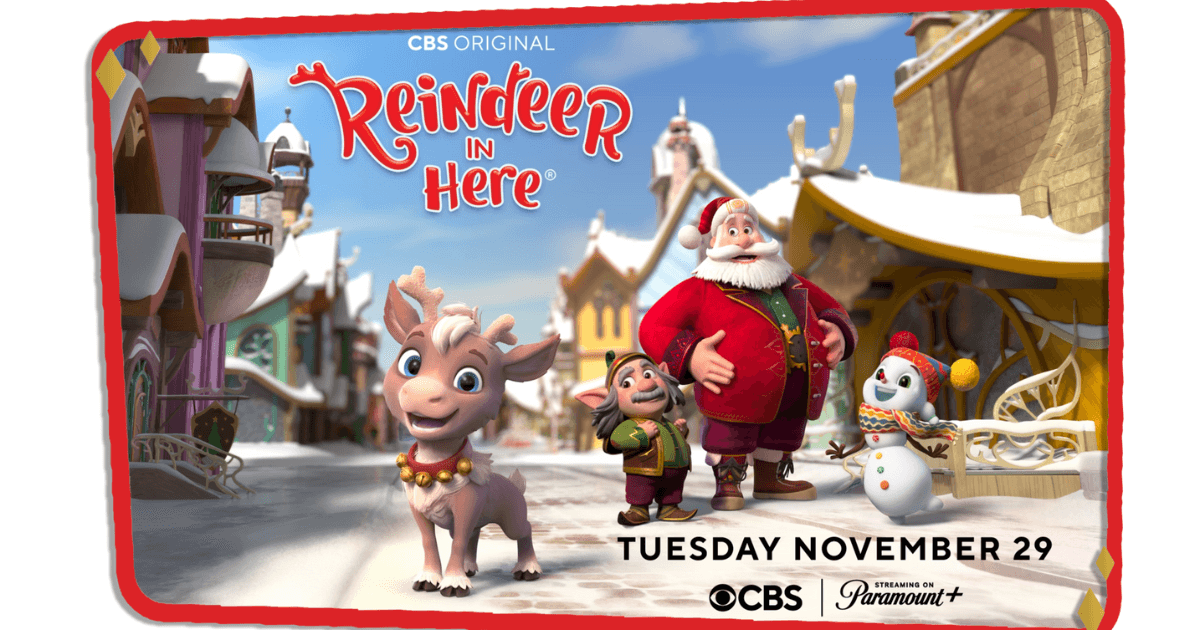 Paramount Consumer Products Celebrates the Upcoming CBS Original Animated Holiday Special 'Reindeer in Here' With an Exclusive Line of Products Only at Target
Spread Holiday Cheer with the New Deluxe Book & Plush Gift Set, Blankets, Pajamas and Standalone Plush Inspired by the Heartwarming Animated Special Set to Air on CBS & Paramount+ on November 29
New York, NY — Paramount Consumer Products today announced the launch of an array of exclusive products to celebrate the upcoming premiere of the CBS Original REINDEER IN HERE, a one-hour animated holiday special starring Adam Devine premiering Tuesday, November 29 (9:00-10:00 PM, ET/PT) on the CBS Television Network, and available to stream live and on demand on Paramount+.
Families can start a new holiday tradition with a keepsake deluxe giftable book and plush set that comes with a timeless picture book, along with a lovable, huggable plush Reindeer, complete with airholes for the Reindeer to breathe on its long trip from the North Pole into children's arms to spend the entire month of December together. This deluxe edition also includes coloring sheets, stickers, and a photo ornament sold exclusively at Target. Additional products inspired by REINDEER IN HERE, will include pajama sets, cozy throw blankets, and two standalone plush characters; a "Blizzard Plush" reindeer with two mismatched antlers, and a "Pinky Plush," the only all pink reindeer at the North Pole. All of these items are also available exclusively at Target and Target.com.
A Book and Plush set will also be available wherever books are sold.
Based on the award-winning Christmas book created by acclaimed author Adam Reed and written for the screen by Greg Erb & Jason Oremland, REINDEER IN HERE is the heartwarming story of how Blizzard (Blizz), a young reindeer living at the North Pole who has an unusual trait – one antler that is significantly smaller than the other – and his unique group of friends' band together to save the future of Christmas. In doing so, they unknowingly create a magical holiday tradition like none other.
"Adam Reed's beloved children's book has already become a holiday staple and we are excited to help families create an annual family tradition with the new animated special, REINDEER IN HERE, and themed merch collection," Veronica Hart, Executive Vice President, Global Franchise Planning, Paramount Consumer Products & Experiences. "Children will love immersing themselves with these characters while they tune in for the special or read the book before bedtime."
Adam Reed is the author of the award-winning children's book Reindeer in Here, on which the new animated special is based. Launched in 2017, the book sold out on Amazon in under two hours and became an instant Amazon #1 new release and best-seller. In just a few short years, "Reindeer in Here" has become the most awarded Christmas tradition brand of all time, having won 12 major awards, including Creative Child magazine's Book of the Year, a gold Mom's Choice Award, and the prestigious National Parenting Center seal of approval. Reed initially created "Reindeer in Here" for his own children because of what he felt was a lack of positive holiday tradition brands in the market that didn't also stress out parents in the process.  More information is available at www.reindeerinhere.com or on all social media platforms at @reindeerinhere.
About Paramount Consumer Products: 
Paramount Consumer Products oversees all licensing and merchandising for Paramount (Nasdaq: PARA, PARAA), a leading global media and entertainment company that creates premium content and experiences for audiences worldwide. Driven by iconic consumer brands, Paramount Consumer Products' portfolio includes a diverse slate of brands and content from BET, CBS (including CBS Television Studios and CBS Television Distribution), Comedy Central, MTV, Nickelodeon, Paramount Pictures, and Showtime. With properties spanning animation, live-action, preschool, youth and adult, Paramount Consumer Products is committed to creating the highest quality product for some of the world's most beloved, iconic franchises. Additionally, Paramount Consumer Products oversees the online direct-to-consumer business for CBS and Showtime programming merchandise, as well as standalone branded ecommerce websites for Star Trek, SpongeBob, South Park, and MTV.