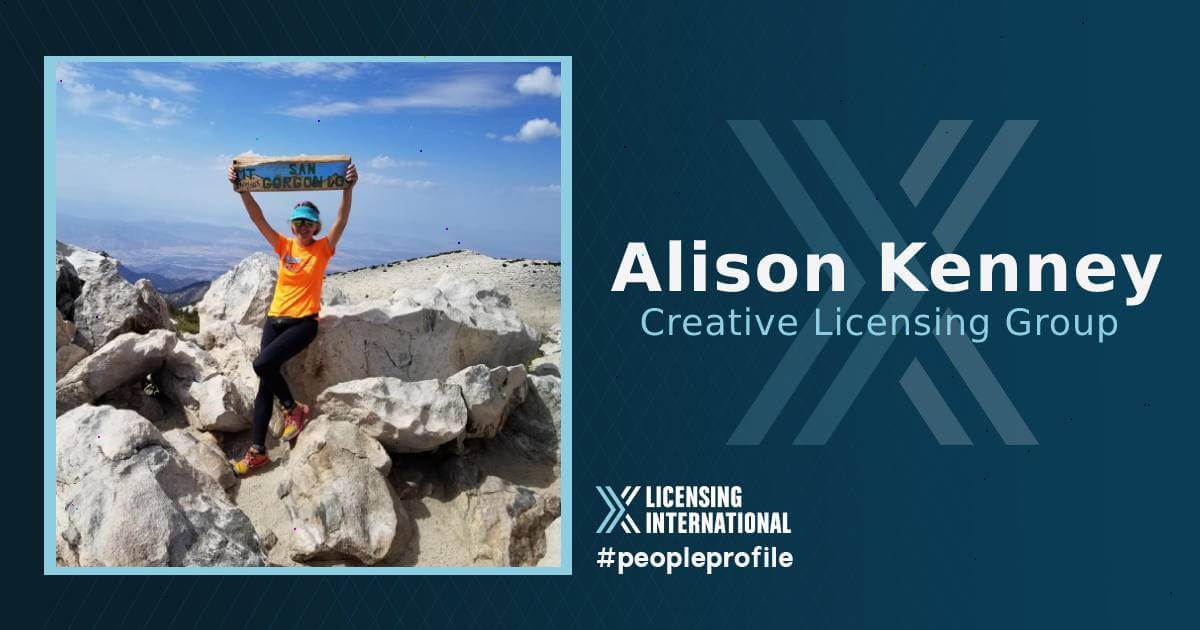 People Profile: Alison Kenney, President of Creative Licensing Group
The global licensing community is powered by an incredible group of professionals whose diverse backgrounds and creative energy drive innovation and excellence. Each week we're profiling one of these professionals in this ongoing series.
How did you get into licensing (or how did licensing find YOU)?
Shortly after graduating from college, I answered an employment ad for an executive assistant position working under Cindy Bailey, who at the time was responsible for the worldwide licensing program for artist Christian Lassen in Hawaii. I had no idea what licensing was, and thanks to a small accident I showed up late and bleeding for the interview. She hired me on the spot and we still work together on projects from time to time, almost 30 years later. Needless to say, I'm very familiar with licensing now.
What's a "typical" day in your current position? 
Now that I'm working on my own, there is no typical day. With my own business, I have to find time for everything from making sales to filing papers, from updating my artists' social media pages to sending in tax forms. It's tiring and exhilarating all at once. No matter what, though, every day involves too much time in front of my computer screen. My dog is great at reminding me to get up from time to time and move around. The nicest thing about working for myself, of course, is that I determine my own schedule. I might be corresponding with an international client at six in the morning, but taking Humphrey for a walk at noon.
What's your biggest personal and professional accomplishment? 
Professionally, I'd have to say that I am really proud of the changes I have weathered over the past six years and the way I've come out of them. When my longtime employer was acquired (I was COO at the time), we made the transition to being part of a much larger—necessarily more bureaucratic—public company with relatively little angst and no staff turnover. When that office was closed a few years later I found myself on my own. I was fortunate to be able to take part of the business with me and continue to work for the artists we'd represented for many years, but as anyone will tell you, art licensing is a difficult business—especially at the retail level, which is dominated by other types of properties. In the face of those obstacles and all of the changes wrought by Covid, I have managed to increase our revenues year-over-year for five years straight. The artists are happy, I'm happy, and the dog is happy. 
What keeps you up at night? What's your biggest challenge these days?
Trying to figure out what an NFT is and why they are valuable? But in all seriousness, my biggest challenge is and always will be creating opportunities for my artists in a business where they are up against properties that are worth millions (if not billions) of dollars and enjoy worldwide public recognition. I like to keep expectations modest and then over-deliver.
In your opinion, what is the top skill every licensing executive should have in order to succeed?
The industry is constantly shifting. You have to be resourceful. And when you find an amazing client, stick with them rather than always chasing after someone new who might be dangling a few extra dollars at you. I have licensing deals that date back to the mid-1990s. Integrity and well-placed loyalty can take you a long, long way.
What is your favorite licensing deal of all time? (It doesn't have to be one that was signed by you.) 
In 2009 the company I worked for, Art Impressions, did a HUGE Halloween promotion with Target for our Skelanimals property. In addition to products like plush toys, costumes, and party supplies, Target stores around the country featured our characters on signage and banners, fixtures, and register receipts. We produced this great animated clip with the characters rocking out at a Halloween party with Bullseye. You could even order custom M&Ms with Skelanimals on them—it was fantastic. And delicious.
If you weren't in licensing, what would you be doing now?
If time, money, and space were no object I'd be running a farm where I would collect unadopted pit bulls, disabled rabbits, over-the-hill horses and anything else that moves, needs a home, and is permitted under county regulations.