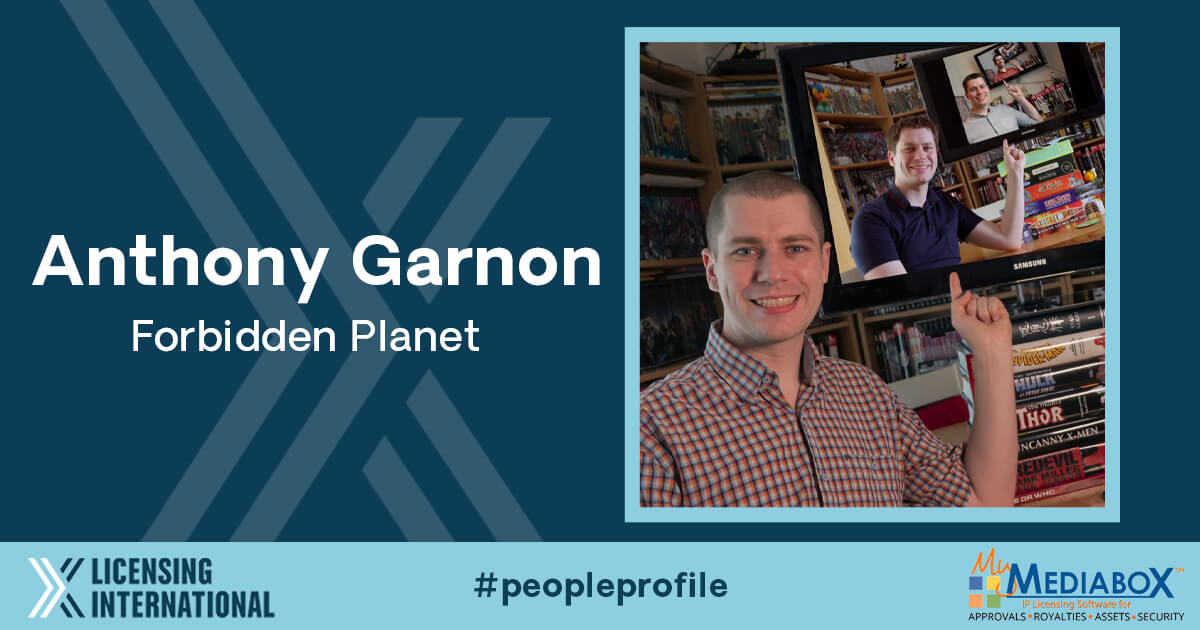 People Profile: Anthony Garnon, Licensing & Special Projects Manager, Forbidden Planet
The global licensing community is powered by an incredible group of professionals whose diverse backgrounds and creative energy drive innovation and excellence. Each week we're profiling one of these professionals in this ongoing series developed in partnership with MyMediaBox.
How did you get into licensing (or how did licensing find YOU😊)?
The long way around! I worked for years in events, running UK film premieres at a Leicester Square cinema. I told myself I'd leave when I started doing sequels to movies I'd already run events for previously, and had been a fan of pop culture retailer Forbidden Planet since childhood. I joined them in their London store, and moved up to the marketing team at the head office where I again helped to run events – this time the in-store book signings. When the previous DTR manager left I was approached to apply for the licensing role because my skills in events, specifically dealing with talent and distributors on a day to day basis, was transferable in an odd way to how the world of licensing worked.
What's your biggest personal and professional accomplishment?
Since its earliest days in the 1970s and 80s, Forbidden Planet has been attending conventions. However, I saw the opportunity to really develop our product offerings at the shows. I'm a fan myself, and I know how exciting those sorts of shows can be. So we create bespoke ranges, with lots of convention exclusives, to build on that excitement. The most successful of which has been the massive range we took to Destination Star Trek in late 2019, as we were able to combine incredible sales with some unique, never-before-attempted merchandise and designs. On a personal level, I got married in 2020. Yes – we had a pandemic wedding. Face masks, and all.
What are the most significant trends or changes that you've seen in the business in recent years?
Forbidden Planet is over 40 years old, and it's interesting talking to people within the business who have seen licenses and product types come and go over those years. The biggest shift is in who's buying the products. Part of my mission statement with the DTR was to think outside the box, and have DTR licenses that target new audiences that we typically didn't reach before. We grabbed the kawaii brand Gudetama, and the anime Aggretsuko. Last year the amazing Silverlight Netflix series Hilda joined our roster – and it was mind blowing to see, when our stores opened again in 2021, just how many teenagers and children gravitated towards that range in store. Those properties sit comfortably alongside evergreens like Marvel, DC, Doctor Who – and give them a run for their money!
What keeps you up at night? What's your biggest challenge these days?
Streaming, its hunger for new content, and the speed of change it creates in licensing. Historically, shows like The Simpsons or Buffy The Vampire Slayer aired on TV, pretty much all year around. Therefore the attention was on them constantly, until the show ended or its popularity weened. Today, we have so much new content dropping that it feels like properties only get a fleeting moment in the sun before we've all moved our attention onto something else. The challenge is not just knowing what is upcoming and worthy of licensing, but understanding that show's fan base, and the fastest and most effective way of messaging them whilst they're in that engagement mode with the brand – as that's when they'll spend.
What is the best piece of advice you ever received? OR What is your favorite quote?
Licensing is an unstoppable train. If something doesn't work, don't dwell – because you have more deals to make, more products to sell, and next time the result could be different.
What is your favorite licensing deal of all time? (doesn't have to be one that was signed by you)
I'm very proud to have brought Star Trek back to Forbidden Planet with a DTR license. It's a property that was overlooked for a while, by many in the industry, but it shouldn't be. It encapsulates everything you want from a licensing deal: it's evergreen, more relevant than ever, offers creativity, and has passionate fans who like to spend their money on the quality product you make.
The last licensed product I bought was…
The Buffy The Vampire Slayer reboot Deluxe Edition graphic novel by Boom! Studios, and the board game Marvel Splendor. My wife has banned me from playing the game already, because apparently I'm a sore loser!
THE 2021 PEOPLE PROFILE SERIES IS BROUGHT TO YOU BY MYMEDIABOX

MyMediaBox is the leader in providing online solutions that streamline every stage in the brand licensing lifecycle, from contract management and rights tracking, through style guide delivery, product approvals, security tag management and royalty reporting. With over 54,000 global professionals logging in from 125+ countries, Mediabox is by far the world's most thoroughly tested and widely trusted licensing software.