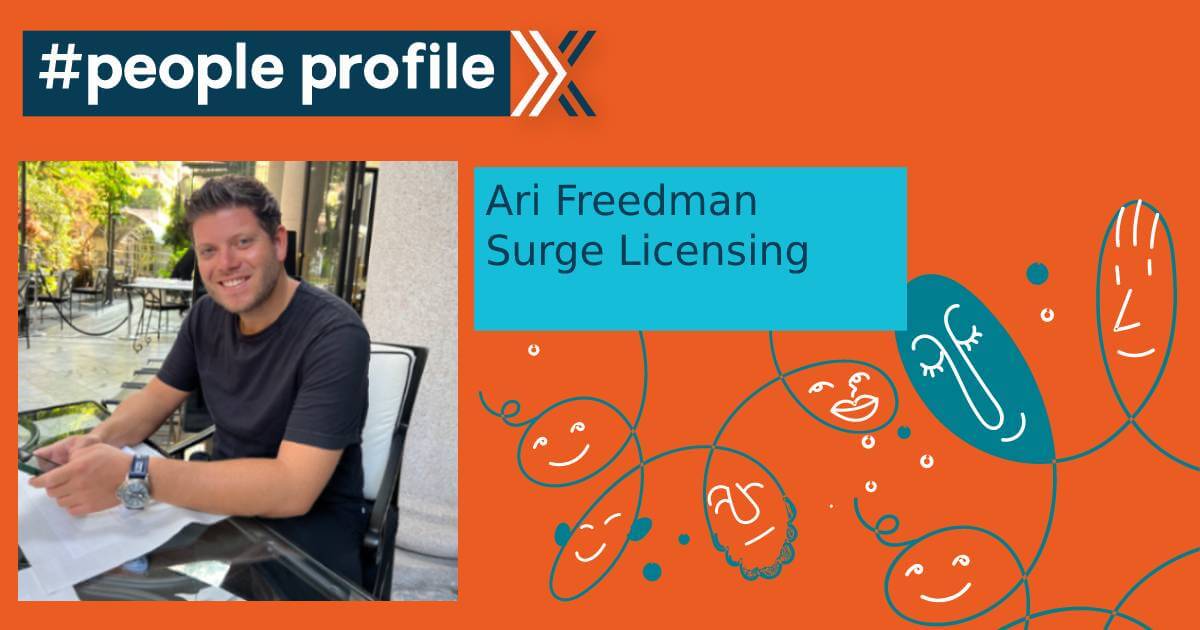 People Profile: Ari Freedman, Director of New Projects at Surge Licensing
The global licensing community is powered by an incredible group of professionals whose diverse backgrounds and creative energy drive innovation and excellence. Each week we're profiling one of these professionals in this ongoing series.
How did you get into licensing (or how did licensing find you)?
I suppose you can say I was born into the licensing business. My parents discovered the Teenage Mutant Ninja Turtles when I was a young kid, so growing up I was literally surrounded by licensed product—from initial concepts to pre-production samples to, my personal favorite, final samples that I could play with! Years later I followed my passion into the food industry, several licensing opportunities arose and from there I was doing my first of several licensing deals.
What's a "typical" day in your current position?
I find myself on LinkedIn at 5:30 AM catching up on the trades and on the hunt for the next brand opportunity. By 8:30 AM I'm off to the races driving my business forward. I stay very close with my clients and our licensees on daily basis and I am always looking for ways to get our current licensed products into new retailers and international markets. Before I know it, the day goes by in a flash.
What's your biggest personal or professional accomplishment?
Growing up as a candy lover, Toxic Waste Sour Candy was my all-time favorite. So, I reached out to them for licensing representation and they agreed to work with me. I was ecstatic, as if I just won the lottery! Working with the Toxic Waste team has been a dream come true for me and I am so proud of all I have accomplished for an amazing licensor.
What are the most significant trends or changes that you've seen in the business in recent years?
Being a foodie, I've always been on the hunt for the best recipes, new product launches, and new restaurant openings. No matter what the economy is doing, people like to eat and snack—sales of food and snack items are a bit more reliable as a brand category than some of the trendier IPs out there.
What keeps you up at night? What's your biggest challenge these days?
Licensee lawyers that don't always have a full grasp of the opportunity at hand. The biggest challenges sometimes are getting through the nitty gritty of the licensing agreements to finally get to the more important product development process and then onto marketing and sales.
In your opinion, what is the top skill every licensing executive should have in order to succeed?
Drive, hustle, and the ability to pick up the phone and call anyone. You must be fearless and believe in yourself and the brands you represent.
What's the best piece of advice you've ever received, or what's your favorite quote?
"Wise men say forgiveness is divine, but never pay full price for late pizza" — Michelangelo from the first Ninja Turtles movie.
If you weren't in licensing, what would you be doing now?
I would be building a fast-food chain across America. It is on my to-do list for sure!
The last licensed product I bought was…
I haven't bought it yet but Tony's Chocolonely Ben & Jerry's ice cream is on my radar to buy.