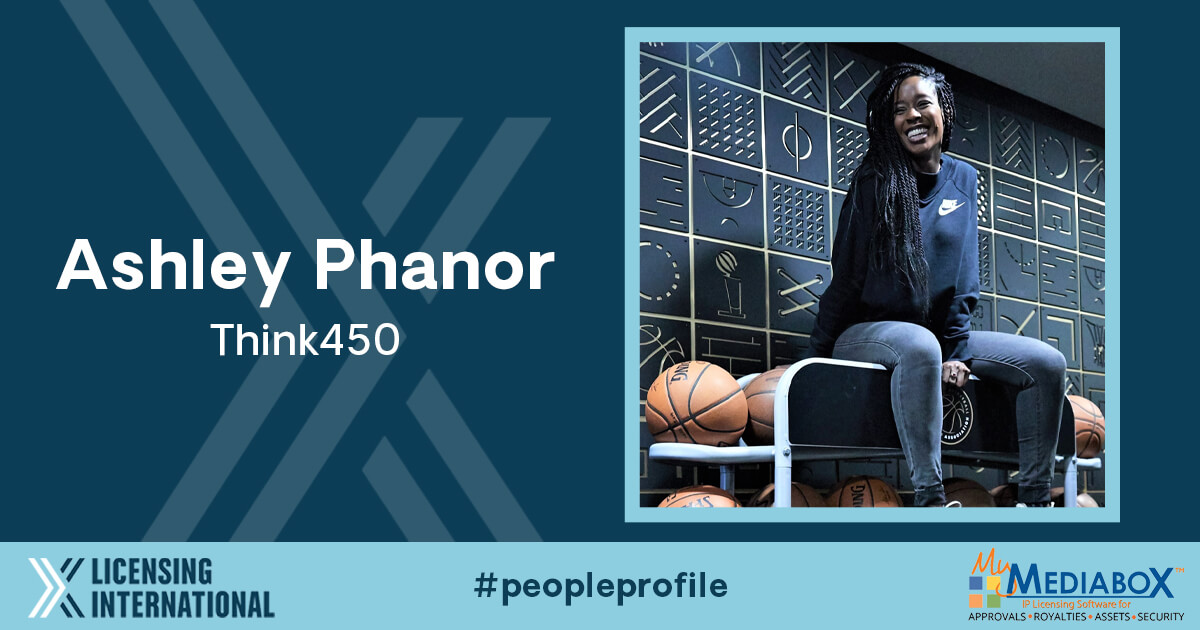 People Profile: Ashley Phanor, Licensing Manager, Think450
The global licensing community is powered by an incredible group of professionals whose diverse backgrounds and creative energy drive innovation and excellence. Each week we're profiling one of these professionals in this ongoing series developed in partnership with MyMediaBox.
How did you get into licensing?
In 2016, I began working with the National Basketball Players Association. That same year, during CBA negotiations, our NBA players voted to have the Union manage the rights of their player group license. Shortly after, THINK450, the licensing and marketing arm of the NBPA, was then created. I joined the team in 2018 after a deep dive with the Licensing EVP about the industry and the role.
What's a "typical" day in your current position?
Product reviews, touch base meetings, troubleshooting, new opportunities, the normal. I also work with branded merchandise for our company events.
What's your biggest personal and professional accomplishment?
I collaborated with '47 Brand to create a player-only capsule collection in support of our global players as they proudly represent their country for the upcoming Tokyo Olympics.
What are the most significant trends or changes that you've seen in the business in recent years?
The sports industry had to pivot during the pandemic. Witnessing how we adapted and re-evaluating how we have traditionally operated has been refreshing.
What keeps you up at night? What's your biggest challenge these days?
Diverse representation within this industry and mental wellness resources in the corporate workforce. It is also the Playoffs season.
In your opinion, what is the top skill every licensing executive should have in order to succeed?
Listening to your team and clients, a genuine willingness to learn, a desire to invest your time, knowledge, and resources to raise up the next generation of thought leaders.
What is the best piece of advice you ever received? OR What is your favorite quote?
"Everyone has privilege. Determine what your privilege is and use that influence to create inclusive and action-driven changes."
What is your favorite licensing deal of all time? (doesn't have to be one that was signed by you)
During the holidays, we visited the Wizarding World of Harry Potter at Universal Studios. 10/10 would recommend. It is fun for all ages.
If you weren't in licensing, what would you be doing now?
I have worked in the entertainment industry for 10 years so possibly continuing within that scope.
The last licensed product I bought was…
Books for my nephew and niece. They love to read.
THE 2021 PEOPLE PROFILE SERIES IS BROUGHT TO YOU BY MYMEDIABOX

MyMediaBox is the leader in providing online solutions that streamline every stage in the brand licensing lifecycle, from contract management and rights tracking, through style guide delivery, product approvals, security tag management and royalty reporting. With over 54,000 global professionals logging in from 125+ countries, Mediabox is by far the world's most thoroughly tested and widely trusted licensing software.