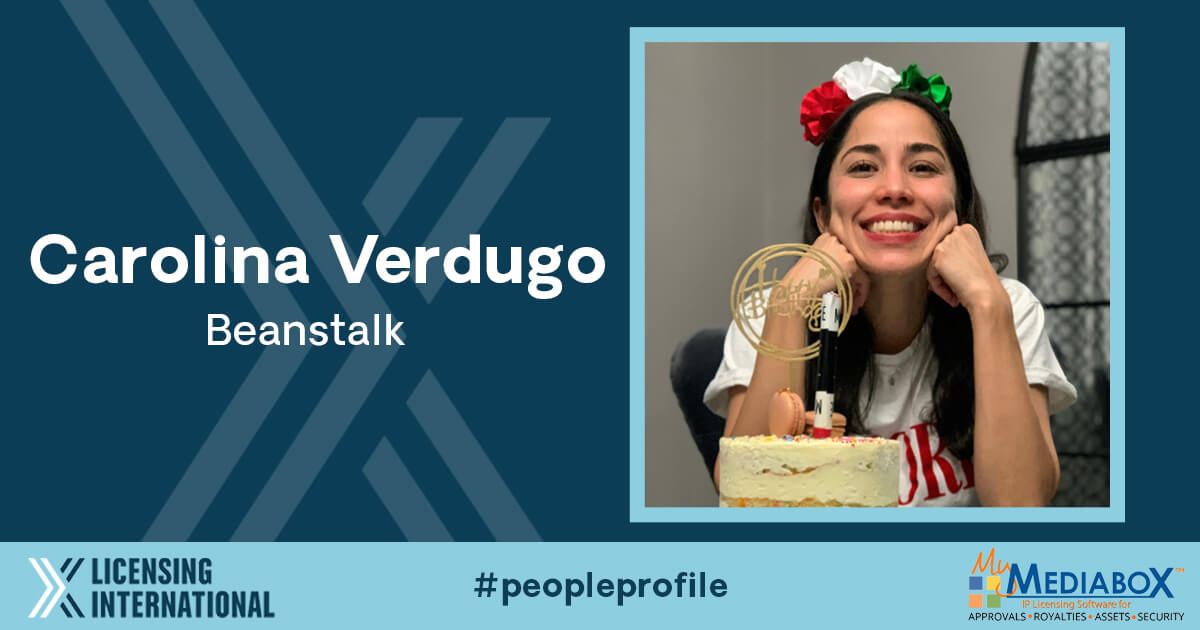 People Profile: Carolina Verdugo, Licensing Director, Beanstalk
The global licensing community is powered by an incredible group of professionals whose diverse backgrounds and creative energy drive innovation and excellence. This week we're profiling another of  our 2021 Rising Stars in this ongoing series developed in partnership with MyMediaBox.
How did you get into licensing (or how did licensing find YOU😊)?
I've always been passionate about international markets and particularly motivated to collaborate with Latin America to get the opportunity of speaking my native language: Spanish!
While I was working at Tommy Hilfiger, I reached out to Blima Strobel, Sr. Director of International Licensing to learn a little about herself and her work. After our meet and greet, I was convinced Global Licensing was my calling (could not ignore all the traveling involved).
What's your biggest personal and professional accomplishment?
Personal: Winning Bronze medal in International Ballet Contest in La Havana Cuba at 12 years old! (known globally for their technical difficulty)
Professional:
(1) Lead Latin America expansion for a leading licensing Agency: Beanstalk
or
(2) Always wanting to move to NYC and being able to transfer from San Diego to the Westchester Tommy Hilfiger store, with the hope of landing a Corporate job at headquarters New York, NY and I did (after bugging many many people)!
What are the most significant trends or changes that you've seen in the business in recent years?
Latin America exploring more Corporate Trademark Licensing in addition to Character/Entertainment licensing
What keeps you up at night? What's your biggest challenge these days?
The most challenging is educating local teams and companies about the importance and power of licensing. Most Latin American companies work under the "co-brand," understanding where I lend you my brand and you lend me yours for a short period of time.
What keeps me up at night is the pandemic and observing that during this challenging time common sense is not that common.
What is the best piece of advice you ever received? OR What is your favorite quote?
The best advice I have received recently is dream big while managing everyone's expectations.  Favorite Quote of the moment: Action without vision is only passing time, vision without action is merely day dreaming but vision with action can change the world – Nelson Mandela
What is your favorite licensing deal of all time? (doesn't have to be one that was signed by you)
McDonald's x Burger King Argentina came together to raise money for childhood cancer. It was unexpected and ingenious to learn about Burger King stopping sales for a day, labeling it "A Day Without Whopper."
The last licensed product I bought was…
Bvlgari Omnia Crystalline Perfume
THE 2021 PEOPLE PROFILE SERIES IS BROUGHT TO YOU BY MYMEDIABOX

MyMediaBox is the leader in providing online solutions that streamline every stage in the brand licensing lifecycle, from contract management and rights tracking, through style guide delivery, product approvals, security tag management and royalty reporting. With over 54,000 global professionals logging in from 125+ countries, Mediabox is by far the world's most thoroughly tested and widely trusted licensing software.