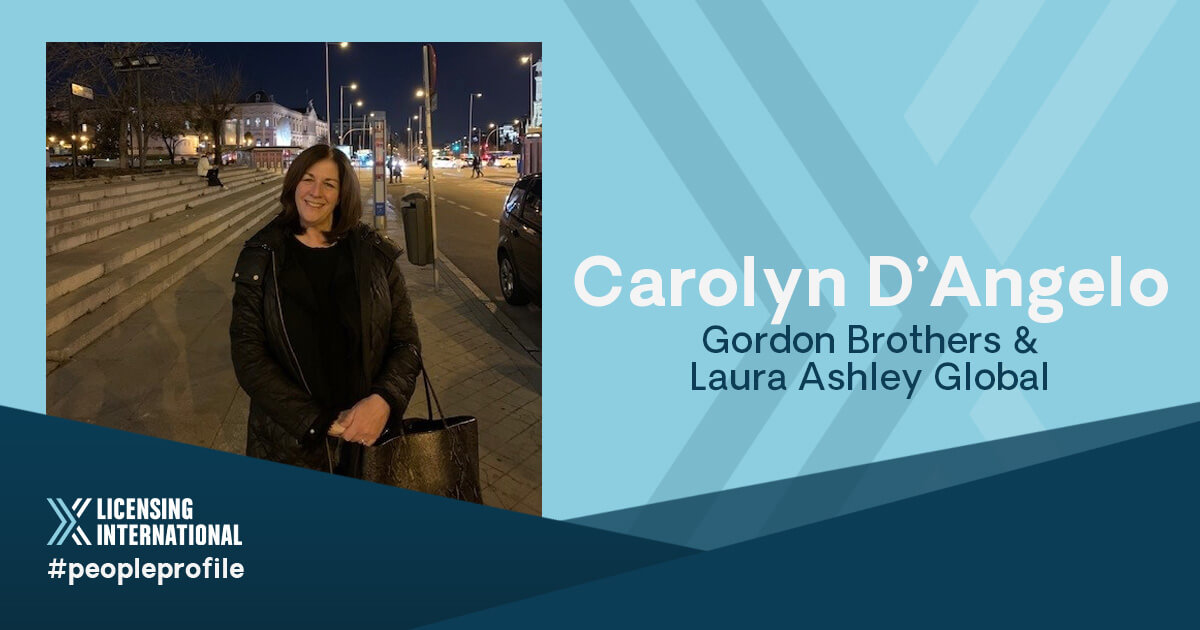 People Profile: Carolyn D'Angelo, Managing Director of Brands at Gordon Brothers and President of Laura Ashley Global
The global licensing community is powered by an incredible group of professionals whose diverse backgrounds and creative energy drive innovation and excellence. Each week we're profiling one of these professionals in this ongoing series.
How did you get into licensing (or how did licensing find YOU)?
Early in my career, I was given the opportunity to handle the Disney brand at a textile company called Springs Industries, which was the licensee for bed and bath products. This was the days of Lion King, Beauty and the Beast, 101 Dalmatians, Toy Story, and so many other major movie properties. The best "schooling" I had was working with Disney—I learned from the best. A new opportunity presented itself in 2021 and I was fortunate to join private equity company Gordon Brothers, in its brand division. This position is a great fit for me! I oversee the Laura Ashley brand, which is experiencing a relaunch, and we just acquired the majority of the Nicole Miller brand, which I also oversee.
Throughout my career, I have been an Adjunct Professor at the Fashion Institute of Technology, teaching a variety of subjects including brand management. I love teaching and mentoring young people, and I get just as much from them as I hope they get from me!
What's your biggest personal and professional accomplishment?
My biggest personal accomplishment was being a working mom of two, and being able to have the career that I have had while raising two wonderful children—both of whom are now in the beginning of their professional careers. I would say one of the proudest moments of my career was being named President of Home at Sequential and being able to guide the next phase of the Martha Stewart brand, a brand that I had watched and admired throughout my career.
What are the most significant trends or changes that you've seen in the business in recent years?
I think we all have seen major changes due to COVID, and the new ways in which we conduct business.  We are all doing more with less, whether that is less capital or fewer people. One must be very creative in terms of utilizing resources. And one of the game changers in branding is the growth of social media. Information spreads instantly. Years ago, it took time to build a brand, using very traditional marketing methods. Now, a brand can gain awareness overnight.
What keeps you up at night? What's your biggest challenge these days?
How does a brand stand out among the thousands of brands available to the consumer? Influencer brands alone are a huge growth channel. How does a brand that was created in the more traditional way remain relevant? There is only so much "white space."
In your opinion, what is the top skill every licensing executive should have in order to succeed?
Communication and relationship skills are key to any licensing executive. I have found throughout my career that relationships are so very important. Honesty, integrity, and treating people how you would want to be treated are always paramount to me.
What is your favorite licensing deal of all time? (It doesn't have to be one that was signed by you.)
I would answer this using a brand I have always admired—Ralph Lauren. I love using this brand as a case study in my classes to explain how a brand extended itself to many categories but, for the most part, stuck true to its DNA whether that was opening restaurants, or signing a bedding licensee. I know I will think of so many more after I send this answer!
If you weren't in licensing, what would you be doing now?
I would be teaching full time at the college level, or I would be a guidance counselor in high school.  My other career would be an attorney (maybe I will go back to law school 😊).