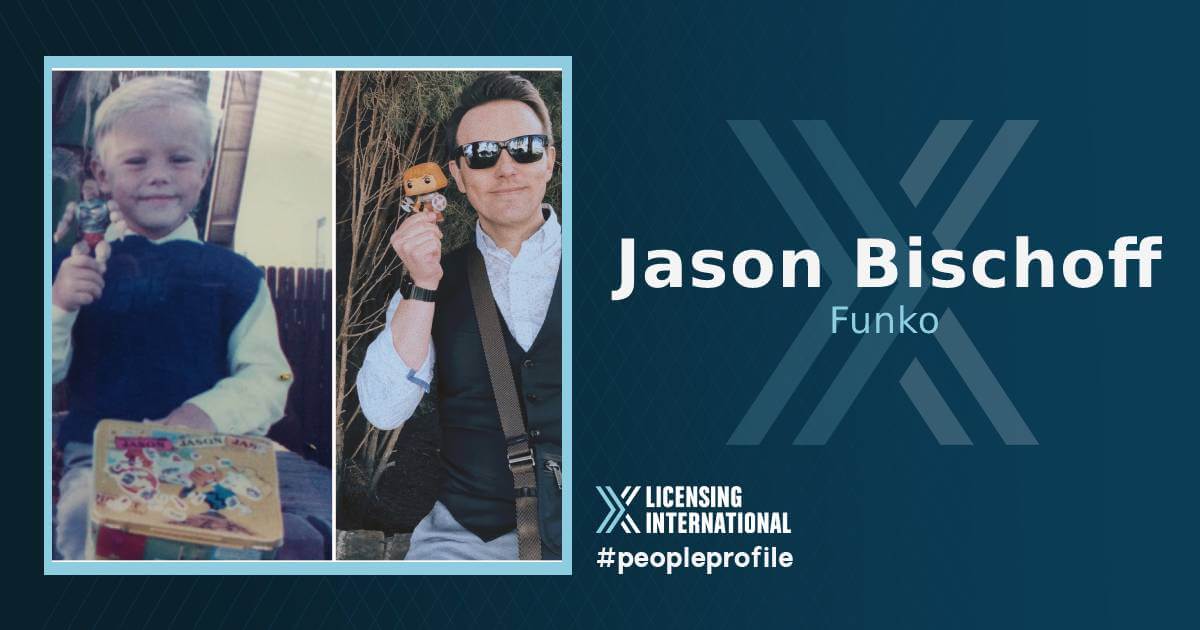 People Profile: Jason Bischoff, Senior Director of Global Licensing and Business Development for Funko
The global licensing community is powered by an incredible group of professionals whose diverse backgrounds and creative energy drive innovation and excellence. Each week we're profiling one of these professionals in this ongoing series.
How did you get into licensing (or how did licensing find YOU)?
My very first job in the industry, roughly [hand over mouth mumble] years ago, was with Playmates Toys. We were a crackerjack team; a small operation where everyone got to do a little bit of everything. Through the generous invite of our licensing lead, André Mayer, I had the opportunity to sit in on a few pitches with our key licensors. The dynamism was infections—I never recovered.
What's a "typical" day in your current position?
In DC Comics, there's a character named Dr. Fate. He is a sorcerer and Agent of Order, fighting back the powers of chaos in an untamed universe rife with magic. To answer your question more specifically, something like that. Funko's licensing team proudly brings order to our (not-so-little) corner of the industry. We exist to enable our incredible colleagues, and creative, with every trick in the book. Often that means performing multiple shows daily.
What's your biggest personal or professional accomplishment?
I love what I do, where I do it, and with whom I share it. I know no greater accomplishment.
What are the most significant trends or changes that you've seen in the business in recent years?
Not all content warrants product. Emotional resonance is king, often through the lens of franchise. Collectability is equal to, if not more-important than, play pattern.
What keeps you up at night? What's your biggest challenge these days?
Likely many of the same challenges we all face as an industry—global logistics, and the domino effect. That, and content shifts [shudder].
In your opinion, what is the top skill every licensing executive should have in order to succeed?
Licensing is all about relationships. Attack each day with a "figure it out" mentality. Nothing will serve you better, both professionally and personally, than being a creative, solutions-oriented person.
What's the best piece of advice you've ever received, or what's your favorite quote?
Sometimes you have to step out to step up—that's true of life in general.
As for quotes: "If one advances confidently in the direction of his dreams, and endeavors to live the life which he has imagined, he will meet with a success unexpected in common hours. He will put some things behind, will pass an invisible boundary; new, universal, and more liberal laws will begin to establish themselves around and within him; or the old laws be expanded, and interpreted in his favor in a more liberal sense, and he will live with the license of a higher order of beings." —Thoreau, Walden
What is your favorite licensing deal of all time? (It doesn't have to be one that was signed by you.)
We just signed it a few months ago. I cannot wait to break the internet with our announcement.
If you weren't in licensing, what would you be doing now?
Time-traveling hero… perhaps mustachioed. Kidding aside, likely entertainment but more so on the creative end.
The last licensed product I bought was…
The Alex Ross 'History of the DC Universe' lithograph by Sideshow Collectibles. I had missed it on its initial run, and (trust me) paid for it in the gray market.