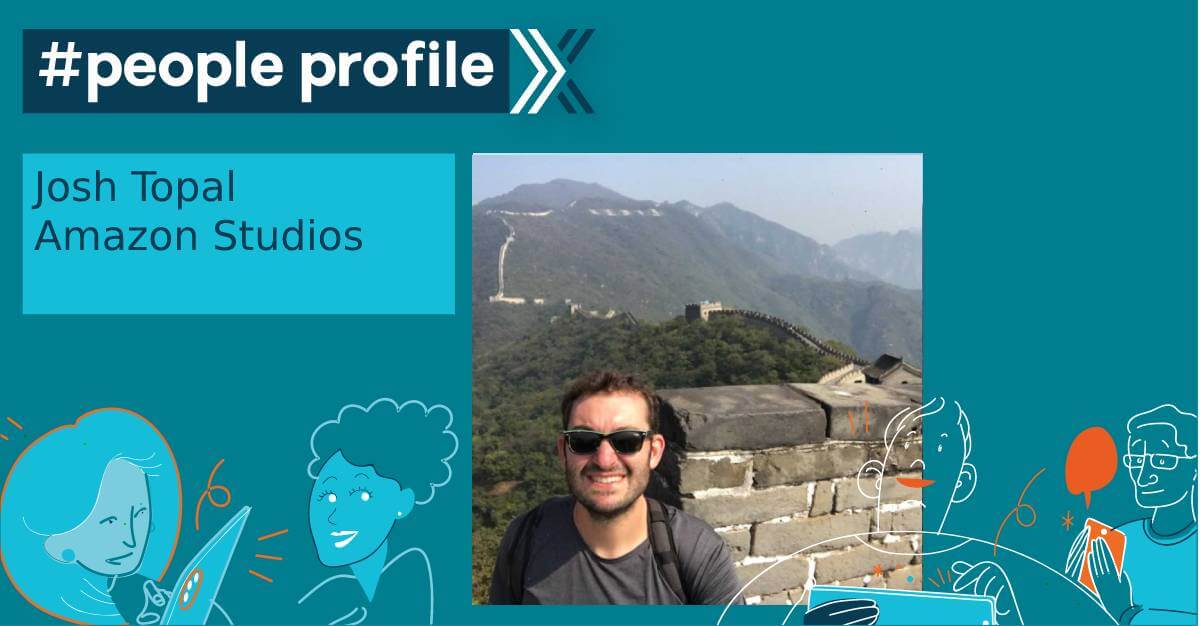 People Profile: Josh Topal, Sr. Product Manager at Amazon Studios
The global licensing community is powered by an incredible group of professionals whose diverse backgrounds and creative energy drive innovation and excellence. Each week we're profiling one of these professionals in this ongoing series.
How did you get into licensing (or how did licensing find you)?
I actually come from the tech world, where I worked at all different types of technology companies—large and small. I worked in product management and marketing, always focused on launching products to the world. My most recent tech job was at Ring, right when they got acquired by Amazon. There was an exciting opening at Amazon Studios to help launch products on the licensing and merchandising team, and I jumped at the chance. It was a great transition for me, and I am so excited that I get to launch products for the IPs and entertainment that I love
What's a "typical" day in your current position?
One of the things I love about working in licensing is that there's never a typical day. You have to wear many hats in licensing and view the business from many different angles. I usually start my day by putting on my business development hat and thinking about what we can do to grow and improve our licensing program. Where are the gaps and opportunities, and where can I help fill in? I like to touch base internally to make sure we are doing everything we can for our stakeholders' licensing needs. I also reach out to external partners to ensure projects are on track and they are happy. I put on my sales hat and make sure we are pitching the right IPs to the right partners. I then put on my project manager hat and assess the programs we have in flight and review what is on the way. I then think of marketing and how we can expand upcoming and existing programs. My job never has a dull moment, and I really enjoy learning or doing something new every day.
What's your biggest personal and professional accomplishment?
I'll start on the personal side. My wife and I were living in New York City and we wanted to move back to LA, where we are both originally from. We thought it would be a great opportunity to take some time off work and travel the world for a few months before we made the move. We backpacked from China, through Southeast Asia, India, and to Sri Lanka. It was an amazing experience waking up at 3 a.m. in Sri Lanka to climb the highest peaks and something I'll remember for the rest of my life.
For my professional career, I think one of my greatest accomplishments is finding the type of role I have right now. Early in my career, I challenged myself to work across a lot of companies because of the cutting-edge technology, or the business challenges being solved. I loved being able to launch products and see the reactions from customers, but sometimes in tech you are solving big business problems that may not affect you as an individual, or the product wasn't a true reflection of what you are personally passionate about. I love that in entertainment licensing, I get to continue to launch products but they are also in the realm of my personal interests. I'm proud that I am able to intersect my professional and personal loves into a career.
What keeps you up at night? What's your biggest challenge these days?
I think the biggest challenge in my role right now is making sure that we're doing everything we can for our fans across IP. We are a very customer-focused company, and when you are in control of licensing across IP, you want to make sure that you're doing everything you can to satisfy your fans. It's a big responsibility to serve a lot of customers across the platform, and making sure products are engaging. We also need to serve the fans internally, including the show teams and stakeholders who have invested so much into their property.
In your opinion, what is the top skill every licensing executive should have in order to succeed?
The licensing industry reminds me of the tech world because it is always changing, and you have to be innovating and pushing the envelope or else you can be left behind. I think it's a crucial skill that licensing executives are able to spot trends in licensing, and are able to recognize if the trend will shape the industry or just fizzle out.
What is your favorite licensing deal of all time? (It doesn't have to be one that was signed by you.)
When I first came to Amazon Studios, there was an amazing show coming out that I was a big fan of in my personal life. I identified the opportunity to support this series and was able to take on this IP and develop the licensing strategy. I immediately started to work internally to understand the scale and scope of this series and the target fan base. I created the launch strategy and aligned it across the show teams to ensure we would have the best rollout possible to support the series launch. I identified and pitched the series externally to best-in-class brands and got a lot of eager partners to sign on for the show. It was the largest licensing launch at Amazon Studios at the time, and most importantly the fans of the show loved the merch.