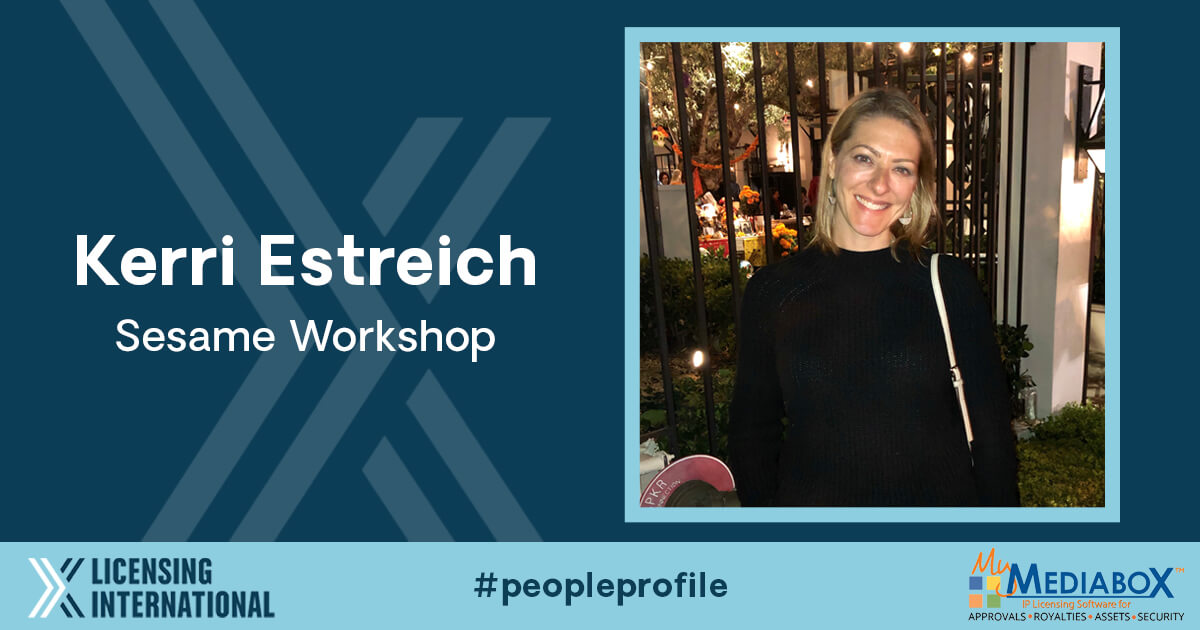 People Profile: Kerri Estreich, Senior Director of Licensing, Sesame Workshop
The global licensing community is powered by an incredible group of professionals whose diverse backgrounds and creative energy drive innovation and excellence. Each week we're profiling one of these professionals in this ongoing series developed in partnership with MyMediaBox.
How did you get into licensing (or how did licensing find YOU😊)?
I was traveling in India during a 6-month break from my career in marketing and product development in the cosmetics industry when I met a rickshaw driver. He showed me the business card of an executive from Sesame Workshop. I quickly noticed "the non-profit behind Sesame Street" and knew that I would work for Sesame Workshop once I returned home.
What's your biggest personal and professional accomplishment?
Being motivated by the mission work of Sesame Workshop, I was thrilled to have the opportunity to spearhead collaborations with like-minded, socially-conscious brands as part of Sesame Street's 50th anniversary in 2019. I worked with TOMS, Bombas, Out of Print, and DIFF Eyewear on lifestyle collections that support families in need. The programs generated over 93M media impressions and through their one-for-one models, purchases of Sesame Street products have donated close to 800,000 products (and rising) to those in need.
What are the most significant trends or changes that you've seen in the business in recent years?
There's been a big shift to e-commerce. It's encouraging to see that e-commerce volumes can at times meet or even exceed brick-and-mortar volumes which had been a big question mark.
What keeps you up at night? What's your biggest challenge these days?
I am expecting my first child in July and often think about the troubles of the world today – and how many little ones live with fear and anxiety. I love that Sesame Street is working to reduce the stress for children and their families, tackling difficult topics such as Covid, racism, and encouraging wellness through partnerships like Headspace. It is brands like Sesame Street that give me confidence that she (and other little ones) will have the support they need to thrive in this world.
What is the best piece of advice you ever received? OR What is your favorite quote?
Real integrity is doing the right thing, knowing that nobody's going to know whether you did or not ~ Oprah Winfrey
What is your favorite licensing deal of all time? (doesn't have to be one that was signed by you)
I am really inspired by collaborations that bring two brands together to gain the best of both. I was impressed with the recent Disney X Adidas "It's Not Easy Being Green" collection that utilized green colored characters on a sustainably-made collection.
The last licensed product I bought was…
I recently bought Earth's Best Sesame Street Organic Veggie Cheddar Puffs at the grocery store. I know they're marketed for toddlers, but they are just so good!
THE 2021 PEOPLE PROFILE SERIES IS BROUGHT TO YOU BY MYMEDIABOX

MyMediaBox is the leader in providing online solutions that streamline every stage in the brand licensing lifecycle, from contract management and rights tracking, through style guide delivery, product approvals, security tag management and royalty reporting. With over 54,000 global professionals logging in from 125+ countries, Mediabox is by far the world's most thoroughly tested and widely trusted licensing software.