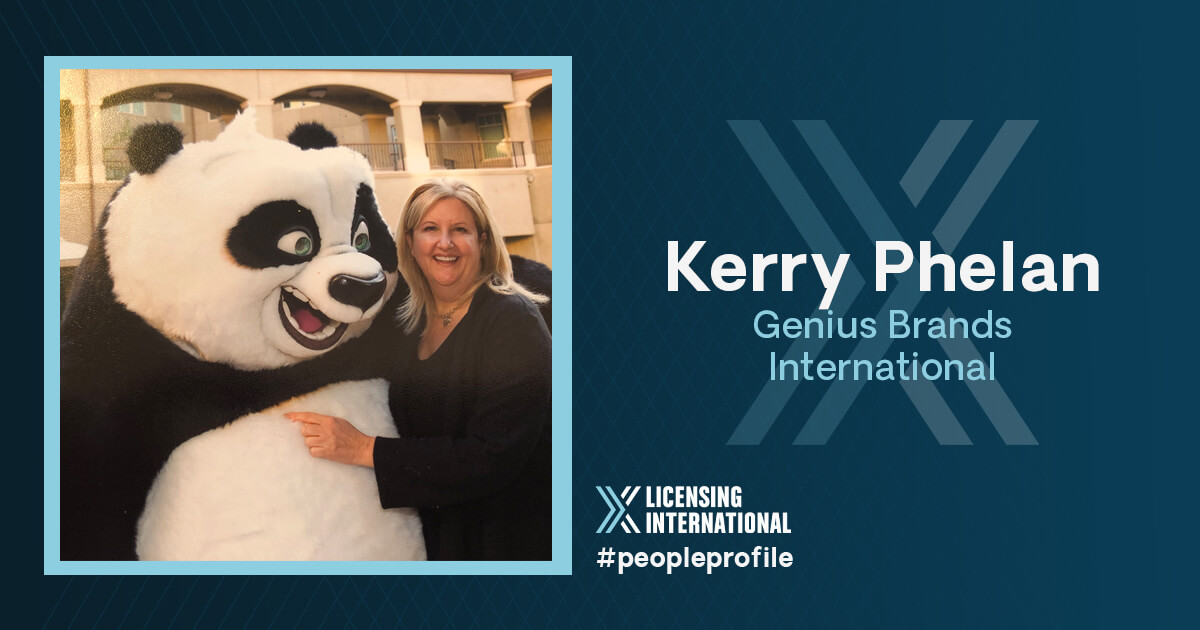 People Profile: Kerry Phelan, Chief Brand Officer at Genius Brands International
The global licensing community is powered by an incredible group of professionals whose diverse backgrounds and creative energy drive innovation and excellence. Each week we're profiling one of these professionals in this ongoing series.
How did you get into licensing (or how did licensing find YOU)?
I was working at LEGO Systems Inc. in marketing and was part of the brand management team that signed the LEGO Star Wars licensing deal. As a result of that successful relationship, I was recruited by Howard Roffman, President of Licensing at LucasFilm, to join the studio to manage the Star Wars licensing business.
What's a "typical" day in your current position?
Lots of Zoom meetings!  Right now, we are in development of a new kid's animated series with Shaquille O'Neal, called Shaq's Garage. On any given day I have meetings with our creative and production teams to discuss the content development of the show, meetings with outside agencies to develop the marketing materials, licensing meetings with prospective toy partners, and pitch meetings with distribution partners. It's a lot of fun and I love touching all aspects of the process!
What's your biggest personal or professional accomplishment?
I feel so unbelievably fortunate for the life-changing path my career has taken me on. The LEGO Star Wars deal, which turned into a multi-billion-dollar business, will always be near the top since it was a turning point in my career. Expanding the Star Wars consumer products business to new heights is another. But at the end of the day, it's less about the business accomplishments and all about the people I encountered over the years. It's not for me to say, but I hope my biggest personal accomplishment is that I was a good leader, mentor and colleague. That I treated people with respect, dignity, and kindness along the way.
What keeps you up at night, or what's your biggest challenge these days?
A big challenge for most licensors is how to successfully navigate the changing retail landscape, especially with a new original IP.  The pandemic also dramatically changed how consumers shop. Digital commerce experienced double-digit growth and remains the fastest-growing retail channel in the U.S. One of the implications of this for licensors is that retailers are now using their e-commerce platforms to test product demand before listing in their brick-and-mortar stores.
In your opinion, what is the top skill every licensing executive should have in order to succeed?
Strong relationship-building and collaboration skills. The nuts and bolts of how to negotiate a licensing contract or how to create great product can all be learned. Being a great partner to extract the best possible success for both parties is a soft skill that is hard to teach.
What is your favorite licensing deal of all time? (It doesn't have to be one that was signed by you.)
That's an easy one for me—the combination of two of my favorite, world-class brands: LEGO Star Wars.
If you weren't in licensing, what would you be doing now?
I would love to serve on the board of directors for a mid-sized company to share my experience and expertise to help others succeed.