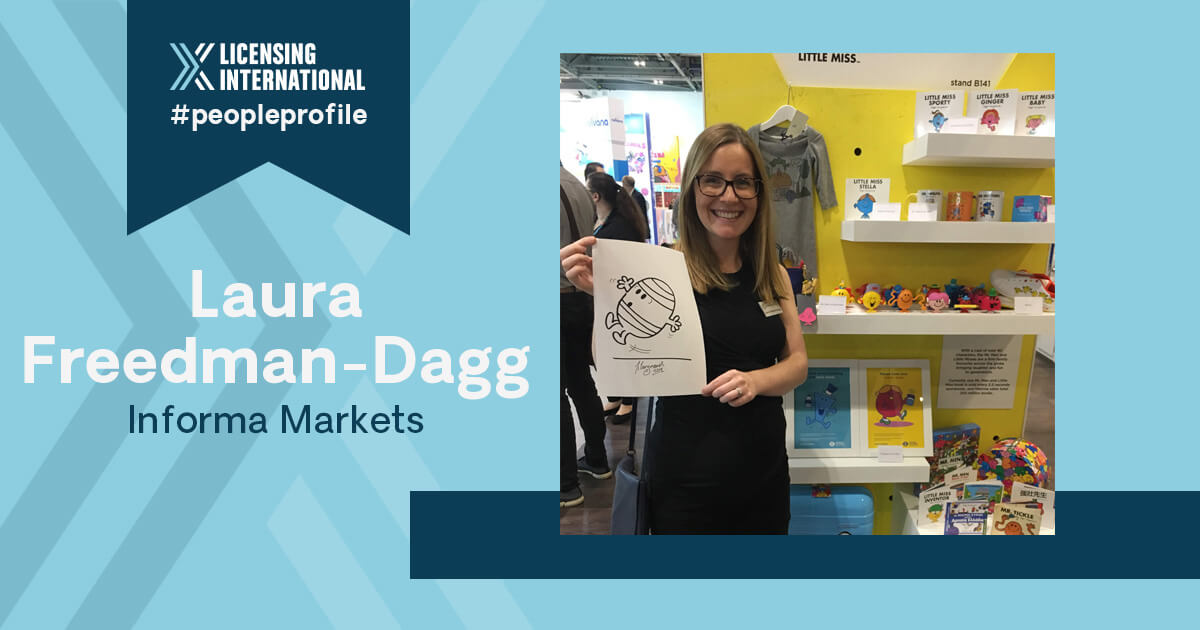 People Profile: Laura Freedman-Dagg, Head of Retail & Licensing at Informa Markets
The global licensing community is powered by an incredible group of professionals whose diverse backgrounds and creative energy drive innovation and excellence. Each week we're profiling one of these professionals in this ongoing series.
How did you get into licensing (or how did licensing find YOU😊)?
Licensing found me when Licensing Expo, BLE and License Global were acquired by UBM, now Informa. I was working in marketing at the time on tech events. The minute I learned about the shows I knew I had to be involved. I had an extended maternity leave and brief break from work during the pandemic but I couldn't stay away for long and am delighted to be back leading the retail strategy across all of our shows. 
What's your biggest personal and professional accomplishment?
Personally it has to be showing my children what it is to have a challenging job that you love while still making the time to focus on family. It's important to me that I can provide that role model for them. It's also vital, I think, that they don't consider anything as off limits for themselves when they become adults.
Professionally it has to be earning this role I'm in right now. It's a new position and represents a big investment in driving retail strategy forward and recognition of what we achieved on BLE in recent years—the product showcases, the retail trends lounge and the mentoring programme to name a few. I'm grateful for the faith that Anna and the team have shown in me and am already proud of what we'll deliver next. Watch this space!
What are the most significant trends or changes that you've seen in the business in recent years?
Sustainability, for sure. I think it's great that there's been real movement in the way the licensing industry is addressing issues of sustainability. You just have to look at the work Products of Change is doing, and the huge range of people involved to see that this industry takes issues around sustainability really seriously.
What keeps you up at night? What's your biggest challenge these days?
I'd say the thing I spend the most time thinking about is the speed of change in consumer habits and priorities. The sheer pace at which retailers are evolving to stay relevant and enticing for consumers has a direct effect on the work that we're doing with the shows. Luckily for us the brands showcased at Licensing Expo and BLE are a huge draw in themselves and offer such an opportunity for the retailers who work with them. I'm not sure the power of brands—or the power of fans—has ever been so valuable.
What is the best piece of advice you ever received? OR What is your favorite quote?
The best advice I ever received is that "That's how we've always done it" is not a good enough reason to do it again. This is especially pertinent in events!
What is your favorite licensing deal of all time? (It doesn't have to be one that was signed by you.)
I read something in the news recently claiming that nostalgia can alleviate low-level pain. I think that's totally plausible. The emotion attached to my Mum giving my son an Elmer the Elephant plush toy—because that was her favourite book to read with my siblings and me—is a special thing indeed.  I'd have to say that elephant is my favourite. Sometimes the simple things are the best!
The last licensed product I bought was…
A Dennis the Menace fancy dress costume for my son on World Book Day after a very last-minute refusal of my handmade Mr. Bump costume. Thank you Rubie's!